The UK's first Slackline competition took place on Skegness Central beach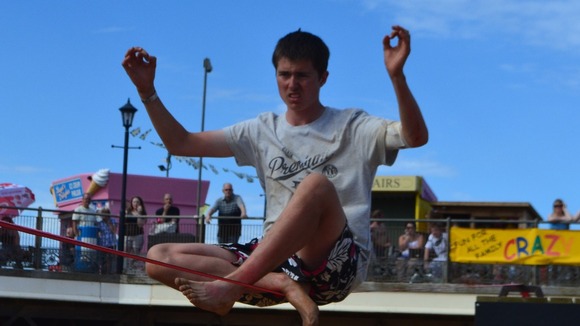 Hundreds of spectators turned out in Skegness at the weekend to watch the first UK Slackline competition.
The one day tournament took place on Skegness' Central Beach. The professional competition saw 10 contestants and members of the public take part. Beginners were invited to try Slacklining for the first time with some entering the beginner's competition.
"This was a fantastic day which saw hundreds of local residents and visitors trying out this new exciting sport. Slacklining is another new event to our coast and one that created a real buzz, whilst also attracting new people to the area."
– Portfolio Holder for Culture, Leisure and Tourism, Councillor Adam Grist

What is Slacklining?

Slacklining is the act of balancing along a narrow, flexible piece of webbing which is low to the ground and usually anchored between two trees. Originating in the climbing world, slacklining has evolved into a cross trainer, backyard activity and sport all of its own. More details on this website here.