Leeds Parish Church becomes a Minster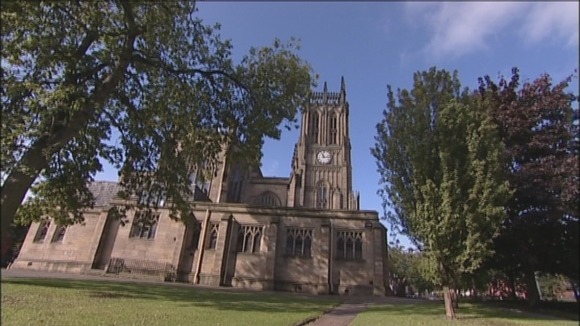 A special service of dedication is being held at The Parish Church of St Peter's Leeds, at which it will officially be designated Leeds Minster. The honorific title has been awarded to the church in recognition of its important civic role.
Leeds Parish Church has a long and distinguished history at the heart of Christian ministry in Leeds. The establishing of Minster status affirms the importance of its role in God's mission to the whole of the city. This is a move which I know is welcomed by the city itself. I pray that this will be a strengthening of the work of the church to all who live and work in the city."
– Rt Revd John Packer, the Bishop of Ripon and Leeds

The term 'Minster' is an honorific title given to particular churches, which was widespread in Anglo Saxon England and has undergone a recent resurgence. Over the past twenty years, churches in the north of England such as Dewsbury, Sunderland, Preston, Rotherham, Halifax and Grimsby have all received the designation of Minster.

The present church of St. Peter's, Leeds, stands on a site which has been a place of Christian worship for well over a thousand years. It is believed the earliest building on the site would have been a Saxon Minster. As well as being a parish church, St.Peter's serves as a church for important civic events in the life of the city. Sunday September 2nd , 2012, the date of the service to mark the conferring of Minster status has been chosen to coincide with the original dedication of Leeds Parish Church on September 2nd, 1841.
We welcome this important step in the life of the Church of England in Leeds which gives important recognition to Leeds Parish Church in its role as a church for the city. In reclaiming the ancient title of Minster, I believe the church will be strengthened as a place of welcome and hospitality to the changing culture of the city, focusing on the Celtic model of daily prayer, mission and service."
– Revd Canon Tony Bundock, the Rector of Leeds