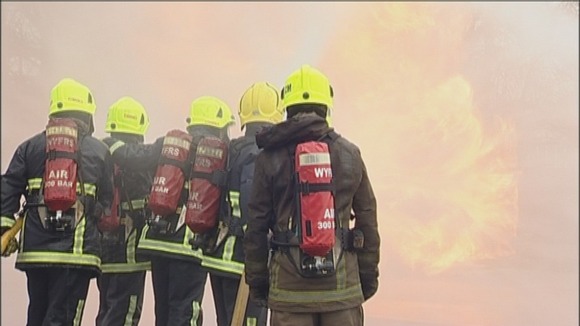 A 12 week public consultation exercise on radical plans to reform fire cover across West Yorkshire has been launched today.
Chief Fire Officer Simon Pilling says the proposals are to address:
the dramatic reduction in incidents, accidental fire deaths and injuries across the county over the past decade
the likelihood of further nationally-driven austerity measures
The success of the brigade's fire safety work over the past 10 years means there is undeniable scope for change and that investment now in infrastructure will allow us to relocate fire stations and resources to better locations.

Accidental fire deaths and injuries are at an all-time low and some stations are now half as busy as they were a few years ago so I'm confident we can rationalise and modernise the service whilst still providing effective fire cover.

We know we have to find cuts of between and £8-12m over the next two years – and already have plans in place -- but all the messages coming out of central government project further reductions in financial support for local authorities up to 2020,"
– Chief Fire Officer Simon Pilling

West Yorkshire Fire and Rescue Authority is dependent on central government for 60% of its funding.

Mr. Pilling said he could not justify "doing nothing" and hoping for a medium-term financial upturn because his inability to recruit would eventually leave the existing number of stations and appliances unstaffed – giving the public a false sense of security.

If endorsed by the fire authority following consultation, his draft proposals would see the number of full-time firefighter posts reduce by 200 (through natural retirements) but eventually deliver revenue savings of £8 million.

The plan would also maintain or improve fire engine response times in 23 higher risk local electoral wards.
Between now and 30 November, we are engaged in a listening exercise and nothing more. We want to be in a position to objectively balance the professional arguments and the views of local people. No final decision will be taken before the outcome of consultation is reported back to us on 21 December."
– Cllr Mehboob Khan, Fire Authority Chair
A special hotline is being set up to guide people through the consultation process: 01274-655717
Formal representations (to be received by 30 November 2012) must be made in writing/email and directed for the attention of Hannah Stoneman, Consultation Co-ordinator, West Yorkshire Fire and Rescue Authority, Oakroyd Hall, Bradford Road, Birkenshaw BD11 2DY or by emailing consultation@westyorksfire.gov.uk
More information is available here