Top royal award for region's children's hospice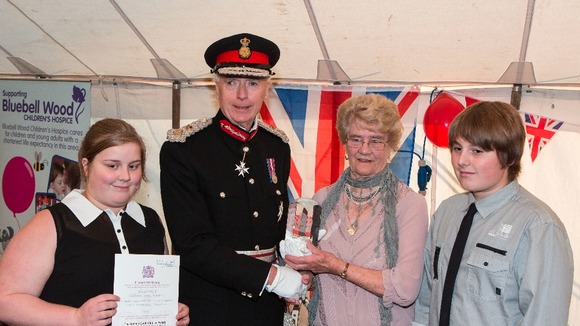 Volunteers at Bluebell Wood Children's Hospice in Sheffield have been given a top Royal award for helping children with shortened life expectancies.
The Queen's Award for Voluntary Service is aimed at recognising the time, enthusiasm and care volunteers offer to the children they look after.
"To receive this award is such an honour as it is the MBE for voluntary groups. We are very proud of our volunteers and extremely grateful to them all for their hard work and dedication. Without their efforts we wouldn't be able to support as many families as we do."
– Sarah Champion, Chief Executive of Bluebell Wood

Many regularly give up their own time to improve the quality of life for patients.

The award was presented by the Lord-Lieutenant of South Yorkshire David Moody at a ceremony in the hospice grounds.

The youngest volunteers are 6 year–old Joshua Smith, 14 year-old James Gibson and 15 year-old Katie Knight.