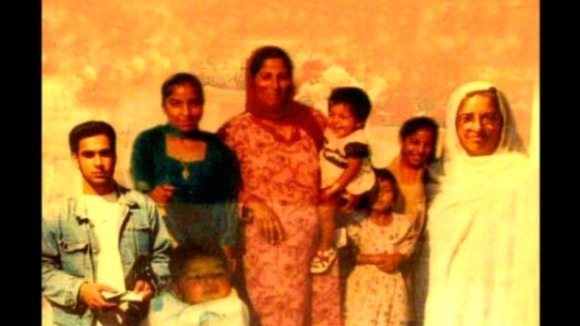 A man who killed eight people in a petrol-bomb attack in Huddersfield has been freed from prison. The decision to release Nazar Hussain just half-way through his 18-year sentence has been condemned. Survivors of the attack on a house in Osborne Road, Birkby, in May 2002 said the decision had been taken despite their vehement objections being lodged with the Parole Board. Mohammed Shafiq, who escaped the inferno which swept through his home said:
We cannot believe this man is free. He should never have been released. He is on licence but he is still out of prison after only nine years. This has caused great anger and upset for my family and for our friends.
– Mohammed Shafiq who survived the attack

And Mehboob Khan, one of the local councillors who has played a key role in helping the community recover from the murders said:
This is wrong on so many counts. The family who saw their loved ones die have been given a sentence for life, yet this man is out and free. The way the Parole Board has made this decision is so wrong. Nazar Hussain was clearly part of the gang and should have stayed in prison for a long time. Eight lives were lost and this is the most horrific mass murder ever in Huddersfield. It happened only a decade ago and it remains a truly horrific story. I have asked Huddersfield MP Barry Sheerman to raise this with the relevant minister to see how this decision was made. What is also worrying is that Hussain can presumably be in touch with the fugitive, Shahid Mohammed, who has never been brought to justice.
– Councillor Mehboob Khan

Hussain - who lost an appeal against his sentence - was one of a gang which petrol-bombed the Chishti family's home at Osborne Road while the occupants slept in the early hours of May 12, 2002.Petrol was poured through the living room window, triggering a blaze which cost the lives of a mother, two of her children and her five grand-daughters.

Those killed in the fire were Nafeesa Aziz, 35, who perished with her five young daughters: Tayyaba Batool, 13; Rabiah Batool, 10; Ateeqa Nawaz, six; Aneesa Nawaz, two, and Najeeba Nawaz, six months. Nafeesa's brother, Mohammed Ateeq-ur-Rehman, 18, also died in the flames. Their mother, Zaib-u-Nisa, 54, died later in hospital after leaping from a window. Three other occupants were able to escape the conflagration.

Hussain was convicted of eight counts of manslaughter in 2003 and jailed for 18 years. He has now been released on licence after a Parole Board review. Sentenced alongside Hussain after their trial were Shaied Iqbal, of Springdale Road, Thornton Lodge, and Shakiel Amir Shazad, of Gledholt Road, Huddersfield. Iqbal was the instigator of the attack and was jailed for life after he was convicted of eight murder counts and pleaded guilty to conspiring to commit arson.

Shazad was jailed for 18 years after he was convicted of eight manslaughter counts and conspiracy to commit arson. He was also convicted of arson with intent to endanger life. A fourth suspect, Shahid Mohammed, fled during the early stages of the inquiry and is still a fugitive.

Hussain was not involved in throwing the petrol bombs, but was present at the scene and had obtained petrol for the devices. The 33-year-old appealed on grounds that the overall sentence was four years too long. But Lord Justice Rose said Hussain's crimes were "manslaughter in horrific circumstances, involving the death of eight victims".