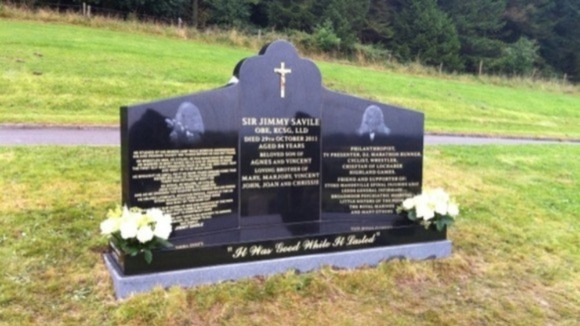 The headstone on Jimmy Savile's grave in Scarborough has been removed in the middle of the night at the request of his family, after police said the former presenter could have sexually abused up to 25 victims over 40 years. Savile's family said they decided to dismantle the £4,000 triple headstone out of "respect to public opinion."
Savile's family said they wanted to ensure the "dignity and sanctity" of the cemetery in Scarborough. It was erected in front of the media last month.
"The family members are deeply aware of the impact that the stone remaining there could have on the dignity and sanctity of the cemetery. Out of respect to public opinion, to those who are buried there, and to those who tend their graves and visit there, we have decided to remove it."
– Savile family spokesman

Scarborough Borough Council issued a statement at 1.30am confirming that the headstone had been removed. It is thought it was dismantled shortly after midnight.
"We have been advised by the funeral directors, Joseph A Hey and Son, acting on behalf of Jimmy Savile's family, that the headstone at Woodlands Cemetery has been removed."
– Statement, Scarborough Borough Council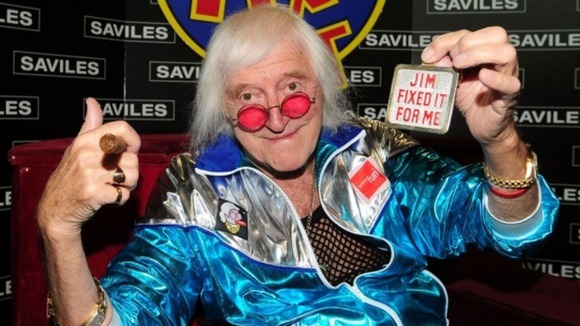 The family's announcement that the headstone was to be removed, came after Scotland Yard said it had formally recorded eight criminal allegations against the former Top Of The Pops presenter so far in its investigation, named Operation Yewtree.
The alleged abuse involves teenage girls as young as 13 and includes two complaints of rape and six of indecent assault, with officers looking into up to 120 lines of inquiry. Commander Peter Spindler, head of specialist crime investigations at Scotland Yard, said the allegations span four decades, the earliest of which dates back to 1959. Mr Spindler said although it is early in the inquiry, the information so far suggests Savile possessed a "predilection for teenage girls".
"These are primarily against girls in their mid-teens, so between 13 and 16, and it spans four decades of abuse. The pattern of his offending behaviour does appear to be on a national scale."
– Commander Peter Spindler, Metropolitan Police.

Mr Spindler said the first allegation dates back to about 1959 but most claims seemed to be from the 1970s and 80s. Scotland Yard has contacted ITV and the BBC, which in turn are contacting alleged victims to see if they will co-operate, he said.
"We believe there are probably another 20 potential victims there. It is too early for us to give you an accurate picture of what 120 lines of inquiry will distil down to but we believe we will come up with between 20 to 25 victims."
– Commander Peter Spindler, Metropolitan Police.

A spokesman for Scotland Yard said at least five forces - the Met, Surrey, Sussex, Northamptonshire and Jersey - are investigating allegations. As well as claims relating to alleged abuse at the BBC, Jersey's Haut de la Garenne children's home, and Duncroft Approved School for Girls near Staines, Surrey, police have contacted Stoke Mandeville Hospital and Leeds General Infirmary, where Savile did charity work.

Calling it an "assessment" rather than an investigation, he said Scotland Yard will produce a joint report with the NSPCC to look for lessons that can be learned and conclusions drawn.

It is being carried out by a team of officers from the force's Serious Case Team to help bring it to a "swift conclusion". Peter Liver, from the NSPCC, said the charity has received 40 calls in the last five days after the claims emerged. Of these, 24 have been referred to police or other agencies that support victims of abuse, and 17 directly relate to Savile, he said. There were also 21 unrelated calls to the helpline stemming from publicity over the allegations.

A number of memorials to Savile have now been removed, including an inscription on the wall at Leeds Civic Hall in recognition of his charity work, and a street sign in Scarborough. A plaque outside his home in the town was defaced and removed and plans for a statue in Scarborough have been scrapped.

UPDATE: Savile Hall to be renamed

Royal Armouries Int have issued this statement:

"In the light of further information, Royal Armouries Int PLC has decided to rename its major flagship venue, Savile Hall, out of respect for public opinion. Further information will follow."

VIDEO: Savile's grave dismantled