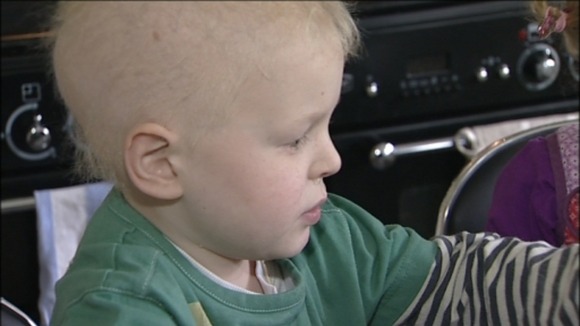 Little Jamie Inglis is due to be flown home in a private plane after undergoing pioneering cancer treatment in Germany. Jamie and his parents, John and Vicky, are due to be flown from Stuttgart - near where Jamie has been undergoing potentially lifesaving treatment for the childhood cancer neuroblastoma - into Sherburn airfield, following a twitter campaign to find him some transport home.
As Jamie's immune system is vulnerable due to the medical intervention, a private plane offers him the best chance of travelling back without picking up an infection. Entrepreneur Sarah Jane Thompson, of the First News children's newspaper, has offered the use of her plane, which is due to be flown by her pilot husband today.
The trip home will provide the family much-needed respite from the treatment in hospital in Tubingen, and will allow the family to be together with Jamie's three-year-old sister Poppy, before Jamie returns to Germany for the next stage of his therapy later this month or early November.
"It's very kind of her to offer. We never really thought anything would come out of the appeal. We were really amazed. We have not been together as a family for seven weeks so it will be nice to be reunited. *It's important for us to have a break from being here and to see Poppy. It's also logistics: we have bills to pay and I have to look for a job. *We have shelved everything since we have been out here but the practical things go on. We have swept everything under the carpet, but we need to get our lives in order and come back."
– Jamie's father, John

Jamie, who lives in Kelfield,near Selby in North Yorkshire, has been in hospital since August. *He has been given a stem cell transplant from his father to give him a donor-derived immune system to help him fight the cancer. *Jamie initially spent four weeks in a sealed isolation room, and has spent the past few weeks in a hospital room hooked to a line for pain relief and food supplements while medics waited for him to recover sufficiently and to start eating again. *He has impressed doctors with his progress and is now being treated as an outpatient, due to start antibody treatment in November. *

The family is currently working to raise £250,000 to pay for the medical trial, which has not been funded by the NHS and is believed by oncologists to be his best chance of survival. *They also need to find another private plane for their return to Germany. *

To support the twitter campaign to find a flight back to Germany, visit @jamiesappeal and to donate to Jamie's appeal visit justgiving.com/jamiesappeal