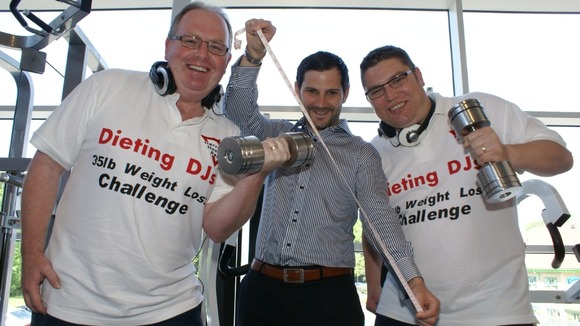 Two DJs in Harrogate are shedding pounds to raise pounds for the town's hospital radio service.
The pair, Scott Wall and Shaun Gill – who between them weigh 35 stones – are aiming to raise £3500 by losing 35lbs each to celebrate the charity broadcaster's 35th birthday.
They are giving themselves a challenge during their show. They will be broadcasting as they run on a treadmill - aiming to complete a distance of 35km each in six hours.
This fund-raising exercise is all about the number 35. In October, Harrogate Hospital Radio will have been broadcasting for 35 years. Between us we weigh 35 stones and we are hoping to raise thirty five hundred pounds by each shedding 35lbs.
– Scott Wall
This isn't going to be easy for either of us. We are the first to admit that we aren't the fittest of people, but we are determined to give it our best shot. We are indebted to Nuffield Health & Fitness Harrogate for their support and they are going to ensure we do this properly and sensibly.
– Shaun Gill
Scott and Shaun are two of our newest and enthusiastic members.We wish them the best of luck as the money they are hoping to raise will enable us complete the refurbishment of our second studio.Last year, we refurbished Studio One, which included a new mixing desk. When Studio Two is at the same standard we will boast some of the best broadcasting facilities in the region.
– Ian Wighton, Harrogate Hospital Radio chairman