Sheffield voluntary group wins charity award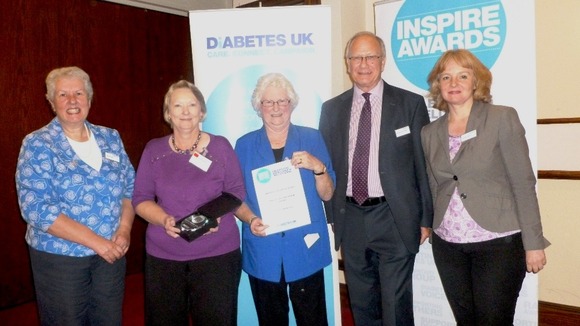 A group of volunteers from Sheffield have been rewarded for their charitable work at the first ever Diabetes UK Inspire Awards.
The Sheffield voluntary group has actively supported Diabetes UK through fundraising and awareness raising activities for almost 35 years. As well as organising an annual walk and other events, the group also holds awareness raising stands and stalls to help increase awareness of diabetes in the Sheffield area. Members presented the regional office of Diabetes UK with a cheque for £6,000 at the conference, which they raised at various events throughout the year.
Members also use the money they have raised to produce packs of Diabetes UK materials for people newly diagnosed with diabetes. This ensures that people have more information and advice so that they can get the best out of their care, manage their condition well and go on to live long and healthy lives.
The group has recently worked with Diabetes UK Community Champions, who are raising awareness of diabetes within Black and Minority Ethnic communities in Sheffield.
Sheffield has almost 26,000 people with diabetes and an estimated 7,400 people who have Type 2 diabetes but don't know it. The Sheffield voluntary group does a fantastic amount of work to raise much needed funds to support people with diabetes and raise awareness of the condition, which is becoming more prevalent every year. The voluntary groups are vital to our work as a charity and I am delighted that the selfless hard work and dedication of the volunteers in Sheffield has been recognised with this award."
– Linda Wood, Regional Manager for Diabetes Northern and Yorkshire
We are very surprised but very very pleased to have been given this award, as we were up against other excellent groups. All that we have achieved could not have been done without the help and hard work of our volunteers and committee."
– Mollie Hickman, Secretary of the Sheffield voluntary group

The group will go forward to the national Inspire Awards held at the House of Lords on 12 December.
Diabetes UK currently has 27 voluntary groups in the Northern and Yorkshire region, with 538 registered volunteers.
To find out more about becoming a volunteer for Diabetes UK call 01325 488606.