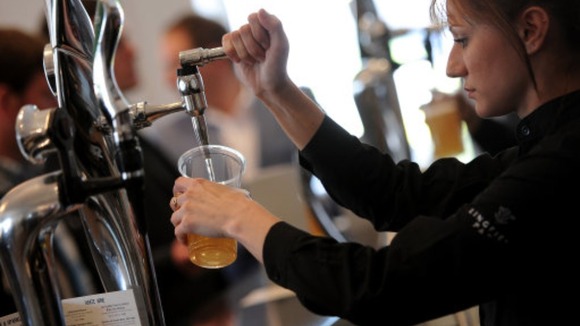 The Government has refused to cut an inflation-busting tax on beer - but pledged to keep it under review.
MPs from all parties called on ministers to scrap the beer duty escalator amid fears the rising cost of a pint led to local pubs closing and breweries going bust.
MPs have demanded a quick end to the escalator, which was launched in 2008 by then-chancellor Alistair Darling and hikes the price of a pint by 2% above inflation.
The tax, blamed for plummeting beer sales as 16 pubs a week close, is due to last until 2014/15. Up to 5,800 pubs shut since its introduction four years ago as pints became more expensive, the Commons heard.
I have been contacted by many constituents who are very concerned about this issue. Pubs and many other businesses are struggling at the moment – in the last year, we have had no real growth in our economy and the longest double dip recession since the Second World War.

When George Osborne raised VAT to 20%, it increased the price of beer in our pubs by 5p a pint, but only increased the cost of a can in the supermarket by 2p. In addition, breweries and publicans have been feeling the squeeze, as supermarkets continue to promote offers on alcohol. This makes it even harder for pubs to compete and that has a knock on effect to our communities, where the very existence of the local pub is in increasing danger.
– Dan Jarvis MP, Barnsley Central
This issue is critical to my business and to the beer and pub industry. Since the introduction of the beer duty escalator, excise duty has increased by 42%, or nearly 20p per pint. Beer sales in pubs and clubs have fallen by 23% and over 6,000 pubs have closed. Beer taxation now costs the average pub around £66,000 per year. For many, this is not sustainable.
– James Taylor, proprietor of the Two Roses Brewery in Darton