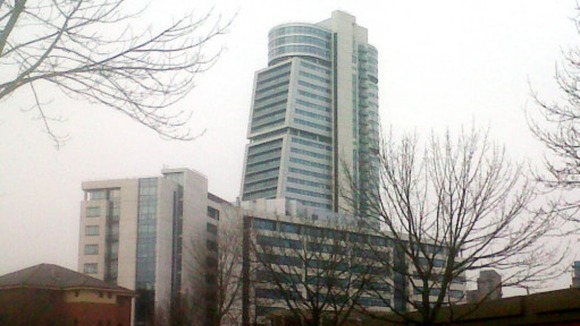 People with a head for heights are taking part in the first Great Yorkshire Stair Climb (GYSC).
They are heading to Yorkshire's tallest building, Bridgewater Place, to tackle the 522 steps to the top of the 112 metre high building. All the proceeds raised will go to the Yorkshire Cancer Centre.
Everybody taking part will be time, but it's up to the individual whether they steadily walk up or sprint two steps at a time.
One of the people taking part is Dan McIntyre, a wheelchair user who finds it challenging to walk short distances, has had kidney failure and is a two time cancer survivor.
Unfortunately, Dan has been out of work for the past few years, but has filled his time volunteering for various charities (most notably Bradford Cancer Support and Airedale), and taking part in various challenges to raise much needed funds.
Last year he did the Alps Challenge for Disabled Motoring UK, where he took a 1932 mobility trike the 1800 mile distance across the Swiss Alps, recreating the epic journey undertook by the trikes former owner back in 1947. He participated in the Leeds 5k as part of the Jane Tomlinson Run for All in aid of the Yorkshire Cancer Centre, taking him 80 minutes to complete. This year Dan zip wired from the Tyne Bridge in Newcastle, on the very same line that Bear Grylls used the previous day with the Olympic Torch.
I reckon this will likely be the most demanding challenge I've undertaken in terms of physical effort. As mentioned I'm a wheelchair user who can manage short distances (think back of car to front of car) with a pair of sticks. I plan to try and do the stair climb on foot with my sticks, but may end up on hands and knees. Not very dignified but it gets the job done! And I'd rather try and fail than not bother trying at all.
– Dan McIntyre
Dan is just one of the truly inspirational people that are taking part in the stair climb to raise funds for the Yorkshire Cancer Centre.

It really is an event for all, and we are really excited to welcome Dan and everyone else who has registered to the stairwell on Saturday. So whether you are new to exercise or an athletic machine, we will be there to support you at a pace that suits you to get to the top of this fantastic building.
– Gary Butterfield, co-director of the GYSC
This is a fantastic opportunity to take part in a fundraising event with a difference, whilst raising much needed cash for the Yorkshire Cancer Centre, and I would encourage anyone with an hour or two to spare on Saturday to pop along and take part. The funds that are raised will help this amazing organisation to continue their work improving cancer outcomes for patients throughout the county.
– Andy Dodman, co-director of the GYSC

The event is open to people of all abilities over the age of 16, and costs £20 to register. Further information about the event is available here website.**