Best in British Ice Skating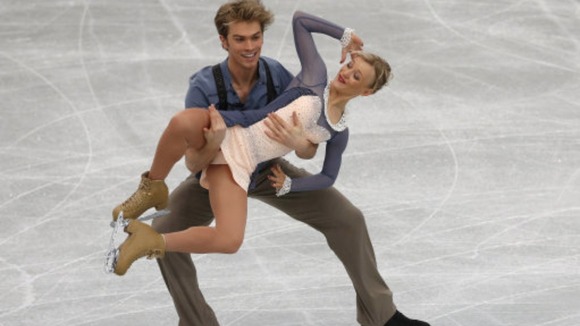 More than 40 Sheffield-based skaters will be hoping to make home advantage count when they bid for national titles at the British Figure Skating and Synchro Championships 2012.
The National Ice Skating Association's (NISA) flagship event is taking place at iceSheffield, where the city skaters train, from today until Sunday 2 December 2012.
The event will see almost 140 ice skaters and 16 synchro teams from across the country compete in Novice, Junior and Senior Ice Dance, Pairs, Ladies, Men and Synchro categories.
In the Senior Ladies category, iceSheffield will be represented by Katie Powell, who was recently selected for Team GB's 2012 Olympic Ambition Programme, and Lucy-Anne Walker.
Lawrence Evans, Daniel King and Jamie Wright will compete in the Senior Men event and team Perpetuum will feature in the Senior Synchro event.
Millie Paterson and Woody Carstairs, who competed for GB at the inaugural Winter Youth Olympic Games in 2011, are one of three Junior Ice Dance couples. They will be joined by Charlotte Dyson and Paul Dredge and Olivia Smart and Joseph Buckland.
The city's Junior Ladies skaters are Emily Campion, Emily Hayward, Bethany Powell and Maxine Yu, while Peter James Hallam and Jake Astill will be flying the city's flag in the Junior Men event.
Hannah Linden and Daniel Linden have qualified in the Advanced Novice Dance category and Molly Lanaghan and Jake Astill in the Advanced Novice Pairs, while Luke Digby will compete in the Advanced Novice Men event.
The centre has five skaters in the Advanced Novice Ladies event - Harriet Beatson, Summer Herbert, Molly Lanaghan, Morgan Swales and Isabel Yeatman.
We are extremely proud to be hosting this event, which is the most prestigious competition in the British figure skating calendar. iceSheffield has staged the championships every year since 2008 and it keeps getting bigger and better as the sport grows in popularity.

Every year, our own team gets bigger as more and more youngsters progress through our hugely successful Learn to Skate programme. We've got some incredibly talented skaters and we look forward to seeing them shine on their home rink.
– Mandy Parker, general manager of iceSheffield

Amongst the other top names competing in the seven-day championship are current British Ice Dance Champions and Winter Olympians Penny Coomes and Nick Buckland, seven-time senior British Champions Stacey Kemp and David King and Jenna McCorkell - the most successful female ice skater to hail from Northern Ireland winning nine British titles.
The British Championships is always a superb event and, once again, we are looking forward to seeing some incredible talent on show in Sheffield over the seven days.

It is a great opportunity for novice and junior skaters to gain valuable major event experience as we look for the next generation of youngsters coming through. Importantly, for our senior skaters the British Championships provides the chance to shine ahead of selections for major international events this season.
– Ken Pendrey NISA Board Chairman and President