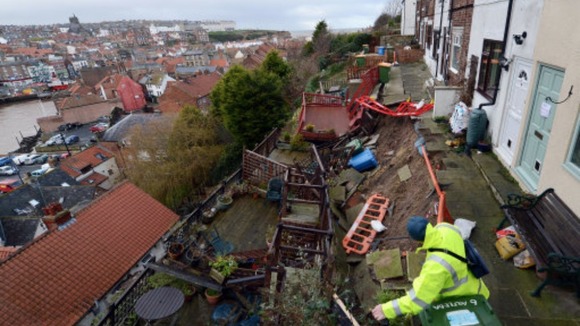 Five houses in a row of terraced properties in Whitby will be demolished following severe subsidence in their gardens overnight on Monday 26 November, which has left them at serious risk of collapse.
North Yorkshire BuildingControl and structural engineers made the recommendation following detailed inspections.
Due to the lack of workable space around the site and the need to ensure the properties do not collapse down the slope, work will be carried out in asteady, step by step approach from the back of the properties.
Demolitionis expected to start today, but an exact time for completion has yet to be finalised.
After the events of the last 36 hours, it was imperative we acted quickly to agree a course of action for demolition. That plan is now being put in place by the contractors who are preparing the site ready for the expected start of demolition. Early indications are that contractors will be working though the night where necessary. Security personnel will be on site 24 hours a day to limit access to authorised personnel only and ensure the safety of the public.

We are continuing to liaise with the owners of the properties directly affected and those in the immediate surrounding area to keep them updated with our progress. The owners of all of the properties considered to be at risk have now been notified of the situation.

We would like to apologise for any inconvenience these works will cause, but as I hope people will appreciate, it is important that swift action is taken.
– Gabrielle Jandzio, Scarborough Borough Council