Confusion over sale of Yorkshire sculpture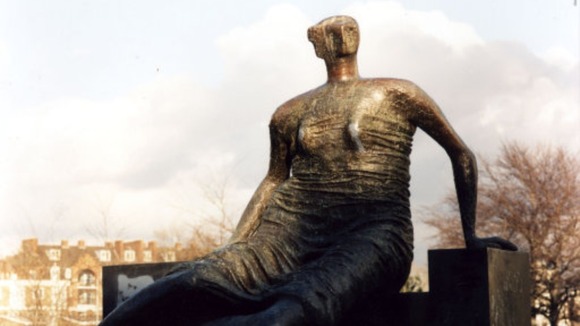 A council which is planning to sell a Henry Moore sculpture, which is on display in Yorkshire, may not have the right to sell it and may not even own it, an arts charity has said.
Lutfur Rahman, mayor of Tower Hamlets in east London, decided to sell the council-owned Draped Seated Woman in an attempt to claw back money lost in budget cuts.
The sculpture, known as Old Flo, was originally sold to London County Council by Mr Moore at a below-market price in the 1960s on the understanding it would be placed in east London. The work of art is on display just a few miles from Moore's hometown of Castleford at the Yorkshire Sculpture Park.
Tower Hamlets assumed responsibility for it after Greater London Council was abolished and it has been loaned to Yorkshire Sculpture Park for the last 15 years.
A spokeswoman for the Art Fund said it was not clear that the council has the right to sell the sculpture.
Our research suggests that works of public art were handled separately from land and buildings when both the London County Council and the Greater London Council were dissolved. For this reason our lawyers have been in touch with the council to ask for more information, which they have so far failed to provide.

The council would have surely addressed this before commissioning a sale through Christie's, and should be easily and quickly able to provide evidence of ownership.
– Arts Fund spokeswoman

The council should "consider all options" including moving the work into a museum instead of selling, she said.
The council may be cash-strapped but with an annual turnover of £1 billion, selling this iconic and much-loved work will not reverse its fortunes. If this sale goes through unchallenged then it sets a precedent for other councils to follow suit, leaving our public spaces bereft of art.
– Arts Fund spokeswoman

The council has acknowledged it was a "tough decision" but one made due to the "massive government cuts we are facing".
or the Art Fund to challenge our ownership after a period of nearly 30 years seems to be a desperate PR stunt. First we had members of the art world telling a poverty-stricken borough not to sell the sculpture. Then we were told to place Old Flo out of reach of borough residents in an inaccessible inner courtyard of the Barbican. And now they say we do not even own it.
– Lutfur Rahman, Mayor of Tower Hamlets