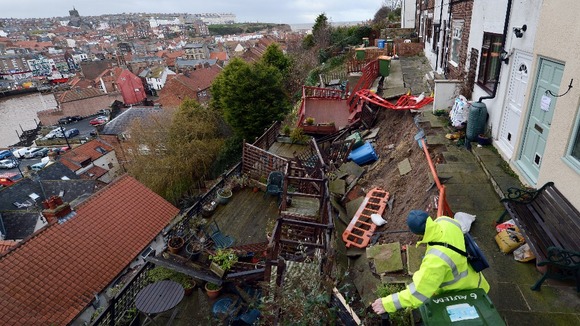 Work to demolish a row of cottages overlooking an historic North Yorkshire harbour after a landslide left them in danger of collapse will be "a long, laborious task", according to engineers.
Preparatory work began yesterday to knock down five homes at Aelfleda Terrace in Whitby, which are precariously balanced above the River Esk.
But contractors said it will almost certainly be this afternoon now before the buildings themselves come down.
The gardens and patios in front of the 150-year-old terrace slid 30ft down towards the harbour in the early hours of Tuesday.
And the slope has continued to move since, with a block of rock and earth the size of a minibus crashing into the next row of houses down.
Scarborough Council says it has been left with no choice but to demolish the five former Whitby jet workers' cottages.
"There'll be a man going up in a man-riding basket with a bucket and a hammer and basically he'll be knocking it down brick-by-brick. It's going to be a long, laborious task."
– Coun Mike Cockerill, Scarborough Council

Work around the houses continued yesterday to prepare for the demolition, including the felling of a 40ft willow tree which was causing concern.

Contractors also began work to lay a temporary aluminium road across fields near Whitby's famous abbey. This will be used to bring in heavy machinery, including a cherry-picker.

Yorkshire Water's manager of community engagement, Richard Sears, visited the scene on Thursday and confirmed there was an ongoing legal dispute with the residents of the terrace.

Mr Sears said this was to do with drainage issues. But he said he was "not going to jump to conclusions" about what happened. He said it was possible, given the devastation, that the cause of the landslip may never be known.