Calendar Sport
Bradford's victory ranks among the greatest giant-killing feats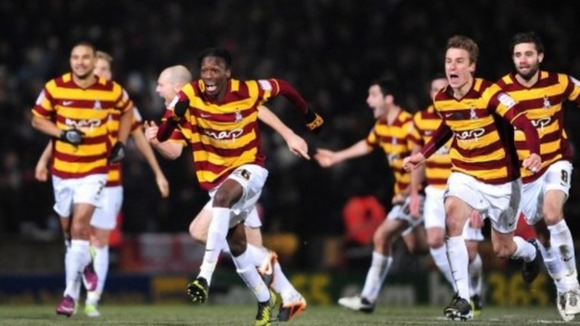 There are celebrations in Bradford as the Bantams giant-killing feat - a victory over the mighty Arsenal, 3-2 on penalties, sinks in. Bradford City is now through to their first ever semi-final in the Capital One Cup. The match finished 1-1 after extra-time and the spot-kick specialists then went on to win their ninth successive penalty shoot-out 3-2 after Thomas Vermaelen struck the post. The Arsenal skipper had earlier appeared to rescue the Gunners with a header
three minutes from normal time to equalise Garry Thompson's first-half volley.
I don't think the enormity of our achievement has quite sunk in. When get up in the morning and see the headlines in the newspapers they will realise what they have done. "There is a big gulf between the two teams in terms of finances and places inthe divisions. I don't want the talk to be about the penalties, I want it to be about theperformance. Arsenal have played their best team and we were three minutes awayfrom beating them, then we have had the setback of conceding a goal and had todig deep again in extra time. I hope this can be the first of many nights like this for Bradford City. We want to put Bradford on the map again. I want them to have a team to be proud of.
– Phil Parkinson, Bradford City manager

Gunners manager Arsene Wenger insisted Arsenal's players should not feel embarrassed despite the defeat against a side who cost a total of £7,500 and are currently 64 places lower in the leagues.
You feel embarrassed when you don't give everything but I feel the team did fight and they will be more disappointed and frustrated. It's disappointing but congratulations to Bradford. They defended well, started stronger than us and in the second half and extra time it was all us but we couldn't convert our chances. It was a typical English cup game on a difficult pitch and overall we lost on penalties but I cannot fault the efforts, we kept going until the last minute and in the end Bradford got on top of us."Of course we missed three penalties and that's a lot to take."
– Arsene Wenger, Arsenal's manager

The Gunners did not force a save out of Bantams keeper Matt Duke until the 69th minute but Wenger insisted his team had created enough overall.
They defended very well, very deep in their own half, the pitch was a bit slippery and there was no space. We played with a very offensive team and for over an hour played with five strikers but couldn't score. Where does it leave our season? To focus on the next game, sport is about that.
– Arsene Wenger