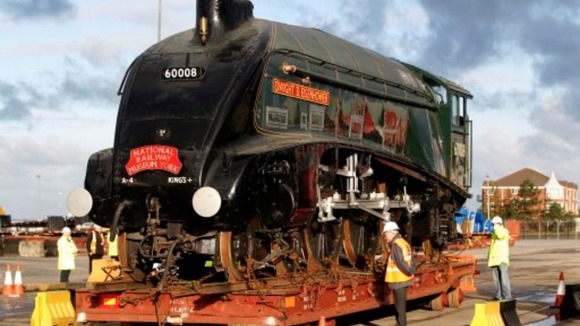 The sister locomotive of the record-breaking Mallard is now receiving the final flourishes to its public makeover in the workshop of the National Railway Museum.
Transatlantic traveller Dwight D Eisenhower has been undergoing cosmetic restoration work after moving into the York museum workshop earlier this month, and the project is now in its closing stages. The Doncaster-built Gresley Pacific is being given a fresh coat of BR green paint in preparation for 2013's anniversary celebrations. Next year marks 75 years since Mallard broke the world speed record and became the fastest steam locomotive of all time.
The centrepiece of the celebrations will be a spectacular family reunion in July. All six of the surviving A4 locomotives in the world will be gathered together at the National Railway Museum in York - a sight never seen before.
We are reaching the final stages of this job with the fine brushwork and we're on track to deliver what every rail fan wants for the festive season - an A4 in new livery. We love what we do, and it's great to show off our specialist skills in the public eye here in the workshop of the National Railway Museum.
– Ian Hewitt from Heritage Painting
Given Mallard's status as the world's fastest steam locomotive it was only fitting that its sister locomotives enjoy some time in the spotlight after their historic homecoming to UK soil. We are hoping that visitors will visit our workshop balcony to watch Heritage Painting transform Dwight D Eisenhower back to its streamlined Brunswick green best and return over the Christmas holidays to see the finished job.
– Bob Gwynne, Associate Curator of Railway Vehicles at the National Railway Museum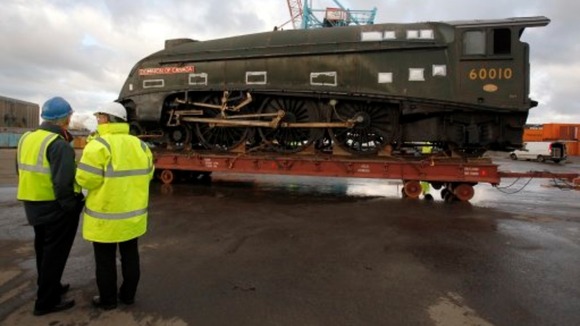 Dwight D Eisenhower and Dominion of Canada are on loan to the National Railway Museum for two years, from the National Railroad Museum in Wisconsin, USA and Exporail, the Canadian National Railway Museum in Montreal.
We hope the British public enjoy the chance to see Dwight D Eisenhower, which although built in Doncaster, now occupies a special place in the hearts of the American people due to it being re named after one of our presidents.
– Jacqueline D Frank, Executive Director at the National Railroad Museum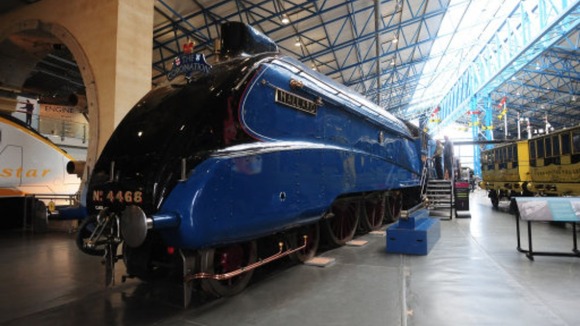 On the third of July 1938, the mighty blue Mallard was recorded as reaching the awe-inspiring speed of 126mph on the East Coast Main Line, breaking the existing German record of 124 mph set in 1936. With Hitler's Third Reich then in the ascendancy it was a matter of national pride that a British locomotive captured the world speed crown. No 4468 Mallard was recently built at LNER's Doncaster Works and was chosen as the perfect vehicle for the endeavor because it was the first of the class to be fitted with a double chimney.