Countdown to Boxing Day charity dip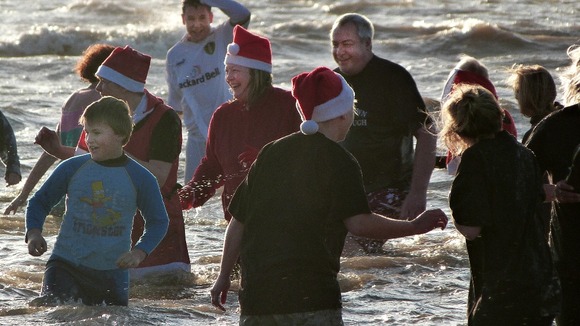 With just three days to go until the annual Flamborough Pre-School Boxing Day Dip organisers are hoping to drum up some last minute dippers to help create an even bigger splash for cash for the local pre-school.
The Flamborough Pre-School Boxing Day Dip has taken place for the last three years and has raised over £1000 for the school.
This year the Flamborough Longsword Dancers have got onboard to support the event for Pre-school and they are encouraging local people to head down to South Landing to cheer on the dippers before heading back into the village for their annual Boxing Day tradition which sees them performing outside each pub in aid of local charities.
We want Boxing Day to be a day that local people really look forward to, full of lots of community activity and traditions. This year we are inviting people to dip in the fancy dress theme of Nursery Rhyme characters if they wish. Whilst sword dancing is an age old tradition, we hope our new tradition of the Boxing Day dip can help towards creating a whole day of community activity and fun."
– Helen Broadley, Pre-School Committee Chair

Sponsorship forms are available from The Old Tuck Shop in Flamborough or The Rose and Crown pub. Dippers and spectators are asked to gather at South Landing for 10.45am with the dip starting at 11am. The longsword dancer's tour begins at the Rose and Crown pub in High Street at 12.30pm and then along to the Seabirds pub in Tower Street, the Victoria Club in Chapel Street, finishing at The Royal Dog and Duck..