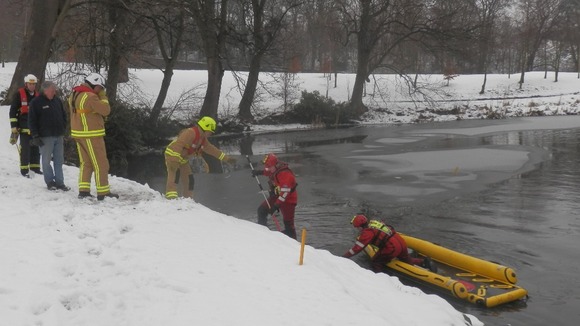 A 3 year old terrier is back at home after a dramatic lake rescue by West Yorkshire Firefighters from Brighouse. Dog owner, David Parkinson, realised that his terrier was stranded on an island in the middle of an icy lake at the Crow Nest Golf Club, Coach Road while he was out walking his two dogs this morning.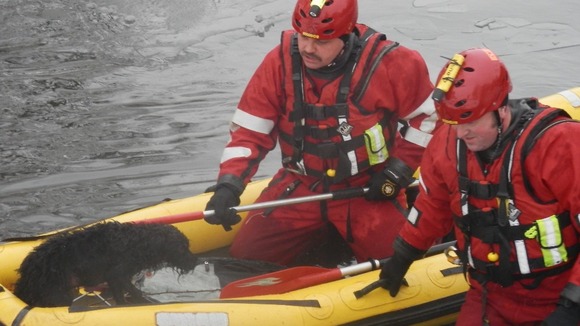 I think Molly was chasing ducks and ran out on the ice," recalls Mr Parkinson. "She barked when I called her but couldn't get back across the patches of icy water. I was relieved to see the blue lights of the fire service arrive.
– David Parkinson, owner

The specialist water rescue team from Brighouse used an inflatable boat sled to reach the island but as firefighters landed, Molly jumped in the water.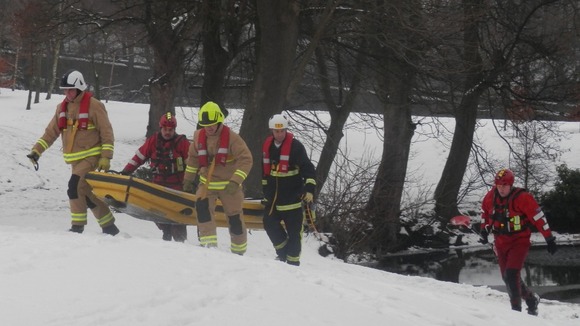 We had to act swiftly, wading into the water and breaking through patches of ice to pull Molly into the boat and back to dry land.
– Station Commander Andy Crowther.

He continued: "The owner did exactly the right thing in calling for help and not attempting to rescue his dog. Never walk on frozen waterways, no matter how safe you believe they are. We have the equipment and skills to respond to emergencies."