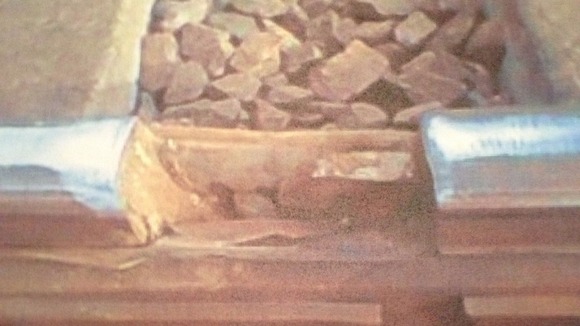 Rail union RMT say there could be "another Hatfield" after releasing a picture of a six inch gap in the East Coast Mainline track near Selby.
An investigation's been launched by the Rail Accident Investigation Branch after the picture was taken last Friday at Hambleton South junction, and the union says it is due to staffing cuts.
An investigation found the Hatfield crash - which killed four people when a train travelling from London to Leeds derailed in 2000- was caused by "critical cracks" on the track.
RMT say a crack near Selby, due to staffing cuts, has crumbled to a much bigger gap.
RMT claim there is massive pressure from the Government to keep the East Coast Mainline running, as they look to re-privatise the service. They say there are also demands on Network Rail from the budget-holder, the Office of Rail Regulation, to cut back on rail renewals work.
"This shocking new picture highlights the reality on Britain's railways today - staffing, inspections and track renewals have been cut in the dash to save money and there is massive pressure right from the top of Government to keep services running at all costs regardless of the potential human cost. If we don't reverse the cuts on Britain's railways another major tragedy is inevitable.

"RMT has made it crystal clear that we want all cuts to staffing, maintenance and renewals reversed and all track works brought back in house rather than subbed-out to contractors. The current contractor staff should be transferred over to direct Network Rail employment. We also want the pressure from the centre to run services at any costs lifted to enable safety-critical works to take place immediately."
– Bob Crow, RMT General Secretary

Network Rail strongly deny the claims and a dip was identified - but it turned into a crack the day before they were due to repair it.
"A dip in our track was identified and spotted at Hambleton on 17 January. Following our well-tried and tested standard industry procedure to remedy such dips, we scheduled an intervention to repair this dip on the Saturday night of 2 February. Unfortunately the track deteriorated more quickly than is to be expected and, on discovering the broken rail, all traffic was stopped immediately while a repair was carried out."

"This incident was managed within all safety standards and was in no way affected by changes to staffing levels. Safety issues will never be compromised in the name of managing costs."
– Network Rail spokesman