Red Arrows back to full strength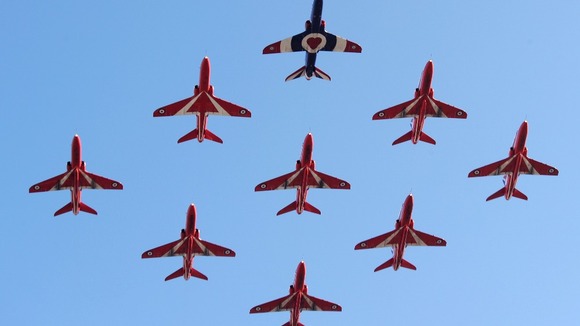 The RAF's Red Arrows air display team has flown in its world famous diamond formation of nine planes for the first time in 18 months.
The team, which is based at RAF Scampton, in Lincolnshire, lost two pilots in accidents in 2011.
This led to a decision to fly a team of seven aircraft in last year's display season due to the lack of time to fit new pilots into the full nine plane formation.
Now, the Red Arrows have performed their diamond nine formation over the Lincolnshire countryside for the first time since 2011.
Squadron Leader Jim Turner, who is designated Red 1 and is the formation leader, said:
Today was our first 9-ship since September 2011, representing a significant move forward in the team's winter training for the 2013 display season.

We flew two 9-ship sorties today. I am hugely proud of the whole team - the pilots, engineers and support staff who have all worked so hard to achieve this milestone.
– Squadron Leader Jim Turner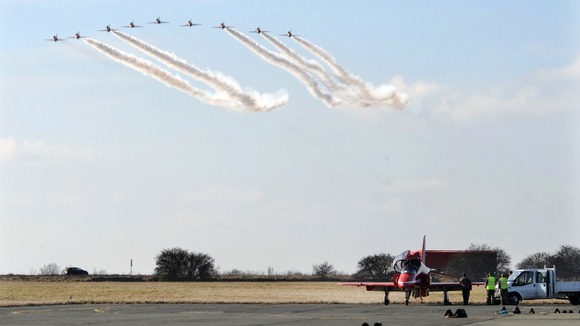 New team member Flight Lieutenant Mark Lawson, Red 3, said he was excited rather than nervous.
The team have worked hard, practising sorties in groups over the winter months, to build us up to this moment.

It was a very exciting day for all of us.
– Flight Lieutenant Mark Lawson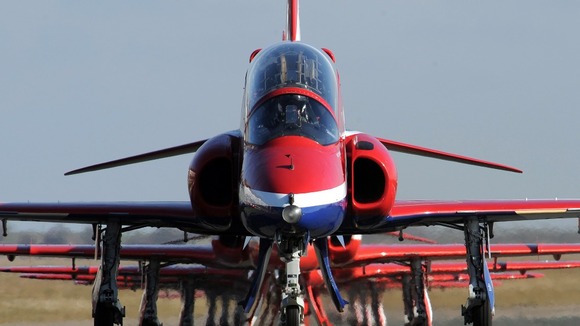 Red Arrows pilot Flight Lieutenant Jon Egging, 33, from Rutland, was killed when his Hawk aircraft came down after performing at an air show near Bournemouth airport in Dorset on August 20, 2011.
An inquest later heard the likely cause of the crash was that he lost consciousness due to the G-Force.
Three months later, Flight Lieutenant Sean Cunningham, 35, was killed after being ejected from his Hawk while on the ground at RAF Scampton.
An RAF spokesman said the Red Arrows will soon move to RAF Akrotiri in Cyprus to enable additional winter training to be completed in better weather conditions.