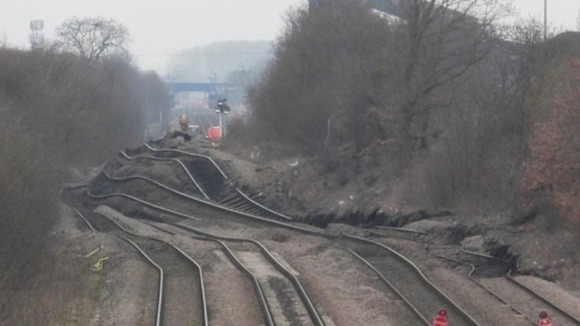 Commuters have been told the railway line destroyed by a landslip in South Yorkshire will not be up and running before June - at the earliest.
Network Rail engineers are beginning to remove spoil from Hatfield colliery, which caused the landslide two weeks ago in Stainforth.
The network's bosses will meet at the site today to plan work which needs to take place now the spoil heap has stopped moving.
But they say the damage is worse than thought - and work could be ongoing for the next four months.
"I want to thank passengers and our freight customers for their patience in this difficult time. In recent days it has become apparent that the damage to the railway is a lot worse than we originally thought and the repair work will be more complex. Clearly our priority is to get rail services running again as quickly as possible but we need to do so safely.
"The complexities of this job mean that it will take 16 to 18 weeks to complete, approximately until the end of June. However we will not be in a position to confirm this timeline until more extensive investigations have been completed in the next few days. We will do everything possible to reduce the time it will take to get the railway back.
"We are working closely with the train operators to minimise the disruption to passengers. We have also completed work which will better allow the flow of essential coal and steel freight trains to run from Scunthorpe and Immingham."
– Phil Verster, route managing director for Network Rail
"During the forthcoming weeks, keeping passengers informed and on the move is our priority. We've been working closely with our colleagues at Network Rail and First TransPennine Express to ensure they are aware of how this disruption can affect their journey. We will continue to keep passengers updated at our stations and on our trains as well as online via our website and Twitter feed. I'd like to thank everyone for their continued patience as this essential work is carried out and the line returned to us as soon as possible."
– Richard Allan, Northern Rail