York busker campaigns for local authorities to support street performers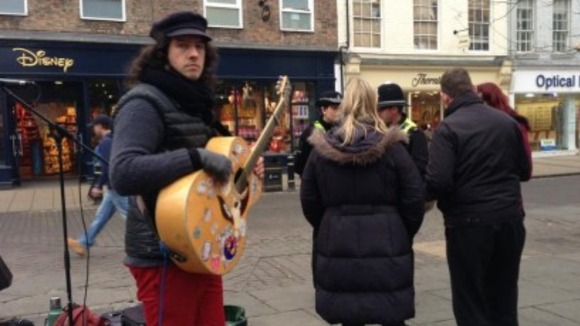 A busker in York is campaigning for greater support to be given to street performers after he faced "heavy handed" treatment from council officials. Jonny Walker was displaying a sign offering his CDs for a suggested contribution. York Council charges performers £40 a day to sell CDs to the public. He says council officials accused him of street trading and threatened to take away his busking permit.
The Association of Street Artists and Performers has been set up because accross the country local authorities are getting heavy handed with people who want nothing more then to perform their art on the streets. Public space belongs to all of us, and the High Streets, under pressure from Internet shopping, out of town developments, high rents and the dire economic situation need to be full of life and music to keep people's spirits up. Street performance gives a place a sense of community and well-being, and is one of the many reasons people still have for actually physically going to a place.
– Jonny Walker

Gill Cooper, City of York Council's Head of Culture, Tourism and City Centre said: "We are currently undergoing an investigation into this and other, associated matters and cannot comment on specifics, but we can confirm that two city centre officers and then two licensing officers were called out on Wednesday. A caution was issued for illegal street trading and a busking permit suspended subject to a detailed investigation. "The terms of agreement of a busking permit were drawn up with the police and Safer York partnership and all applicants sign up to them. They include: • The sale of any merchandise (for example, CDs) is not allowed unless an appropriate Street Trading Consent has been obtained from the council's Licensing Unit • Please don't actively solicit contributions. This is begging and you could be arrested/ prosecuted if you do • Act or speak aggressively to people exercising their right to ask you to stop.

"The 250 street entertainers we currently licence and work with add to the ambience and attraction of a vibrant city centre and we welcome Mr Walker's willingness to 'working positively with City of York Council to build more co-operative relationships'. We have sent him a letter today outlining our concerns and inviting him to meet us."