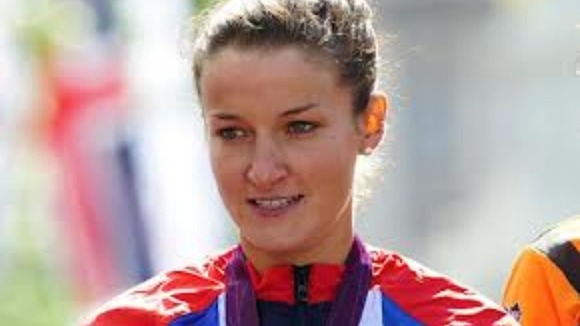 Lizzie Armitstead, the first home medallist of London 2012, is keen to bid for a road and track double at the Rio de Janeiro Olympics of 2016.
The 24-year-old from Otley still reflects on the sprint in teeming rain down The Mall, when prolific champion Marianne Vos of Holland beat her to Olympic gold by a narrow margin.
"I still think about the sprint, but I am also very happy with silver as well.

"I want to win and it would've been great if I had won, but it is a silver lining and motivation to keep going for Rio."
– Lizzie Armitstead

Armitstead, who in 2009 won team pursuit gold at the Track Cycling World Championships, had to choose between the velodrome and the road for London 2012.

In Rio, there is the possibility she could do both, but there are a number of hurdles to overcome.

The International Olympic Committee will in September decide whether to return the points race to the Olympic programme at the International Cycling Union's request.

If that happens, then the criteria must be decided and it may be that the points racer also has to compete in the team pursuit.

The devotion required for the team discipline means it would be impossible to also ride in the road race.

Armitstead would like to explore the possibility of a points-road race double, though.
"I'd love to be able to do it. The girls on the track now are phenomenal riders and so specific.

"It's difficult to step into that, but I do love points racing and I do think, if I was allowed to try to combine the road and the points race, I'd love to do it.

"If I get the opportunity to prove that I could be a great stand alone points racer, I'd love to be able to do it.

"I'd like to be given the chance, but I'm not sure I'll be able to."
– Lizzie Armitstead

Armitstead may get the chance to prove she can do both at the 2014 Commonwealth Games in Glasgow.

The Commonwealth Games, in which she won road race silver in Delhi in 2010, is in her mind this season, with the British Championships in Glasgow in June one of her targets, along with September's Road World Championships in Florence, Italy.

Armitstead is keen to exchange her Boels Dolmans Cycling Team jersey for the British champion's white jersey with red and blue bands; a rainbow jersey could follow in September.
I want to wear white again. There are certain privileges which come with it and I'd like to have it back.

"I'm in an orange team and it's not my favourite colour."
– Lizzie Armitstead

Armitstead was speaking on a rare trip home to Yorkshire, which will host the start of the 2014 Tour de France next summer.

The Leeds start - and the Giro d'Italia start in Belfast - capitalises on the interest generated in cycling, in many ways by the likes of Armitstead, who has noticed a growth in the sport.
When I first started, I'd go out on a bike ride with my dad and we'd pass a few people; now we pass far more people.

"I am proud of the fact it's starting in Yorkshire, but more the fact that it's in the UK."
– Lizzie Armitstead

It is not the only change in Armitstead's life. She and boyfriend Adam Blythe, who is currently riding the Giro with BMC Racing, now have a European base in Monaco. Formula One driver Jenson Button, an avid triathlete, is among those who joins them for training rides in the hills above the Principality.

Armitstead likes Monaco for the lifestyle as a bike rider, rather than the glamour.
"I feel a bit uncomfortable.

"I'm not saving up for a Ferrari or anything."
– Lizzie Armitstead