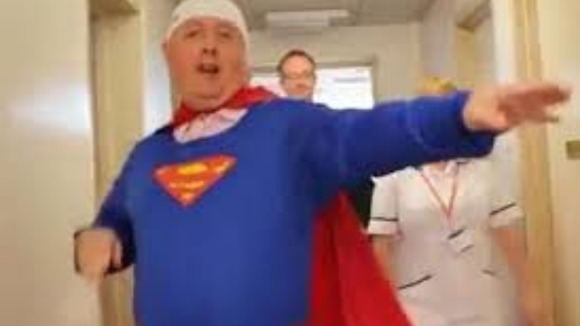 Hull hospitals boss Phil Morley has sparked controversy by swapping his suit and tie for a Superman outfit for a three-minute long staff video.
Staff and patients groups have criticised the video, which was made to encourage workers to have workouts to relieve stress and pressure, as insensitive when there's a possibility of job losess as the local NHS Trust has to make savings of £100m.
The film shows Hull and East Yorkshire Hospitals NHS Trust chief executive Mr Morley under pressure, answering lots of calls at his office. He then transforms into Superman – complete with Lycra outfit and bright red boots.
He then dances down the corridor to the strains of Is This The Way To Amarillo encouraging hospitl employees to join him.
The video was made to promote a Workout At Work Day and for the Trust's internal intranet, which is accessible to the 8,000 employees at Hull Royal Infirmary and Castle Hill Hospital.
There's a possibility of people losing their jobs - then we come into work and see this video – it is a little bit insensitive.
– Hull Royal Infirmary worker
The video itself could be seen as a bit of harmless fun, with a light-hearted message regarding stress in the workplace.

But in the context of £100m in cuts, staff morale issues, which the trust identified last year and the recent criticism of the Acute Assessment Unit by the Care Quality Commission, which commented that 'something has to give' regarding staff stress levels, this video has been seen by staff as crass and insensitive to their real needs on the front line.
– Danny Marten, Save Our NHS Hull and East Yorkshire campaigner

The trust says the video took 15 minutes to make and was made internally, at no extra cost.
I was approached by our physiotherapy team to record a video to promote Workout At Work Day.

The idea was to create something quirky and memorable to encourage staff to think about how they can keep themselves fit and healthy while at work and I felt it was a worthwhile project to be involved with.

Whether people loved the event or hated it, the health and wellbeing of trust staff is vital to us as an organisation and to our patients, which is why we are keen to invest both time and effort in this area.
– Phil Morley, Hull and East Yorkshire Hospitals NHS Trust chief executive