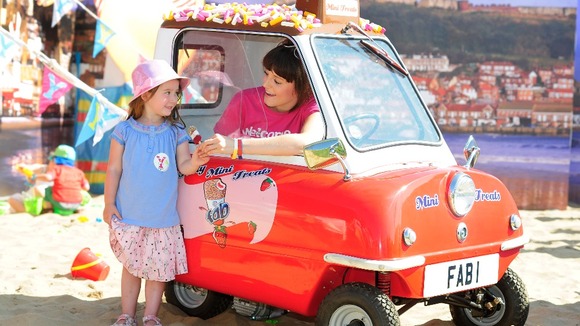 The world's smallest ice cream van cooled down sun kissed little visitors, as the Great Yorkshire Show got off to a scorching start.
The Fab mini ice cream van made a pit stop at the Welcome to Yorkshire beach. Also stopping by were former Emmerdale bad boy Tom Lister and Life on Mars actor Dean Andrews who stripped off to help launch a new range of Tour de France Grand Départ merchandise.
We are thrilled to have both Tom and Dean here to help launch the new Tour de France merchandise and to show their support for the Grand Départ coming to Yorkshire next year.Last year's show was all about wellies and cagoules, this year it's sunshine and celebrities and I for one am absolutely delighted to be on a beach in Harrogate, in the sun with an ice cream!
– Gary Verity, Welcome to Yorkshire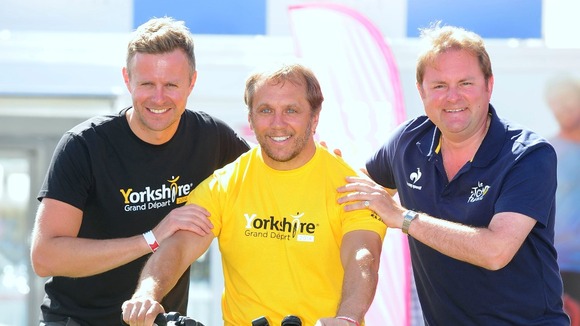 Measuring just 54 inches (1.37m) by 41 inches (1.04m), the mini ice cream van is made from the world's smallest car, the Peel P50. The award winning R&R Ice Cream, based in Leeming Bar, is behind the new Nestlé ice cream products and samples have been handed out at the show.
The tiny ice cream van is part of the Yorkshire Water beach, made from 20 tonnes of sand transported to Harrogate from Scarborough.