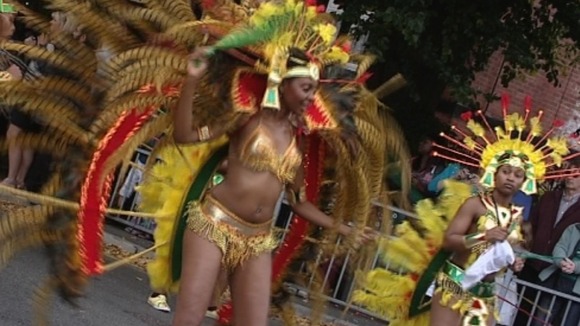 Organisers of Leeds West Indian Carnival are expecting thousands to flock to the city to take in the sights and sounds of the Caribbean at this year's annual parade.
Crowds of over 100,000 are anticipated at Europe's longest running authentically Caribbean carnival.
Wearing costumes inspired by everything from nature to current affairs, hundreds of revelers will take part in troupes alongside amazing King, Queen, Prince and Princess costumes as the spectacular parade leaves Potternewton Park in Leeds 7.
Arthur France, the man at the helm of the Carnival since he founded it in 1967 said,
Across Leeds and the UK, there is a round the clock flurry of activity, sequins and feathers in the masks.

A tremendous amount of hard work and energy goes into organising Carnival and bringing a little bit of the Caribbean to Yorkshire.
– Arthur France, Carnival Founder & Organiser

Visitors from across the UK and overseas are expected for the biggest Caribbean Carnival outside London. Gary Verity, Welcome to Yorkshire Chief Executive said,
Everyone loves a good carnival and we have one of Europe's best right here in Yorkshire. Leeds Carnival is a spectacular example of the diverse range of visitor attractions the county has to offer. It really is one of Yorkshire's brightest days.
– Gary Verity, Welcome to Yorkshire

Organisers have spent the last year working with partners and agencies including West Yorkshire Police, St John's Ambulance, community organisations and Leeds City Council to make sure that participants and visitors enjoy the big day. Leader of Leeds City Council, Cllr Keith Wakefield commented,
The Carnival is a hugely important feature of the Leeds artistic and cultural landscape. It is a brilliant example of communities and the Council working together, every year bringing thousands to our city, contributing to the economy and our reputation as a great place to be for residents and visitors alike.
– Cllr Keith Wakefield
Carnival is not just about having a party on our streets - it is serious business. Our ambition is to make Leeds West Indian Carnival a premier tourism attraction for the region and the heart of Carnivals in Europe. We are looking forward to working with some of the city's key organisations and agencies to realise that ambition.
– Arthur France, Carnival Founder & Organiser

You can keep up to date with all the news of the Carnival news on Twitter @CarnivalLeeds