Minister condemns Mansfield Mayor chains ban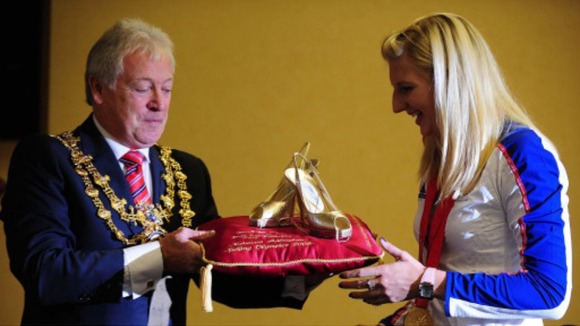 A ban on the Mayor of Mansfield wearing ceremonial chains of office has been branded "plain silly" by a coalition minister.
Local government minister Brandon Lewis defended use of the historic "bling", accusing the Labour-dominated local council of "political correctness".
Tony Egginton became the Nottinghamshire town's first elected mayor in 2002. Standing as an independent, he secured a third term in office in 2011, beating the Labour candidate by just 67 votes.
He has been known for high-profile ceremonial appearances - including presenting double Olympic champion Rebecca Adlington with a pair of golden Jimmy Choo shoes in 2008.
However, the leader of the council's Labour group, Martin Lee, has insisted the council chairman should wear the ornate gold civic chains rather than the mayor.
He is reported to have accused Mr Egginton of "parading around in bling". The chains have been locked in a safe until the dispute is resolved.
Responding to a request from a local businessman to intervene in the row, Conservative Mr Lewis made clear he had no legal powers to do so.
Where councils have historic civic regalia, I believe they should be worn with pride.

Civic regalia are a symbol of continuity, of local identity and of civic pride. Local democracy is diminished if one whitewashes all colour and ceremony in some bland, vain, politically correct bid to 'modernise'.

Indeed, my children have advised me that 'bling' is actually quite fashionable these days; this observation reflects the fact that reactionary 'modernisers' are generally out of touch with the people.

I suspect the public would rather have their civic event opened by a dignitary wearing impressive chains of office than some municipal official only wearing a stuffy suit.

Allowing the elected mayor to wear the chain seems a sensible and practical arrangement which no doubt makes sense to local people.

By contrast, getting into a huff and locking the civic regalia away out of sight is plain silly.
– Brandon Lewis MP