Leeds Trolleybus scheme a step closer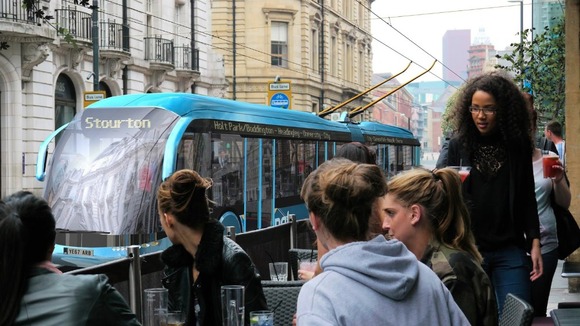 Plans for a Trolleybus scheme in West Yorkshire have moved a step forward today.
An application for a Transport and Words Act Order has been submitted. This will give Leeds City Council and Metro powers to build and operate the system. The application will be considered by the Secreatry of State, will then decide whether to order a Public Inquiry, which is almost certain to happen in Spring 2014.
The £250 million scheme aims to improve journey times or commuters along the 14.8km It should create up to 4,00 new jobs.
Members of the public and organisations have a period of 42 days, from 19 September through to 31 October, to lodge objections or register their support for the scheme.
We know from extensive consultation and recent drop-in events held in Leeds city centre that the general public has responded positively towards NGT when they have heard the facts about reduced journey times, greater reliability and the economic benefits it will bring.

I have taken the opportunity to meet groups and individuals concerned about the scheme and know there are still some who remain opposed to it and this 42-day period is the chance for them to lodge their objections and take part in the process. We have already made important changes to the scheme in response to consultation with the public, businesses and other organisations in the city and will continue the process of listening to people's concerns.

Experience from other highly successful transport schemes of this scale is that they inevitably attract significant numbers of objections. We will work hard to resolve issues wherever it is practicable to do so but we are convinced that the benefits NGT will bring to Leeds and West Yorkshire will outweigh objections to the scheme.
– Metro Chairman Councillor James Lewis

Copies of the TWAO application will be placed in public libraries and other venues along the route and can also be viewed here. To give feedback on the scheme click here.