Mountain rescue team help injured cyclist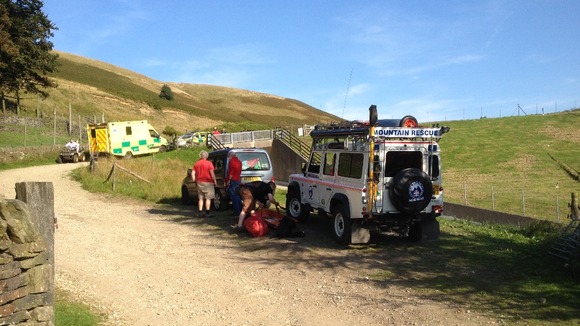 A mountain biker had to be rescued after becoming injured in the Wessenden Valley above Marsden.
The 28-year-old suffered a suspected elbow dislocation after falling from her bike near to Wessenden Lodge.Initially a crew from Yorkshire Ambulance Service were called to the scene, but Holme Valley Mountain Rescue Team were mobilised due to the remoteness of the location.
The HVMRT Land Rover was driven up Wessenden track to get a stretcher and personnel as close to the scene as possible. Fourteen members of HVMRT mobilised to the incident.
The Yorkshire Air Ambulance was also called in, and the helicopter landed in the valley below the accident site.
She was treated at the scene by paramedics before being placed on a stretcher and carried down a steep embankment to the waiting helicopter. She was then transported to Huddersfield Royal Infirmary for treatment.
The site of the accident was about a quarter of a mile up the track above Wessenden Lodge. Vehicles can only get as far as the lodge before the track narrows so the situation was providing problems for the ambulance crew.The casualty was being looked after by some passing walkers and the ambulance paramedics arrived on the scene on foot to provide treatment.

The Air Ambulance was called in, but at that location the track skirts along the steep side of the valley, so the only place it could land was on a flat area of ground some distance below the site. Once the ambulance crew had stabilised the casualty we were able to transfer her to our stretcher and carry her down the embankment to the helicopter.
– Holme Valley Mountain Rescue Team spokesperson