Man banned for life from keeping animals after cruelty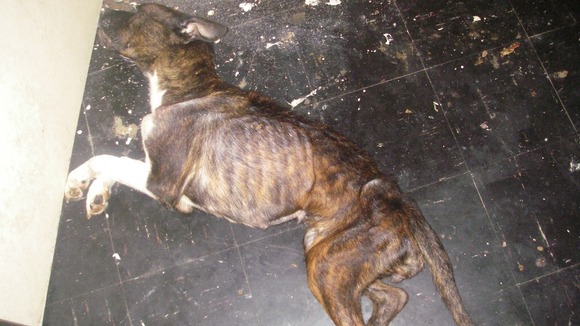 A man sentenced today for causing cruelty to a dog who was in such a poor condition when she was found that she had to be put to sleep.
Andrew Fawcett had been found guilty of three allegations under the Animal Welfare Act 2006 in his absence at Leeds Magistrates Court in February.
His dog, a female Staffordshire bull terrier called 'Bess', was found by police after they were called to an address at Lovel Park Towers, Leeds in July 2011. They called the RSPCA and a vet who put her to sleep at the scene, such was her condition.
This was a horrendous case. This poor dog was skin and bones when she was found. She weighed just 10.5kg. She should have weighed between 18-20kg.

She was collapsed and suffering to such a degree the vet considered the most humane thing to do was to put her to sleep then and there.

The vet found she had suffered a prolonged period of malnutrition, was dehydrated and in circulatory shock.

She had been deprived of water for about one week and adequate nutrition for weeks.
– RSPCA inspector Dave Holgate

A female Staffordshire bull terrier puppy, a female cat and a gecko were also seized from the address by police and placed in RSPCA care. They were signed over to the RSPCA and rehomed.
They were the lucky ones here. The other dog had been shut in a bedroom, apparently out of sight out of mind, but it's impossible to imagine she didn't bark and cry before her strength failed her, and that she wasn't heard by those who she depended on.
– RSPCA inspector Dave Holgate

Mr Fawcett was banned from keeping any animals for life, given an 18 month community order including 200 hours of unpaid work and 30 days activity requirement. He was also ordered to pay £500 costs.

The court heard that he had a difficult life that meant he relied heavily on other people and was frightened of going to jail.
It has taken a long time to get to today, the incident itself was more than two years ago, and Mr Fawcett was convicted back in February.

Whilst I understand that he has had a tough time, what happened to this dog was terrible.

I am pleased that he has been given a full lifetime ban preventing him from having anything to do with animals in future.
– RSPCA inspector Dave Holgate