A special beer brewed to honour Sheffield's Women of Steel and to raise money towards the statue planned to mark their wartime achievements will be poured for the first time today.
Rotherham's Chantry Brewery will welcome some of the surviving Women of Steel to pull the first pint of "Women of Steel" - The Ale at a free-admission party that's open to everyone at town's Cutlers Arms in Westgate at 11am.
The £150, 000 statue will commemorate the achievements of hundreds of women who worked in the steelworks during the wars when their men were away fighting at the front.
It has been commissioned from Martin Jennings, whose other pieces include John Betjeman and George Orwell, and is expected to be unveiled outside Sheffield City Hall in 2016.
A public appeal has raised almost all of the money and with just £8,000 to go, the launch of the ale is one of the last major fundraising events which will take the total to its target.
The Chantry Brewery team had a special reason to produce the "Women of Steel" Ale and make a donation from every pint sold to the Women of Steel Statue Appeal.
We are all steel workers and when we heard about the Women of Steel Statue, we wanted to do something to support it and we're delighted to be producing a beer in their honour"
– Mick Warburton , head brewer
A dog had to have an emergency operation after swallowing his owners underwear.
Brian, a four-year-old Samoyed, who lives in Rotherham, managed to eat his owner's and her daughter's knickers after stealing them out of an overnight bag.
His owner Kaye Banks, rushed him to the vets in Barnsley where he had to have emergency surgery.
Four days later Brian returned home and was up to his old tricks again.
"We just couldn't believe that after an operation and four days at the vets he comes home and does it again. From now on all underwear is put straight into the washing machine. He's a lovely dog but he's into everything." said Brian's owner, Kaye Banks.
Tony Duffy of Abbey Vets said: "It never fails to amaze me what dogs will swallow, but swallowing three thongs in such a short space of time must beat them all."
Advertisement
A Lincolnshire dog rescue charity will hold its annual summer show today after after bad weather forced organisers to cancel the event.
Jerry Green Dog Rescue was due to host the show at its centre in Algarkirk, Boston, on August 10 but it was called off at the last minute after storms caused minor flooding and strong winds.
Centre manager Jo Hickson said: "It was with a heavy heart that we had to rearrange our dog-themed summer show.
"We chose to postpone the event after the rain continued with no sign of stopping. We didn't want to bring the dogs out in such bad weather and it was proving very difficult to keep the stalls dry too."
The event will include a dog show, agility demonstrations where owners can take part with their pets, and the opportunity for visitors to meet the centre's rescue dogs.
Young meningitis victim Harvey Phillips , who lost three limbs to the disease when he was a baby has been given a birthday treat to remember. Grace Melody Gardner reports
A lasting legacy of Yorkshire's mining history remains a central feature of one of the county's nature reserves.
The former opencast mine near Swillington has been out of action since 2002 but the dragline machine, used in the excavation of coal, is still standing proud.
We sent weatherman Jon Mitchell to have a look:
Massive marrows, oversize onions and collosal carrots will be on display today as the annual Harrogate Autumn Flower Show gets underway.
There are record entries for this year's giant vegetable competition at the three day event at the Great Yorkshire Showground
Advertisement
A boy who lost three limbs to meningitis as a baby celebrated his ninth birthday by riding with a Police Interceptor.
Harvey Phillips was guest of honour at a special conference in Newark, where they raised thousands of pounds for his next pair of blades:
Gardeners and growers from across the country are putting the finishing touches to their creations for the Harrogate Flower Show.
The gates for the Autumn show open tomorrow and thousands are expected to flock to the exhibiton tents for everything from geraniums to giant pumpkins. Emma Wilkinson reports: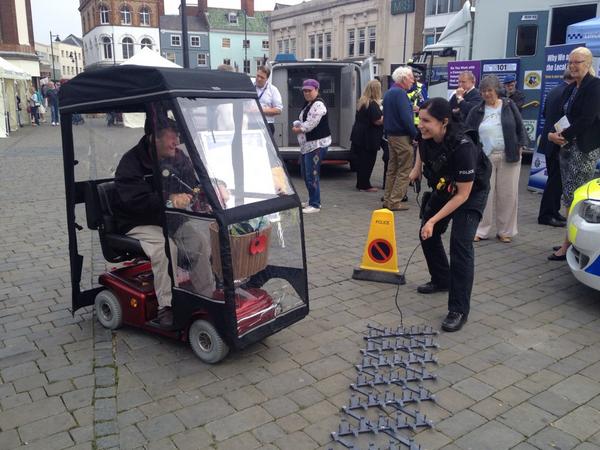 A selection of multi-coloured bras have appeared hanging from the trees at Carholme Roundabout in Lincoln.
Nobody knows who did it or why. If you know, get in touch with us at calendar@itv.com or on our Facebook or Twitter pages.
Load more updates