Hundreds of Santas are hoping they will raise thousands of pounds in today's 'Chase the Pudding' event in Sheffield. The money raised will help support the work of the British Heart Foundation. Last month, the BHF announced plans to invest £500,000 in funding the University of Sheffield's purchasing of an MRI scanner. This technology will create highly detailed images of the heart, lungs and blood vessels and can help in diagnosing conditions such as pulmonary hypertension.
The British Heart Foundation is hosting its annual festive fun run today in Sheffield called 'Chase the Pud'.
This year the race will be started by local mum, Josephine Pickworth, whose health has been severely impacted by the condition she now studies as a research scientist.
Josephine's life changed dramatically when, 37 weeks pregnant, she fell seriously ill. The decision was taken to induce labour and then carry out the necessary tests following delivery to avoid further risk to her child.
Having got through the labour, feeling battered and extremely tired, I started to be put through the investigations into what was causing my symptoms. I was eventually diagnosed with pulmonary hypertension and a clot in my pulmonary artery?
– Josephine Pickworth
Josephine and her child survived and she is now a researcher at the University of Sheffield.
For this year's race, which starts at 11am in Tudor Square, there is an exciting difference; the runners will actually be chasing a Christmas pudding.
Advertisement
Christmas may be the season for the partridge in a pear tree, but in Wakefield the buzz is more about a parrot in a garden tree. The red bird has been popping in and out of Reave Westwell's garden for the last couple of months. She thinks it might be someone's pet that's gone missing. Do you know whose parrot it is? Get in touch calendar@itv.com
A retired Social Services Officer from Leeds is making his silver screen debut alongside some of the world's most recognisable A-listers.
Philip Gascoyne spent more than 3 decades working with young offenders for Leeds Council until Hollywood beckoned earlier this year.
The 60 year old landed a role as a support artist alongside the stars of the new Dad's Army movie, filmed here in our region. Michael Billington's been to meet him.
A South Yorkshire sculptor is breathing new life into a statue of one of the country's best loved comedians. Back in October, vandals badly damaged a bronze of Eric Morecambe which had stood proudly on the seaside town's promenade for fifteen years. It was originally cast by Graham Ibbeson from Barnsley and he has been working hard for weeks trying to restore it to its former glory. Vicky Grimes has been finding out how he has been fairing:
South Yorkshire Police have turned a potentially embarrassing typo on its head by issuing an appeal for a missing letter.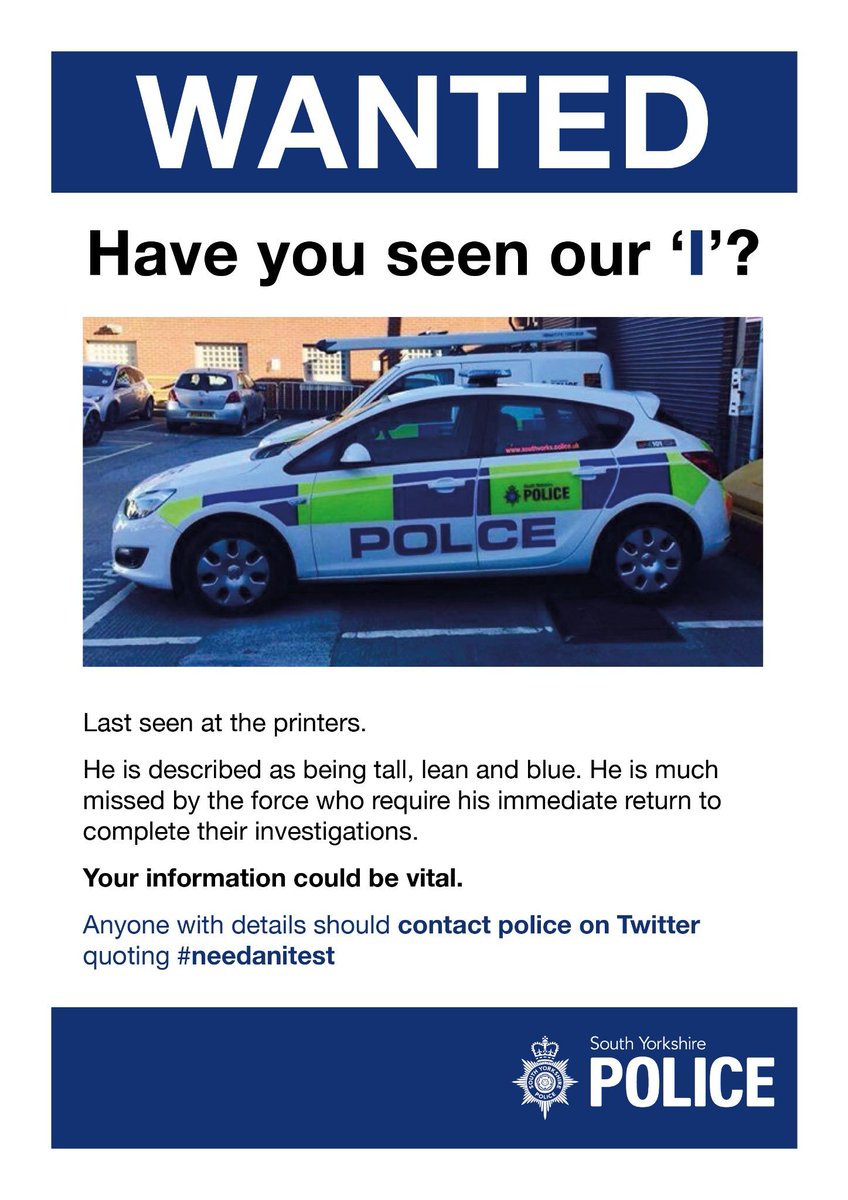 A sharp eyed photographer snapped the shot of a patrol car with the letter "i" missing from the word "police".
The force promptly issued an appeal for the evasive vowel saying it was last seen at the printers.
Inquiries are continuing.
UPDATE:
The missing "i" has now been reunited with the patrol car: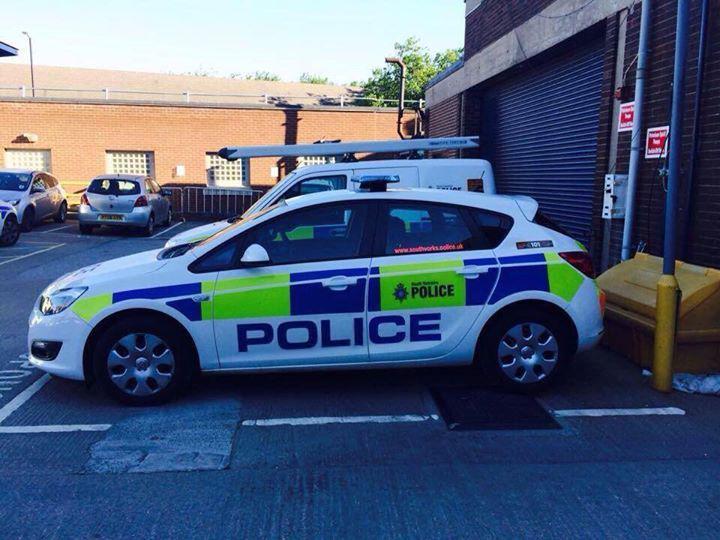 Advertisement
Final preparations are underway for the opening of Lincoln's Christmas market tomorrow.
The annual event has been running since 1982 and attracts around a quarter of a million visitors every year. It started with just 11 stalls and there are now more than 200 traders.
John Latham from the City Council says people who visit once often come back:
Herbie the former racehorse who was rescued from a slurry-filled ditch in Doncaster by firefighters failed to recover from his ordeal, and was put down this afternoon by a vet.
His owner Julie Hepworth said 30-year-old Herbie, who raced at Ascot and Epsom , never got back on his four legs after the rescue and it was the hmane thing to put him to sleep.
The vet, Richard Coppack said in human terms Herbie was the equivalent to 80 years old.
Julie Hepworth tends to her exhausted thoroughbred horse Herbie after he became stuck for several hours in a slurry-filled ditch and had to be rescued by firefighters in the village of Sykehouse, near Doncaster, early today.
The battle now is to get Herbie back on his feet because he's 30 years old and has been worn out by his ordeal.
Julie bought him many years ago. Herbie is a former racehorse, who ran at Ascot and Epsom, but was retired because of injury
With Christmas just around the corner, Leeds Museums and Galleries have put together a magical festive programme of events and activities not to be missed.
Venues set to open their doors with more than a slice of Christmas cheer and family fun include; Temple Newsam House, Lotherton Hall, Abbey House Museum, Leeds City Museum, Kirkstall Abbey, Leeds Industrial Museum, Leeds Art Gallery, Leeds Discovery Centre and Thwaite Mills Watermill.
An event that needs no introduction is the much loved '500 years of Christmas' at historic Temple Newsam House on the weekend of 13 and 14 December.
Visitors can enjoy a Tudor banquet display, Tudor carol karaoke, Jane Austen music, Victorian merry making, carol singers, and a secret wonderland journey to see the one and only Santa Claus!
Despite his extremely busy schedule, Santa has also agreed to be at Temple Newsam House from 16-20 December from 1.30pm-4pm to meet with children and hear what they would like to receive for Christmas.
On the 21 December from 2pm-4pm, the Leeds Waits will also be holding their annual celebration for the 1622 owner of Temple Newsam House, as part of 'Sir Arthur Ingram's Christmas'. Audience participation is essential, in what is a prefect event to get into the festive mood.
Also hosting a special Christmas party this year is Leeds City Museum on Saturday 6 December. A range of sparkling activities and performances will be on offer for people of all ages to enjoy from 11am-3pm.
The fantastic surroundings of Abbey House Museum are always a lovely place to visit throughout the year, and this Christmas, it will also be the home to a very special Santa's Grotto. Open on a number of dates in the run-up to the big day including Christmas Eve, admission is £4 and includes a present. The Grotto will accompany crafts, music and fun in Abbey House's Victorian Streets.
Across the road from Abbey House Museum are the picturesque 12th century Cistercian ruins of Kirkstall Abbey, and on Sunday 14 December from 2pm-3pm, The Heritage Singers will return for their popular Christmas concert, where joining in is always a must!
If you have wondered how the Victorians celebrated Christmas, Thwaite Mills Watermill will show you how and also reveal a few secrets on Sunday 7 December from 1pm-3pm at their Victorian family Christmas event. There will be lots of hands on activities throughout the day and the chance to design and decorate your own traditional gingerbread decoration.
If the thought of Christmas shopping on a Saturday fills you with dread, Lotherton Hall have the perfect event to relax and escape the rush on 13 December from 11am-4pm. On offer will be live music, Christmas crafts, children's entertainment and much more.
This year marks the start of the First World War one hundred years ago, and the Leeds Discovery Centre will be holding a poignant event exploring how Christmas was for those in 1914 on Saturday 13 December from 10am -12noon. Learn more about Princess Mary's gift boxes for soldiers fighting in the war, and through pieces from the Leeds Museums and Galleries collection, see the differences between a soldier's Christmas and one at home.
A range of family art activities will also be on offer from Saturday 20 December -17 January at Leeds Art Gallery, where there will be the chance to find out more about British mythical animals.
Councillor Lucinda Yeadon, Leeds City Council's executive member for digital and creative technologies, culture and skills said:"Christmas is always a very special time of the year, and once again Leeds Museums and Galleries are offering a fantastic programme of events and activities that are perfect for all the family.
"All of our sites will be providing a wealth of family fun, and if this was not enough, there are a range of fantastic gifts available at our museums and galleries shops, which can also be bought online."
Events at Leeds Museums and Galleries form part of 'Magical Leeds' which is providing a variety of brilliant events across the city is this year. To find out more about 'Magical Leeds', please see www.magicalleeds.co.uk
Load more updates