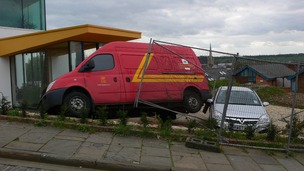 An investigation has begun after a Royal Mail van ended up crashing into a building in Lincoln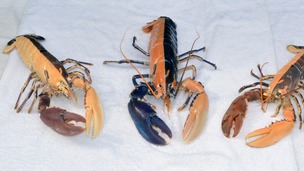 A rare two-tone lobster has shed its old skin to reveal a stunning new two-tone colour sheme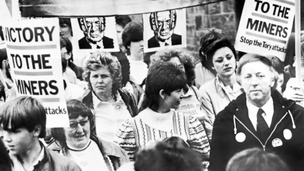 30 years since the miners' strikes, a new exhibition in Barnsley tells the story of the struggle of women from pit villages.
Live updates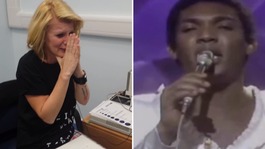 A man whose best friend has recently been fitted with a cochlear implant was given the task of choosing the first music she would ever hear.
Read the full story
Huddersfield Queen artist launches children's book
A man from Bradford, who famously painted the Queen, is launching a children's book that his wife wrote and he illustrated.
Darren Baker's paintings will also be on display at the gallery event in Huddersfield tonight.
The artist recalls when he met the Queen:
Advertisement
Catwalk chic-k: Hens in jumpers strut their stuff
Rescued battery hens in Driffield have been showing off their new coats courtesy of animal lover Liz Turton.
Worried that the animals would be cold because they were lacking feathers, she decided to knit them overcoats to keep them warm.
Yorkshire's best known faces captured for new exhibit
From Patrick Stewart to Parkinson - Yorkshire boasts some of the most famous faces in film and television, not forgetting those in sport or the art scene.
And now some of the county's best known faces have been captured in a very personal way on canvas as Sarah Clark explains:
Yorkshire's best known faces captured for new exhibit
Some of Yorkshire's best known faces have been captured for a new art exhibition.
Stars like Patrick Stewart, Judy Dench and olympian Nicola Adams have been posing for a series of shots by Sheffield photographer Jennifer Robertson. The project was so well supported that celebrities were queueing up to be photographed:
A Yorkshireman's best friend: One man and his camel
Drinkers may have been toasting the Chancellor for lopping a penny off a pint of beer, but in one corner of North Yorkshire, there's one ale enthusiast who enjoys a regular tipple and it's just very difficult to gauge his reaction. What is clear though is he likes a drink. Jon Hill reports.
Advertisement
A Yorkshireman's best friend: One man and his camel
Simon Grant, from North Yorkshire, shows us his special bond with 11 foot, beer loving camel, Jeffrey:
A Yorkshireman's best friend: One man and his camel
A man from North Yorkshire has a best friend of a different variety - an 11 foot camel called Jeffrey.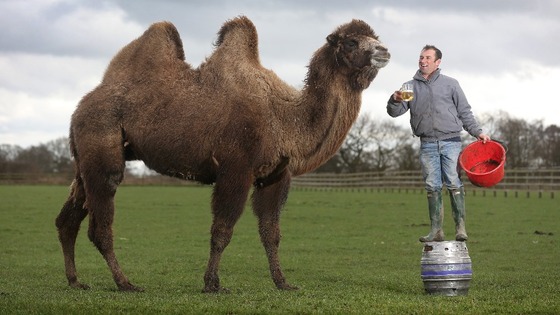 Originally from Russia, it is thought that Jeffrey, owned by Simon Grant, from Sutton-on-the-Forest, is the UK's only pet camel.
Not only that, Simon read that Camels enjoy drinking beer, so after finding this to be true, Jeffery now gets a couple of pints mixed into his feed on special occasions.
Racing camels are often given a swig of beer before races to make them livelier.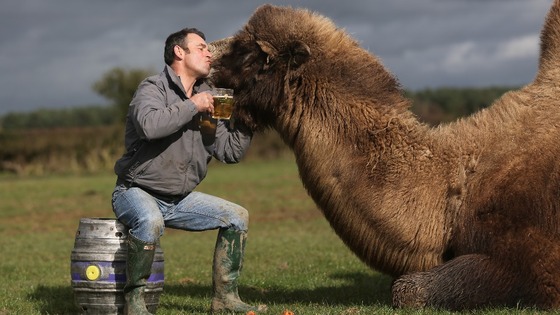 Bactrian camels can survive temperatures of around -25 Celsius, and are instantly recognisable by their twin humps.
There are thought to be around two million living in the world, but only around 800 of these are wild, living mostly in remote areas of Mongolia and Siberia.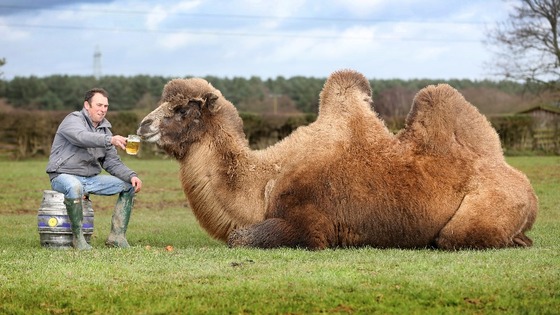 Jeffrey was bought as a birthday present for Simon's son, Tom, seven years ago, and was brought over from Holland. The family bought him for £3,000 and nursed him back to health, after Tom mentioned in passing he was fond of the animals.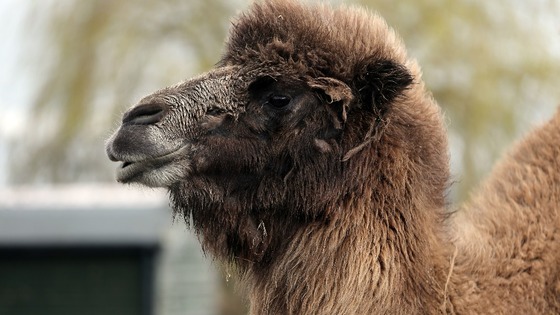 Simon, a former racehorse jockey and trainer has trained the camel to be ridden.
Jeffrey could live until the ripe old age of 60, and will have his favourite tipple to thank in his old age.
Things are always looking up when you're a Giraffe and Behansin certainly had a lot of admirers when he celebrated his ninth birthday at Yorkshire Wildlife Park yesterday.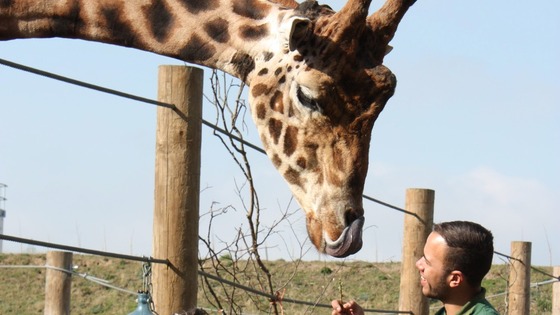 Visitors signed an over-size card and the birthday boy got a special treat of an oak branch to graze on to mark his special day.
Behansin, the tallest of the Doncaster-based Park's four giraffes who weighs in at 1,100 kg, also got time to indulge in his favourite past-time of scratching his long neck on tree branches before tucking into his birthday meal.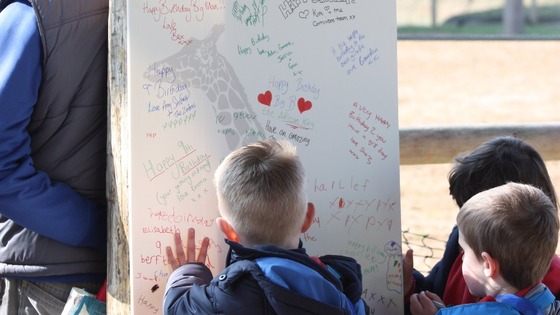 "He was a shy calf but has matured into a confident character, who is the dominant male of the group," said park director Cheryl Williams.
"He is very good natured and always a favourite with visitors so it was good to spoil him a bit on this birthday."
Behansin is looking forward to a long and contented life to follow in the hoof steps of his mother Matilda, who is 17, and his grandmother Dribbles who lived till she was 33, making her the oldest recorded giraffe in the UK.
North Yorkshire parrot fronts Legoland's pirate adventure
A 32 year-old parrot from North Yorkshire is to become the swashbuckling face of Legoland's Castaway Camp.
Charlie, the blue and gold macaw, saw off competition from three other birds to land the role at Legoland in Windsor in the Castaway Camp, which is part of a new pirate adventure play area:
Load more updates