The couple who brought the Ice Bucket Challenge to Britain will today receive a British Citizen award for their services to volunteering and charitable giving.
Paula and Robert Maguire from Wakefield have raised more than £4m for charity. Last year Paula was crowned national fundraiser of the year at the Pride of Britan Awards. Here they are in action.
Doncaster born One Direction star Louis Tomlinson has named his son Sydney Rain, according to reports in The Sun.
Read the full story ›
Advertisement
A lottery ticket worth £1million is still unclaimed in Leeds - and the winner only has a couple of months before they lose their prize.
Read the full story ›
Tracey Curtis-Taylor has reached Sydney after successfully retracing the historic flight of aviator Amy Johnson did 85 years ago.
Read the full story ›
The return of the Flying Scotsman brought tears to the eyes of train enthusiasts when it returned to the tracks after a decade-long refit.
Read the full story ›
An ancient event is being held in the Lincolnshire village of Haxey this afternoon.
The Haxey Hood dates back to the 14th century and is recreated every year on the 12th night.
It sees two teams of villagers play an ancient game as they try and get a long leather stick back to their favourite pub without picking it up and running with it. It's been described as a messy rugby game without many rules.
People really getting in to the spirit of things here for the Haxey Hood. Check out the jeans. https://t.co/yM0ImOGGFi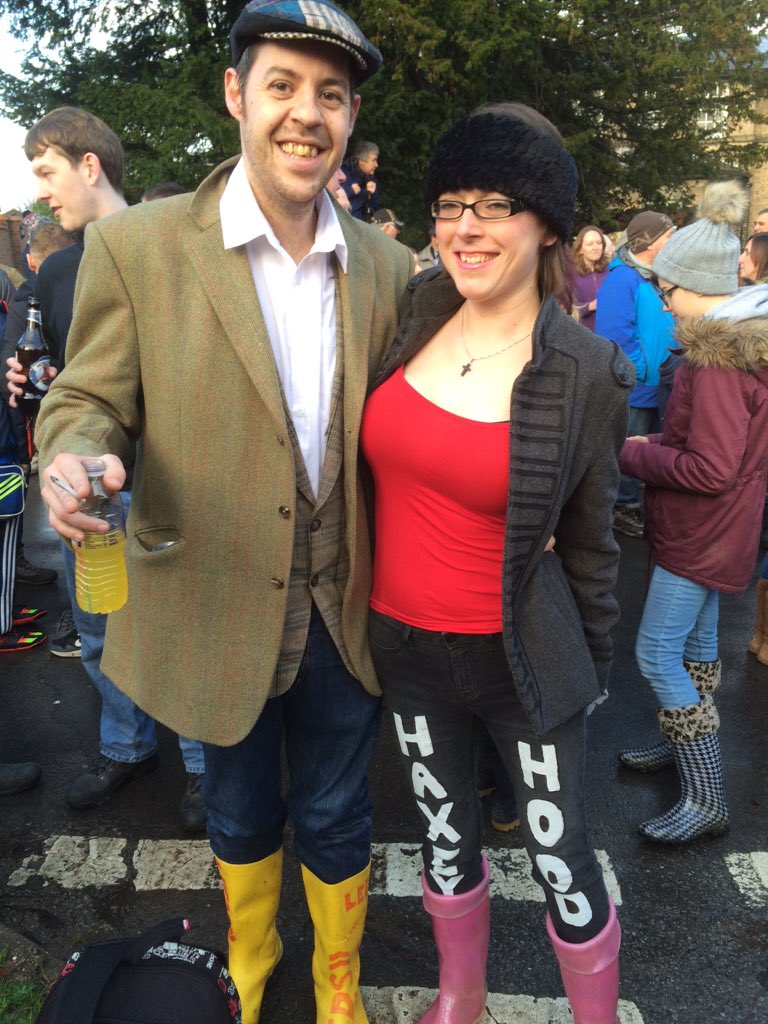 Advertisement
More than 15,000 people have signed a petition calling for a new heavy metal element in the periodic table to be named after rock star Lemmy
Read the full story ›
Hundreds of people in the Lincolnshire village of Haxey will be marking ancient tradition of the Haxey Hood.
Read the full story ›
A dog that was found tied up and abandoned in Newcastle-upon-Tyne on Christmas Eve has been given some festive cheer after being taken in by the RSPCA.
Staffy cross 'Joseph', as he has been nicknamed by the staff at the RSPCA's Felledge Animal Centre, was cold and nervous when he was found tied to a lamppost on Benfield Road at around 9pm.
Joseph is now being cared for at the RSPCA centre, near Chester-le-Street, after he was taken there by inspector Suzanne Edgar.
Staff treated the brindle bull terrier to Christmas lunch, after he was left with nothing but his collar and lead.
When the caller found him he was very understandably nervous, but he's very friendly.

It wasn't raining but, being Newcastle, it was very cold. It was very windy and the temperature was down to around two degrees.

An RSPCA animal collection officer took him to a vet where he spent the night, before I took him to Felledge Animal Centre on Christmas Day.

There are some shops near to where he was found and the person who spotted Joseph made enquiries at those, as well as the nearby pub and off-licence, but nobody knew anything about him.

Someone has presumably tied him to the lamppost on purpose and either dumped him, or they simply forgot about him.

It is so sad to think of a dog being abandoned at any time of year, but especially at Christmas when most people are enjoying themselves with their friends, family and pets.

I'm just so grateful to the person who found him and called us because otherwise Joseph could have been left out all night. Thankfully the staff at Felledge have made sure he's been given plenty of Christmas treats."
– Inspector Edgar, RSPCA
Joseph was not microchipped and has no form of identification on his collar, but is in reasonable health. He is thought to be about five-years-old.
Anyone with any information about who Jospeh belongs to or who left him can contact inspector Edgar by calling the RSPCA's inspectorate appeal line on 0300 123 8018.
Dogs Trust Leeds has today asked people to remember their famous slogan as they prepare for an influx of abandoned dogs over the festive season.
As Dogs Trust Leeds gets ready to give its homeless hounds the best Christmas possible, they are asking people to remember that 'a dog is for life, not just for Christmas' as every year the charity sadly sees unwanted dogs abandoned at its doors.
As well as providing round-the-clock care for new arrivals, the team at the York Road centre will be spending their Christmas Day looking after 90 homeless hounds already at the centre, ensuring they can enjoy the Christmas festivities as much as everybody else.
"Although it is Christmas Day our dogs still need feeding, walking and cuddling, and the kennels need cleaning! We make it as fun as possible, and we do our best to spoil the dogs as it is their Christmas too.

"So from playing carols to decorating the kennels, we try to give everyone, two and four-legged, a jolly good time!

"We are really grateful to supporters up and down the country who send in presents for the dogs, which they are given just before a special Christmas supper. "We wouldn't be able to do this without them, and our incredibly dedicated team of staff and volunteers who give up their Christmas Day in order to make it special for our residents."
– Emma Cooper, Dogs Trust Leeds
If you are interested in rehoming a dog you can visit Dogs Trust Leeds onYork Road, LS15 4NL. It is open 12pm-4pm Friday-Monday, 12pm-7.30pm Tuesday and Thursday, closed Wednesdays.
It will also be closed on Christmas day, Boxing Day and New Year's Day. You can also call Dogs Trust on 0300 303 0292 or find out more about the dogs looking for their forever homes by visiting www.dogstrust.org.uk
Load more updates