A 16ft python that would have been "capable of attacking a person" has been found dead in a canal sparking a police investigation.
Read the full story ›
New laws surrounding how authorities deal with animals killed on the roads are to be brought in.
A petition by a pet owner from Halifax sparked a debate in Westminster after it reached 100,000 signatures.
Nina Blackburn's friend spent 13 weeks looking for her dog Harvey, and the pair wanted MPs to discuss laws making it compulsory for animals to be scanned for microchips.
Colne Valley MP, Jason McCartney tweeted from the debate that the Transport Minister would implement the law known as Harvey's Law:
YES! Transport Minister to implement #HarveysLaw for mandatory collection, identification & contacting of owners of pets killed on roads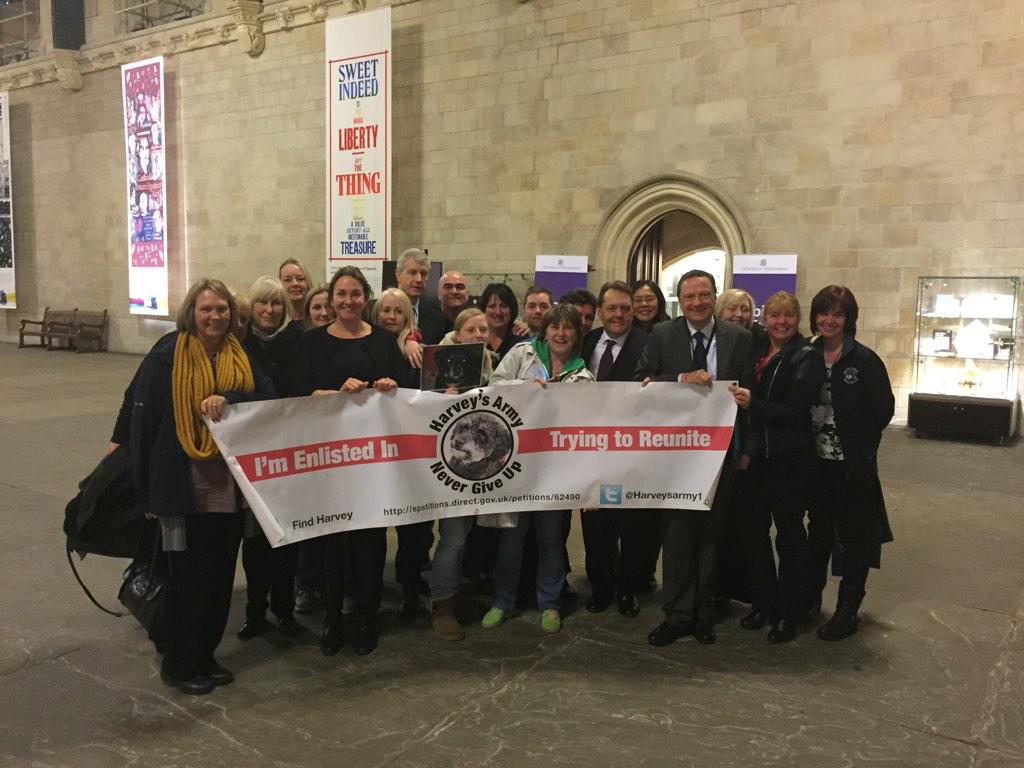 Advertisement
A farm in Barnsley has live-tweeted the births of dozens of lambs in the last few days
Read the full story ›
A six week old otter who was left stranded after losing his mother and siblings has been saved thanks to a dog walker and his son, who heard his cries for help.
They waded through the water and found a weak Otto on a river bank in the grounds of Duncombe Park near Helmsley in North Yorkshire.
After alerting a vet, the cub was taken in by a rescue centre in Thirsk, where he's making good progress.
A campaigner fighting to have stray animals routinely scanned for microchips is preparing to set off to Westminster after her petition hit one hundred thousand signatures and sparked a debate in parliament.
Nina Blackburn from Halifax is calling for all animals found by the roadside to be scanned after her friend spent 13 weeks searching for her dog Harvey.
A £1,000 reward has been offered for anyone who has information about a buzzard which was found with serious injuries.
Read the full story ›
Advertisement
A Sheffield woman has pleaded guilty to three offences relating to the trade of tiger derivatives after claws and teeth were recovered at her house.
Catherine Emberton, who is 29 and from Gleadless Road in Heeley, admitted the offences at Sheffield Crown Court. She will be sentenced on March 30th.
Following a joint investigation by South Yorkshire Police Wildlife Crime Officers and the UK National Wildlife Crime Unit, officers executed a search warrant at her home where they discovered a quantity of tiger teeth and claws along with jewellery making materials.
Ms Emberton was arrested and subsequently charged with offences contrary to the Control of Trade in Endangered Species (Enforcement) Regulations 1997.
A game farmer from Cropton in North Yorkshire has been found guilty of permitting the use of a pole trap on his farm and fined £4000 by Scarborough Magistrates.
Michael Wood, who is 68, was also ordered to pay £750 court costs and a £120 victim surcharge, following the use of covert surveillance by RSPB Investigations Unit staff.
Two members of Mr Wood's staff had previously been cautioned by North Yorkshire Police for the use of five pole traps on the farm.
Magistrates ruled it was "inconceivable" that Mr Wood would not have seen one of the pole traps being used by his staff. Westfield Farm rears pheasants and partridges for the game shooting industry.
Pole traps are a method of trapping birds that was outlawed over a hundred years ago. They consist of a steel trap placed on top of a pole that crushes the legs of any wild bird that land on them.
RSPB Investigations Officer, Howard Jones, said: "It is time that these cruel traps were consigned to the history books, but as long as they are being used we will continue to ensure that the perpetrators are brought to justice."
You might remember hearing about a young puppy found in Hull with horrific injuries after it is thought he was used as bait to train dogs to fight on command.
In these cases the bait cannot fight back.
Five month old Hero was found dumped in a park in January and needed several operations for cuts on his legs. Well thankfully he now has a much brighter future, because he has been re-homed. James Webster has been to see how he's getting on:
A Lincolnshire dog charity has launched an emergency appeal to fund surgery for an 18-month-old black Labrador pup.
Akeira's previous owner passed away before she was brought to the charity's North Lincolnshire centre in Brigg with a severely deformed front leg owing to a car accident a year earlier.
The resulting injury fused part of her bones together causing a painful and debilitating bow in her leg as the remaining bones continued to grow. This resulted in emergency surgery to remove the leg and improve her quality of life.
Rebecca Issott, Centre Manager at Jerry Green Dog Rescue, explained why amputation was the best option:
Sadly Akeira hasn't had the best start in life. After being injured in a car accident last year she never fully recovered and developed a very painful bow in her leg which stopped her from running freely and would have needed ongoing medication and surgery.

After seeking expert veterinary advice we felt amputation would be the best option to give her a pain-free quality of life. It has cost our charity £600 to fund the operation and aftercare, so we're asking for people to help by donating what they can to support Akeira's care costs.

She has already adapted quickly to a life with three legs and is recovering well with one of our dedicated foster carers. Once fully recovered she'll be available for adoption and looking for her perfect partner to start her new life.
– Rebecca Issott, Centre Manager at Jerry Green Dog Rescue
Load more updates