Animal welfare charities are seeking the owner of a foal left in a field near Leeds with its skin being 'eaten alive' by maggots.
Read the full story ›
More than 10,000 school children from across Sheffield have united to raise £40,000 for The Children's Hospital Charity.
Read the full story ›
Advertisement
A new born baby donkey took its first steps yesterday at Cannon Hall Farm, near Barnsley:
Sorry, this content isn't available on your device.
Police have branded the killers of protected red kites in North Yorkshire "disgraceful" after the latest in a series of fatalities.
On Monday, a member of the public found the body of an adult red kite that had been shot dead at Timble Ings, between Harrogate and Skipton.
In the last two months, six red kites have been shot or poisoned in North Yorkshire.
Red kites are majestic birds, and it is wonderful to see them soaring in the skies above North Yorkshire. It has taken many years to re-introduce them after they were persecuted to extinction in the UK.

"The extent of persecution of these birds is nothing short of disgraceful, and people will quite rightly be shocked by these cruel and totally unacceptable criminal acts."
– PC Gareth Jones, wildlife crime co-ordinator, North Yorkshire Police
North Yorkshire fire and rescue service have posted pictures of a rather unusual call out ..... to release a cow with its head stuck in a tree! Luckily the animal seemed none the worse for its ordeal at Northallerton.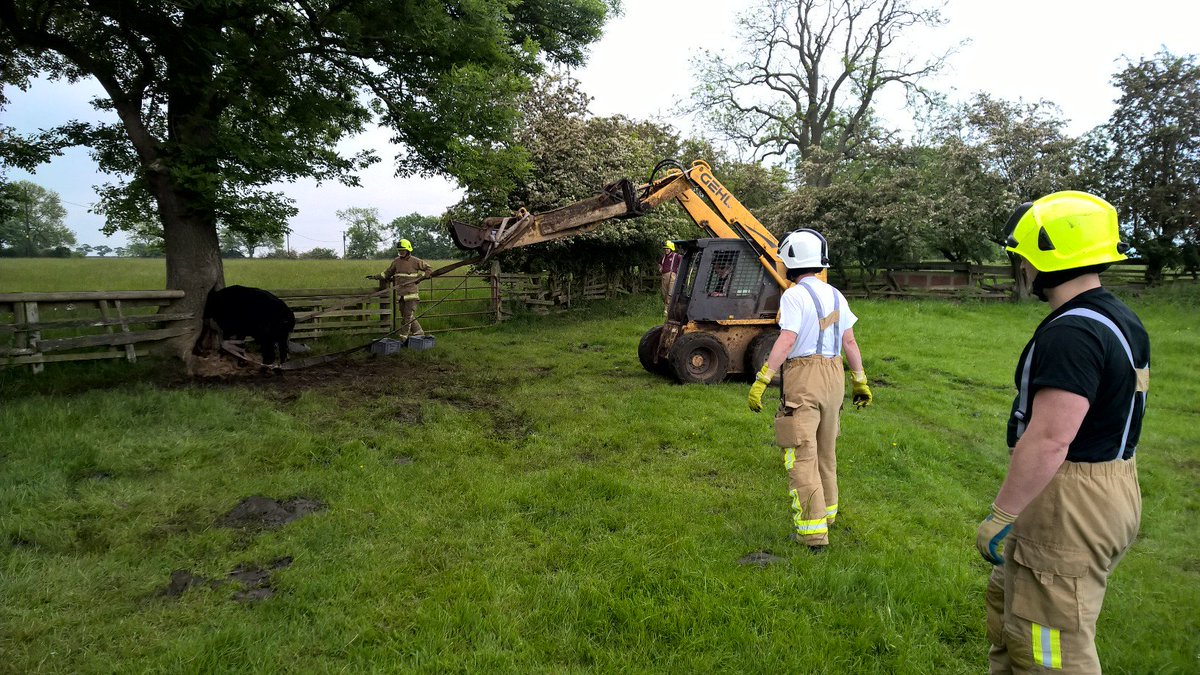 16-month-old pup Hugo had to be rescued by firefighters after he fell into a drainage culvert whilst on a walk with his owners.
Read the full story ›
Advertisement
A high traffic alert is in place after the outside lane of a motorway has been blocked - by a stubborn swan.
The feathery traveller decided to take a break on the outside lane of the busy M180 this morning.
Road police are on their way to the scene, between J2 and J3 eastbound near Scunthorpe, North Lincolnshire, after the bird refused to take flight.
*HIGH* #TrafficAlert M180 eastbound J2 to J3 a swan has decided to take a break in the outside lane & not wanting to move-unit enroute!
Lucy Heath's dreams of winning Britain's Got Talent have been all but dashed when she and her dog Trip Hazard failed to get voted through to the finals.
Lucy, from Billngborough in South Lincolnshire, was hoping the double act would become another canine winner of the competition but they failed to get through tonight's semi-finals. Their only hope now is that they make it to the final on Saturday on a 'wild card'.
All this week acts and performers have been hoping for their shot at fame in the live semi-finals of Britain's Got Talent.
Tonight Lucy Heath from Billingborough in South Lincolnshire is hoping her dog Trip Hazard will become another canine winner of the competition. Lauren Hall has been backstage to meet them.
People who use guide dogs lobbied Parliament for tougher sentences for taxi drivers who refuse to take the animals in their vehicles.
Read the full story ›
Load more updates