Former deputy prime minister Nick Clegg has said that Michael Gove was the source of the claim that the Queen backed Brexit.
Read the full story ›
East Yorkshire MP David Davis has arrived at Whitehall for his first day as Brexit Minister.
Advertisement
Angela Eagle has confirmed she has put in the paperwork to begin her bid to challenge and replace Jeremy Corbyn as Labour leader.
Speaking outside her home in London, she told reporters she was "very much looking forward" to launching her campaign later today.
Shadow health secretary Diane Abbott has told ITV's Good Morning Britain that Angela Eagle's support for the Iraq invasion and an increase in tuition fees show she is the "Empire Strikes Back" candidate against Jeremy Corbyn.
The Corbyn-supporting Abbott said her party's embattled leader must be on any leadership ballot as she played down talk of splits within the party and reports of political "Armageddon".
She joined Daily Mirror associate editor Kevin McGuire in doubting Eagle's success in a race with Mr Corbyn as the pair were questioned about the stature of a challenger who came fourth in a previous race for Labour's deputy leadership.
A Bridlington born MP is to officially launch her opposition to Jeremy Corbyn's leadership of the Labour Party today.
Former Shadow Business Secretary, Angela Eagle, says she wants to unite the party.
Mr Corbyn said he was disappointed over the leadership bid.
Angela Eagle is to launch her Labour leadership contest on Monday, but how does it work?
Read the full story ›
Advertisement
Ed Balls has told Peston on Sunday that Angela Eagle's leadership bid is "essential" as Jeremy Corbyn "can't do the job".
Sorry, this content isn't available on your device.
The former shadow chancellor said no one believed Corbyn could ever become prime minister.
"Frankly there is no message at all coming from Labour in the last two weeks about what the solutions to these big problems are," he told Robert Peston.
"There's got to be a change. It's not just necessary for Labour, I think it's necessary for the whole country.
"We need a strong opposition which believes it can form the next government and I'm afraid nobody thinks Jeremy Corbyn is going to be the prime minister of our country."
Labour leadership challenger Angela Eagle has told Peston on Sunday that she is fighting to save her party.
Read the full story ›
Failure to negotiate a suitable Brexit deal for fishermen could prove catastrophic according to one of Whitby's large fishing boats owners.
Read the full story ›
The MP for Scunthorpe Nic Dakin has resigned from the Labour Front Bench after "further failure of leadership" from Jeremy Corbyn at today's PLP meeting.
After further failure of leadership from Jeremy at today's PLP I have resigned from Labour Front Bench https://t.co/DsmxfhvLBK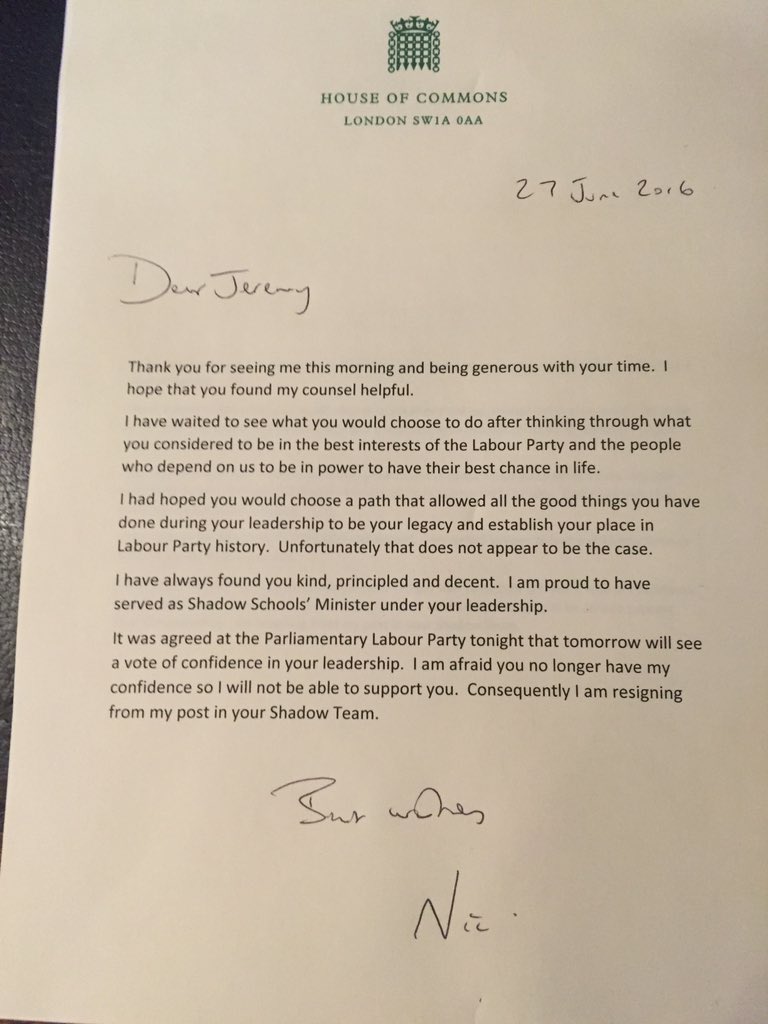 Load more updates