Seven fire crews are currently tackling a blaze at Southview Leisure Park in Skegness.
The complex has been evacuated but there is no reports of any casualties.
Crews from Mablethorpe, Skegness, Holbeach, Leverton, Alford, Spilsby and Horncastle are all in attendance.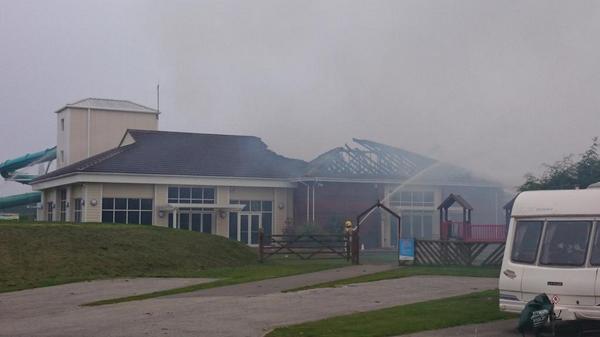 Leeds City Council has approved a 20 per cent rent reduction for traders to compensate for trading conditions during the multi-million pound refurbishment to the market.
The report proposed a reduction for traders until September 2015 to compensate for trading conditions during the construction work. It also recommended £100,000 be put into the project, so as to allow for the temporary relocation of Fish and Game Row traders during more extensive works as part of the refurbishment.
The council says it is keen to ensure that as much of the market as possible remains open and trading during the period of construction.
It is essential that we improve Kirkgate Market to make it more attractive to today's customers and traders, and to build on the many distinct advantages the market already has. We are aware however, that any project of this scale is going to cause disruption, and therefore we are putting plans in place early on to ensure we minimise disruption to traders and customers alike during this time of exciting change.
– Cllr Richard Lewis
Advertisement
Unemployment in Yorkshire and the Humber fell by 25,000 in the three months to July, official figures have revealed.
The Office for National Statistics (ONS) showed that a total of 203,000 people were unemployed in the region between May and July.
The region's unemployment rate was 7.3% and saw a fall of 11% during the period. The worst area in the UK was the South West which recorded a 17,000 increase in the number of people without a job.
The number of people claiming Jobseeker's Allowance has fallen below one million for the first time in six years, new figures showed.
The claimant count fell for the 22nd month in a row in July by 37,200 to 966,500, according to the Office for National Statistics (ONS).
This is the first time the figure has been below one million since September 2008.
The Work and Pensions Secretary Ian Duncan Smith says getting people in to work gives them a better chance:
The jobless total was 2.02 million in the quarter to July, down by 146,000 on February to April, giving a lower-than-expected unemployment rate of 6.2%.
Analysts had forecast an unemployment rate of 6.3%.
The jobless total is now 468,000 fewer than a year earlier, the largest annual fall in unemployment since 1988.
Average earnings including bonuses rose by 0.6% in the year to July, while average earnings excluding bonuses were 0.7% higher.
There are now 30.61 million people in work, 74,000 more than February to April, the smallest quarterly increase since April to June 2013.
Today's employment stats mark another step towards full employment. But still much more to do. Will set out further plans this autumn
The Chancellor added that unemployment in Scotland was down to 6%, below the UK average.
Despite a steady two-year easing of unemployment with record numbers in work, the rise in average earnings is still a long way short of the pace of inflation at 1.5%.
The Bank of England halved its forecast for average wage growth last month, saying it now expects average salaries to rise by 1.25% this year.
The National Union of Mineworkers says today's deal which secures the future of Hatfield Colliery for 18 months represents their faith in the future of coal in the UK.
It is thought around 500 jobs have been saved and officials say a new coal face will be opened in the coming months.
General Secretary Chris Kitchen told ITV Calendar that he hoped the deal was a stepping stone to future investment:
Hatfield Colliery say today's announcement of funding from the National Union of Miners will save around 500 jobs until June 2016.
An estimated £4 million deal has been agreed which will keep the colliery open and there are plans to open a new coal face in the coming months.
Bosses say they hope this deal will secure them more time to agree a deal which would keep the colliery open beyond 2016.
One of only three deep mine collieries in the country has been given a financial lifeline by the National Union of Miners (NUM).
Hatfield Colliery, near Doncaster, employs 430 men. The money, thought to be £4 million, could secure the future of the pit until May 2016.
The NUM said in a statement:
The NUM were approached by the Hatfield Colliery Partnership EBT Board for financial assistance on 1 September 2014.

The assistance was required to secure a future at the Mine and allow it to finish production on the current face 7's and then transfer to the next face 9's securing employment until May 2016 for around 430 employees.

The decision to make the investment was not one that has been taken lightly and involved the agreement of the Unions NEC, Yorkshire Area Council and Trustees following an extremely intense due diligence process. The investment is on commercial terms with the expectation that it will be repaid over 12 months plus interest.

This action is an unprecedented step for the Union but reinforces its commitment to the deep coal mining industry in the UK. It is the view of the Union that there is a future for coal in the generation of electricity in the UK for years to come and that the coal burnt should be UK mined coal securing employment for miners in the UK not imported from Russia and Columbia or anywhere else.
– National Union of Miners
Advertisement
Residents of Humberside are being invited to view proposals for a mutli-million pound tunnel that is set to be created under the River Humber.
National Grid Gas is seeking the Government's permission to lay a high-pressure natural gas pipeline under the river which will connect the existing installations at Goxhill and Paull, on the North Bank.
They will be held at East Halton Village Hall, Townside, on Friday, September 26, from 3pm to 7pm; and at Goxhill Memorial Hall, Chapel Street, on Saturday, September 27, from noon to 4pm.
As Scotland prepares to go to the polls over independence, a think tank has called for more powers to be given to councils across England.
Read the full story ›
Profits at Morrisons have dived by more than half after the supermarket chain's sales were savaged in the industry's ongoing price war.
Like-for-like sales slumped by 7.4% in the half-year to August 3, while underlying profits dropped 51% to #181 million as the Bradford-based company committed more money to lowering its prices.
It is six months into a three-year turnaround plan involving an "enormous amount of change and modernisation" but said it was too early to see the impact of this work on sales.
Conditions are tough, and the industry is going through unprecedented change.
– Sir Ian Gibson, Chairman
Tesco and Morrisons have been the major casualties in the recent shake-up of the sector, with Tesco recently cutting its half-year dividend payment by 75% in order to preserve funds for new chief executive Dave Lewis. Morrisons said today that its financial position remained strong and that it would increase its interim dividend payment by 5%.
Although it is too early to see the benefits of the three-year plan in the sales line, Morrisons is getting back on the front foot, and implementing change and innovation at real pace throughout the business
– Dalton Philips, Morrisons Chief Executive
Britain's fourth largest supermarket Morrisons has announced a 51 per cent slump in its first-half profits as it posted its lowest figures for eight years.
The Bradford-based group said it made an underlying pre-tax profit of £181 million in the six months to Aug. 3.
Turnover fell 4.9 per cent to £8.5 billion, while sales at stores - excluding fuel and VAT sales tax - fell 7.4 per cent.
Load more updates