Police have confirmed they are investigating after the organisers of a North Yorkshire Festival said the company had been placed in administration.
Galtres Festival Trading Ltd, which runs an event in Helmsley in August, is organising a meeting of creditors to formalise voluntary liquidation.
On the company's website it states it has significant liabilities, which are made up of loans to the company, trade creditors, and sums owed to staff and performers. Trade creditors include suppliers, caterers and stallholders.
Despite developing an excellent reputation for being a high quality event, the festival has not succeeded in attracting sufficient numbers of attendees to meet its costs.

It is perhaps symptomatic that the first interest ever shown in our event over ten years by some regional and national media is to report on its apparent demise.

The context of the decision to proceed with each year's festival was a thorough analysis of performance figures, projections and costs. In each case the directors involved firmly believed the decision was the right one, both for the creditors and for the festival itself. Several people close to the festival business injected personal funds to support the company. A dedicated team worked tirelessly to put on and promote an even better festival. They were committed to running a wonderful event which delivered against its strong values, which covered its costs, and which contributed to repaying liabilities from previous years. But bewilderingly, despite the highly positive feedback, attendances did not grow at the required rate. It would be hard to question the quality of the event, which has been said by media and attendees to rival the likes of Glastonbury, but despite that it didn't generate the sales it deserved and needed.
– Spokesperson for Galtres Festival Trading Ltd
A lesiure complex in Skegness has re-opened today after a major fire caused guests to be evacuated. Damage was caused to the holiday park's swimming pool, restaurant and bar.
Firefighters have spent the day on site investigating the cause of the blaze at Southview Leisure Park, as Adam Fowler reports.
Advertisement
A man who set fire to a North Sea ferry, off the coast of Yorkshire, while smoking cannabis in his cabin has been jailed for 11 years.
Boden Hughes, 26, from Sunderland, had been drinking heavily on board the vessel when he set a pile of clothes alight after tossing a lighter onto them. Flames soon engulfed the room and smoke filled the corridor with panicked passengers being evacuated onto a higher deck.
Newcastle Crown Court was told crew members attempted to tackle the blaze after the alarm was raised but two fire extinguishers proved ineffectual.
They also struggled to remove Hughes from the room, who they found half naked on the floor, and when they did he began to fight with a friend who was also on board.
Ian Lawrie QC, prosecuting, said eventually the ship's sprinkler system kicked in and put the fire out, which ended up costing DFDS a total of £800,000.
Sentencing him to 11 years in jail, Judge James Goss QC said it was a "spectacular piece of recklessness" that carried the highest culpability.
"Panic was caused, passengers were injured and #800,000 losses were caused to the operator," he said.
"Fires on ships are even more dangerous than those on land, the escape routes are limited and the stability of the vessel can be affected by the use of water."
The blaze broke out aboard the DFDS ferry as it sailed between North Shields and Amsterdam in December.
In total 27 people required treatment for smoke inhalation and six people were airlifted from the vessel, including a pregnant woman.
The ferry, which was around 30 miles north east of Flamborough Head, near Scarborough, with a total of 946 passengers and 127 crew on board, was then diverted back to the North Shields terminal.
Christopher Morrison, defending, said Hughes was "extremely sorry, especially to those who were airlifted" as well as to the company and crew.
He had previously pleaded guilty to arson being reckless as to whether life was endangered and a charge of affray, after failing in an attempt to argue the court had no jurisdiction in his case because the incident took place at sea.
He received a nine year sentence for the ferry incident and two years for a separate conviction of conspiracy to steal railway cable.
Illegal car parks in Leeds are being clamped down on as Leeds City Council takes action on firms who have failed to make the sites they use safe and secure.
Following a decision in March 2012, which saw the council approve 12 temporary long stay commuter car parks on cleared private land, firms running a number of car parks were given planning permission on the basis that a variety of improvements would be made such as landscaping, surfacing, clearly marked spaces, security lighting and signage.
Despite repeated written reminders from the council, West Register - who ran various car parks on Globe Road - failed to implement environmental improvements.
Although given over 18 months to complete the environmental improvements, including the Planning Inspector giving six months' notice following an enforcement appeal, they still failed to do so.
It's very disappointing that due to the failure of the organisations running these car parks to make sure they met reasonable obligation, they have to close.

"They've had plenty of time and reminders of what they need to do, yet still the work hasn't been done.

"They've been continuing to operate as a profitable business, so they have no excuse for not making sure that the car parks are safe and pleasant for motorists to use and don't blight the area.

"These were key factors when the planning decision was taken. Unfortunately, we have reached the point where prosecution is the only remaining option."
– Cllr Peter Gruen, Executive Member for Neighbourhoods, Planning and Personnel
It is important to remember that these car parks were only put in place as a temporary measure due to delays in developments at these sites as a result of the economic downturn.

"Although inconvenient for users, action had to be taken against these car parks otherwise it would be unfair on other car parking organisations that have complied with the rules and actually invested in their sites.

"It is also important that cark parks don't just look like bomb sites if we're serious about making our city attractive.

"There are plenty of alternative car parks for drivers including the city's park & ride at Elland Road which has seen a steady increase in users since its opening which is expected to continue."
– Cllr Richard Lewis, executive board member responsible for transport and the economy
Metal thieves have targeted a stretch of overhead cable in Lincolnshire.
At 5.30am this morning police received a report that approx 500 metres of copper cabling had been stolen from an overhead stretch in the Main Street/Copper Street area of Bucknall.
The Scottish Referendum has proved people feel passionately about, and want to get involved with, political debate when it directly involves them and their local communities.

"This result reinforces the widespread belief that further devolution must happen, giving local people much more say and control over spending and investment in their areas to promote growth, job creation, stronger communities and prosperity for all.

"For this to happen we need a true commitment to decentralisation and there needs to be a genuine timetable in place, with strong direction as to how this will happen.

"Leeds City Council and its partner neighbouring local authorities in the Leeds City Region will continue to call for significantly more devolution from Whitehall, not only for countries but for cities and city regions, in terms of greater decision-making powers and financial control including local tax retention.

"This is vital if we are to be able to take the local action we know we need to improve transport connections between different economic markets - to promote growth, create jobs and in turn rebalance the national economy to benefit the north.

"As we referred to in the Commission on the Future of Local Government document, there is no longer a one size fits all approach to be taken in the UK.

"Devolved powers to Scotland and Wales have already created very different environments for local government, and this needs to be built on across the whole country. Councils are becoming increasingly innovative and effective in the way they deliver services and are closer to the communities they serve, and therefore better placed to deliver locally.

"All of the main political parties agree that the national economy must be rebalanced, and we look forward to them delivering on those words as quickly as possible so the Leeds and wider northern economy can be allowed to grow and realise its immense potential for the benefit of millions of people and the country as a whole."
– Cllr Keith Wakefield, Leeds Council leader
Advertisement
Councillors in Louth have agreed to start a judicial review against the process taken by East Lindsey District Council to sell Lincolnshire's only surviving cattle market.
The decision will see Louth Town Council working in partnership with the community interest company, Keep Louth Special to start a judicial review into ELDC's process in selling Louth Cattle Market to Asda.
The town council also claim that the cattle market could actually be under the ownership of the Louth Mayor not East Lindsey District Council if it can be proved that the 1848 Louth Markets and Improvement Act was not dissolved following the introduction of the 1974 Local Government Act.
If that act still stands then essentially the district council do not own the cattle market. It is in fact, the responsibility of the Mayor.

"This could alter what happen in Louth for years to come.

"The judicial review is about the decision making process. We believe that process is flawed and having spoken to the barrister, he believes exactly the same.

"Like everything in life there are no guarantees. There is always a chance you can lose in the court room.

"Keep Louth Special has subsequent funds already in place pledged by members of the public before they have even invited donations.

"This includes £10,000 by one businessman and £1,000 from another and they have not even asked for any money yet. They could possibly reach the target themselves."
– Mayor of Louth, Cllr Andrew Leonard
A multi-million pound aircraft training facility has opened in Bradford.
For the first time in Yorkshire pilots and cabin crew can learn all the latest safety techniques under one roof, and as Victoria Whittam's been finding out first hand, the simulators are so realistic it's like taking to the skies, without your feet leaving the ground.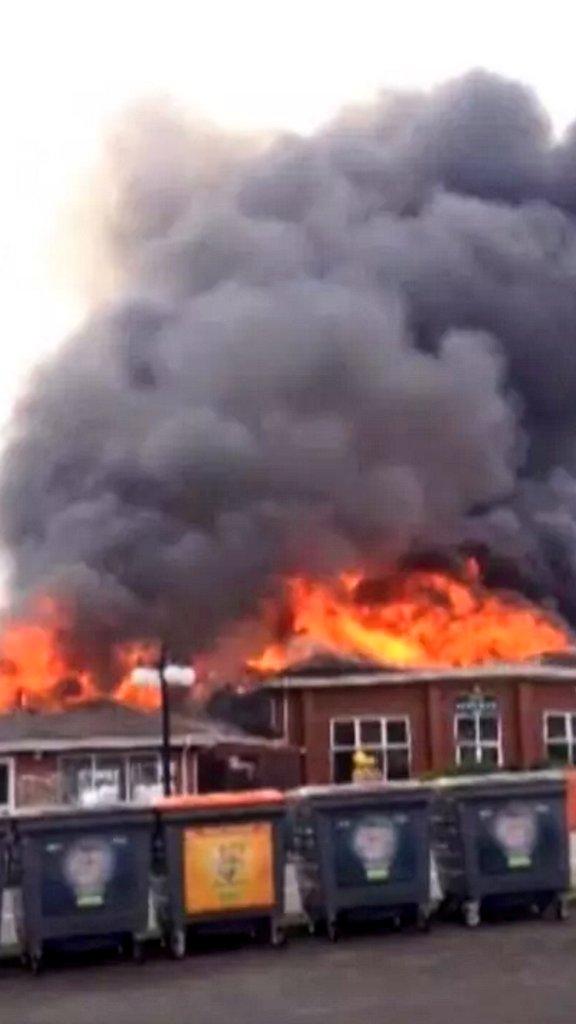 Seven fire crews are currently tackling a blaze at Southview Leisure Park in Skegness.
The complex has been evacuated but there is no reports of any casualties.
Crews from Mablethorpe, Skegness, Holbeach, Leverton, Alford, Spilsby and Horncastle are all in attendance.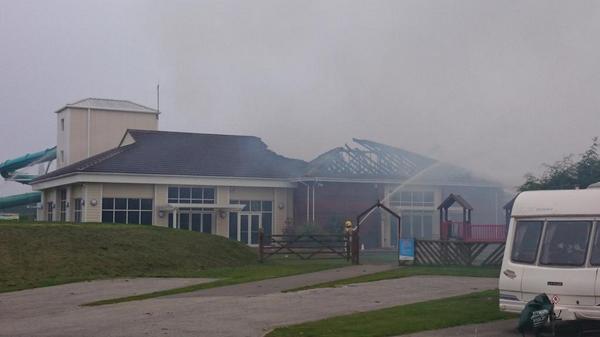 Load more updates