The Independent Police Complaints Commission has revealed it has served a misconduct notice on a detective sergeant with North Yorkshire Police as part of its investigation into the Jimmy Savile scandal.
The revelation has been made in a statement released today by the IPCC regarding its investigation into the way West Yorkshire and North Yorkshire Police handled complaints about the disgraced TV entertainer.
With regards to its investigation into the North Yorkshire force the statement says:
"The IPCC has an independent investigation under way into potential misconduct issues arising from the manner in which North Yorkshire police officers handled information about Jimmy Savile, and an associate, the late Peter Jaconelli.

"Matters under investigation by the IPCC relate to how the force handled information from a 15 year old girl in 2002 regarding Savile, and how the force treated two disclosures made by a serving prisoner about Jaconelli in December 2008 and January 2009.

"One serving detective sergeant has so far been served with a misconduct notice to advise him his conduct is subject to IPCC investigation. The officer has been interviewed by an IPCC investigator recently.

"The investigation is examining whether the North Yorkshire Police response to the disclosures was in accordance with national and force policies on crime recording, intelligence handling and dealing with victims of sexual abuse.

"This investigation follows a referral from North Yorkshire Police in April this year which included whether any information it held on record about Savile or his known associates was properly and comprehensively disclosed to Her Majesty's Inspectorate of Constabulary when it, and other forces, were asked to do so by HMIC in December 2012 and again by the IPCC in May last year. "After assessment by the IPCC those matters have been sent back to the force to deal with.

"North Yorkshire Police has an ongoing investigation into historical sexual abuse for which it has previously asked people from the Scarborough area to come forward with any information.
– Sarah Green, IPCC deputy chair
With regard to the investigation into West Yorkshire Police the statement says:
An IPCC investigation into allegations against a former inspector with West Yorkshire Police having 'acted on behalf' of Jimmy Savile by inappropriately contacting Surrey Police ahead of a police interview in 2009 is nearing completion.

"The investigation is looking into what knowledge the former inspector had of any letters received making accusations against Savile and what action, if any, was taken in respect of them.

"The former inspector has been interviewed under criminal caution by an IPCC investigator.

"The IPCC has spoken to several former police and non-police attendees of the 'Friday Morning Club', or those with knowledge of it, as witnesses over whether they have any awareness of accusatory letters being received by Savile and passed on to officers or discussed.

"Investigators have been in contact with a number of the ongoing independent inquiries investigating allegations of abuse by Savile over any information they may have which would be useful to the IPCC independent investigation."

"The IPCC investigation began last year following a direction to the force to record and refer the conduct of the former inspector, identified in a Surrey Police report as 'Inspector 5'.

"Other wider Savile-related matters referred to the IPCC by West Yorkshire Police from its Operation Newgreen report were, after assessment, sent back to the force.
– Sarah Green, IPCC deputy chair
Film fans attending a screening of the 1996 classic Brassed Off will be entertained by a real-life brass band.
Hatfield Brass Band will perform before and after the screening during a film night at Hatfields pub in Doncaster.
The free event from 7pm on September 25. has been funded by Right Up Our Street and East Doncaster Development Trust.
Advertisement
Hollywood actor Arnold Schwarzenegger is to make a visit to Leeds Centenary Pavilion at Elland Road and fans are invited along.
Jonathan Ross will interview Arnold in November and talk about the actor's life, career and what the future holds for the Hollywood star - including the screening of the fifth Terminator film early next year.
The creator of Downton Abbey, Julian Fellowes, was in Lincoln today to receive an honorary doctorate in recognition of his contribution to the arts.
Despite being an Oscar-winning writer and director and a member of the House of Lords, Fellowes - The Lord of the Manor of Tattershall - told Calendar reporter Adam Fowler, it was privilege to get the honour:
Ella Henderson was a shock exit from 2012's X-Factor, but the singer from Tetney in Lincolnshire has bounced back in style.
Her latest track "Ghost" is this year's biggest selling single so far and she is preparing to release her debut album.
She came in to talk to Duncan and Gaynor about her blossoming career:
One of Leeds' most famous venues is to close after 20 years.
The Cockpit on Swinegate has hosted everything from touring bands to local up and coming acts as well as regular club nights.
A statement on their website said:
It is with great regret that we have to announce the permanent closure of the Cockpit. After 20 great years as an integral pillar of the Leeds music scene we have decided that it is no longer viable to deliver you the level of service you deserve with the building in its current condition.

We would like to take this opportunity to thank every one of you who came to watch your favourite bands, danced, stage dived, crowd surfed, found your life partner and gave the Cockpit its reputation as one of the best live music venues in the UK.
– Cockpit
Advertisement
The Oscar-winning creator of Downton Abbey is receive an Honorary Doctorate of Arts from the University of Lincoln. Julian Fellowes will join students collecting their degrees today.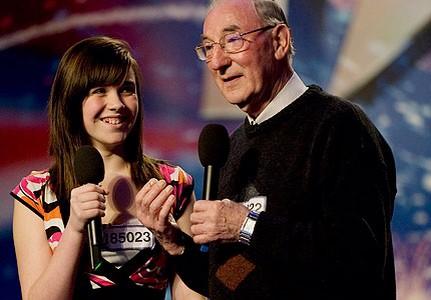 Rebecca Adlington has tied the knot with fellow swimmer Harry Needs and said I'm A Celebrity helped her get in shape for the big day.
Read the full story ›
John Neill, who was part of the Doncaster duo 2Grand along with his granddaughter Sallie Lax, who reached the finals of Britain's Got Talent in 2009 has died.
John, who lost his wife Joan to cancer 3 days before auditioning for Britain's Got Talent, had been battling cancer for some time but had continued to perform while receiving treatment, John and his family decided to keep the treatment quiet, as they didn't want to upset the fans.
A statement from Susan his daughter was posted on 2 Grand's official Facebook page on Saturday 6th September "It is with great sadness I must write that Granddad John the nations favourite granddad passed away this evening at 7.10pm. He was a great man, loving father, granddad and great granddad. He will be sadly missed by many people xxx"
Load more updates