The newly-appointed Chief Executive of the 2017 City of Culture company will tell business leaders that a legacy of regeneration is "top of the agenda" for Hull's year as the UK's cultural capital.
Martin Green takes up his new role on October 1, but before then he will address the region's business community, alongside Hull: UK City of Culture 2017 Chair Rosie Millard, at a Bondholders breakfast this morning to mark the start of Freedom Festival, Hull's premier artistic and cultural event.
Mr Green, whose impressive track record includes being Head of Ceremonies for the London 2012 Olympic and Paralympic Games, said major events such as the Olympics, Tour de France Grand Départ in Yorkshire and the Commonwealth Games in Glasgow were a powerful tool for regenerating cities and communities and transforming their image.
People are mistaken if they think that London had it all already. We got the Olympics not because we just wanted to put on the Games, but because we wanted to regenerate east London.

"In the five years I worked for London I was able to see that area physically change in front of me. The change in Stratford is sensational and that is all because we put a cultural event on.

"I am really glad to say we put that cultural event on really well, so it also had legacy in terms of memories, pride in the country and belief in ourselves that we can deliver."

"I believe we can do the same with Hull. The scale may be different, but the principles are the same - staging cultural events, bringing people into city centres, putting on things that people want to come and see and while they come and see them, they eat and they drink and they stay.

"It also builds the reputation of the place, so you get people saying 'I want to live in the city now' or 'they've clearly got a lot of creative people in that place, we should put one of our offices there'.

"It's all about changing misconceptions - it's often no deeper than that. If you can build on the pride people have for Hull it really changes how the city feels about itself and how it represents itself to the outside world.

"The legacy impact and regenerative impact is top of the agenda, because that is how we look at culture and delivering great events.

"Art for art's sake won't cut it. That doesn't mean you put on loads of boring stuff. What we will put on will be new, exciting, relevant, diverse and of great artistic worth, but we will always be looking at what we're doing within the agenda of what we've got to deliver before and, most importantly, after the year."
– Martin Green
The Bondholders is a fast-growing, private-sector led group of more than 230 member companies and other organisations that act as ambassadors for Hull and the Humber to encourage investment and job creation. The regular Bondholders breakfast events bring these ambassadors together to gain insight into new initiatives and developments within the region.
At the Freedom Festival Bondholders breakfast Mr Green will also urge local businesses to "join in" and invest in supporting the cultural programme.
We want to see a galvanised, proactive business community, which already exists in Hull, saying 'we don't need anybody's help to do what we need to do, we just need a hook to hang our investment on'. "The City of Culture company is going to give you 365 days of culture to hang your business strategies and plans upon. Engage and be proactive with us and everyone will benefit".
– Martin Green
The focus on legacy from 2017 will be underlined by Rosie Millard.
City of Culture needs to improve jobs and futures in Hull; and it needs to change perceptions of Hull.

"We will be generating work from within the city that is genuinely jaw-dropping and accessible and that can actually change lives and perceptions, just by exposure to it.

"Places can be transformed. There is a reason why City of Culture has come to Hull. City of Culture has regeneration qualities, which Hull needs."
– Rosie Millard
The Bondholders breakfast will be staged in the Big Top on the Freedom Festival site in Hull's Fruit Market. It will focus on how being UK City of Culture 2017 is acting as a catalyst for investment that will create a thriving environment for business.
Bondholders members will also hear from Hull City Council about how City of Culture is part of the overarching City Plan masterplan and details of specific projects such as improvements to Hull's public realm, plans for a major events and conference centre, and regeneration of the Fruit Market.
In addition, the meeting will showcase case studies of investment which are reviving Hull's waterfront and reinforcing its position as a focal point for Hull's creative community.
A Grade II listed Police Box has moved from its base at Bishopgarth on West Field Road in Wakefield, to West Yorkshire Police's new Carr Gate training complex.
The box is said to be from the 1920s or 1930s and is similar to the model used by the time-travelling Doctor Who.
The centre houses a K-9 unit and training facilities to prepare new officers for life on the beat rather than Dalek invasions.
Being a listed building, it is as timeless as The Doctor himself. Police boxes were used by officers on the beat to report to headquarters, and by the public to call for assistance in times of emergency.

It's believed to be a 1929 Mackenzie Trench design police box, made of timber, with a small door to a telephone cupboard on the inside and features a bell on the top.

By bringing this icon of community policing to our new training facility, we hope it will instil the traditional values of protecting the public into the advancements of modern policing.
– Superintendent Dave Lunn, Head of Learning and Development
Advertisement
One of the most bizarre world records was set this afternoon at historic Temple Newsam in Leeds .
Four hundred and forty three people turned up wearing deerstalkers, puffing on pipes and brandishing magnifying glasses to help set a new world record for the most people dressed as Sherlock Holmes.
Today's gathering of amateur sleuths, smashed the previous record of one hundred and thirteen and was all in a good cause - to help raise funds for a new Yorkshire Brain Research Centre.
A world record attempt for the most people dressed as Sherlock Holmes takes place today at Temple Newsam in Leeds. The Sherlock festival gets underway at 12.30 with the world record attempt at 2.30 sharp.
Sherlock Holmes, one of the most popular consulting detectives of all time, is on the case to help raise money for one of Europe's largest teaching hospitals - the Leeds Teaching Hospitals - to raise funds for a new Yorkshire Brain Research Centre.
The Guinness World Records attempt promises to be the biggest Sherlock party ever. Entry fee is £15 and every participant will receive a Deerstalker hat, pipe and magnifying glass on the day of the event.
The minimum number of people required to set a new Guinness World Records title is 250 participants.
Thousands of festival goers are expected to travel to the Bradford Council-run festival in Myrtle Park in Bingley.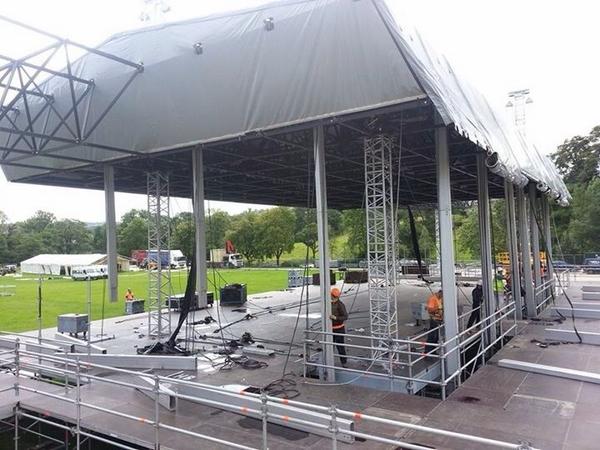 Festival fans will be able to travel to Bingley with trains coming from Leeds, Bradford, Skipton, Lancaster and Morecambe. There will also be buses from Bradford, Leeds and Keighley.
The organisers have also laid on a regular Park and Ride service to ferry drivers from the car park at UKAR (the former Bradford and Bingley offices) in Crossflatts to the town centre venue.
The council has written to local residents and issued parking permits where appropriate. Main Street in the centre of Bingley will be closed for a short period of time to allow festival goers to leave the site safely.
The North's biggest musical extravaganza came to an end last night when Sheffield's very own Arctic Monkeys brought the curtain down on this year's Leeds Festival. And today the thousands of fans who camped out were today packing up and heading home. Lisa Walton reports.
Advertisement
Seventy thousand music fans are heading home from Leeds festival. The event held at Bramham Park featured big name acts from the music industry.
The clean up operation is now underway and all lost property will be donated to charity.
Sheffield band the Arctic Monkeys closed the event, and Melvin Benn, Leeds Festival organiser, said it will be difficult to top their performance next year.
Organisers of Europe's longest-running Caribbean carnival are hoping for a record crowd, after more than 150 thousand people turned out last year. The Leeds West Indian Carnival starts later, featuring a parade of colourful floats and hundreds of people in spectacular costumes.
Ed Sheeran has beaten music heavyweights Pharrell, Eminem and John Legend to win best male video at MTV Video Music Awards 2014.
The Halifax born singer-songwriter took the accolade for Sing, saying he was glad he attended the annual star-studded event which was held in California. It is the second time he has been nominated for best male video, after narrowly missing out last year with "Lego House" from his debut album.
Load more updates