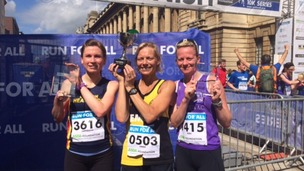 Thousands of runners have turned out for the annual Hull 10K.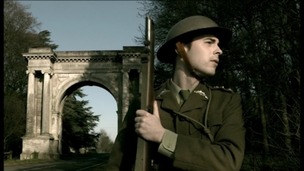 A film about the Grimsby Chums has had its premiere.They were first World World soldiers who volunteered to fight on the Western Front.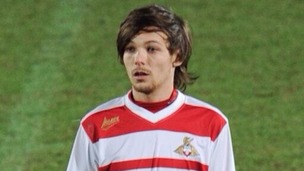 One Direction's Louis Tomlinson made his professional football debut for Doncaster last night, delighting 5,000 fans with his cameo.
Live updates
Winners of Britain's Got Talent 'Collabro' have announced that they are to tour the country next year.
The classical group, which includes Thomas Leak from Louth in Lincolnshire, will play 23 dates including Sheffield on 21 February 2015 and ending the tour in Hull on 3 March.
The tour, which will be the first for the group, also features the runner-up from the ITV talent competition, Mansfield-born singer Lucy Kay.
Tickets go on sale on Friday 20 June.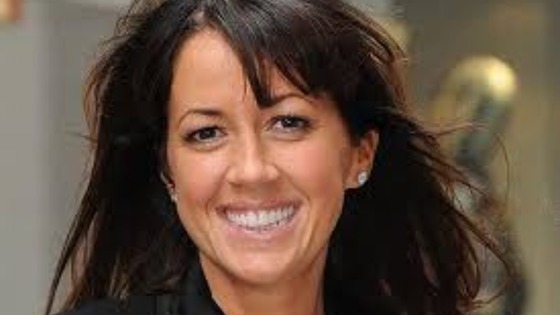 Former Emmerdale star Sheree Murphy is coming back to TV with a role in Australian soap Neighbours.
The actress, who is married to the Australian former Leeds United star Harry Kewell, said she was excited to be going back to work.
She told Hello! Magazine: "It's just kicked in that it's actually happening. I'm going back to work. The kids don't remember me on Emmerdale, so they're excited about seeing mummy on TV.
"The last thing I did was Hollyoaks and I was really nervous. I feel a bit like that on Neighbours, not necessarily because they watch English soaps but more because it's, 'Oh, that's Harry Kewell's wife - what's she doing?"'
Murphy has four children with Kewell who recently retired from the game, playing his last match in his hometown of Sydney.
Advertisement
Emmerdale stars took a break from filming to join the Pride of Britain bus as it stopped at our studios here in Leeds in the search for the regions unsung heroes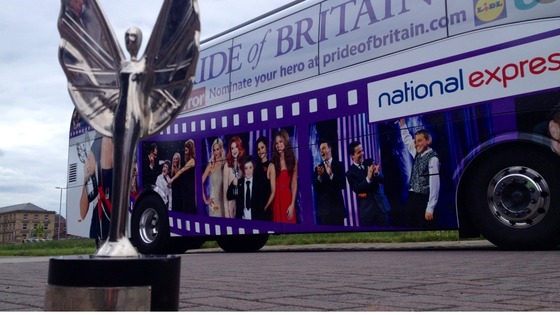 The coach is travelling one thousand miles, up and down the country to let people everywhere nominate members of their community who do extraordinary things to help others.
This years winner will be announced in October at a star-studded event in London.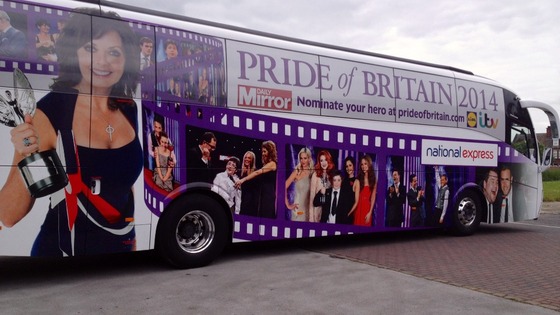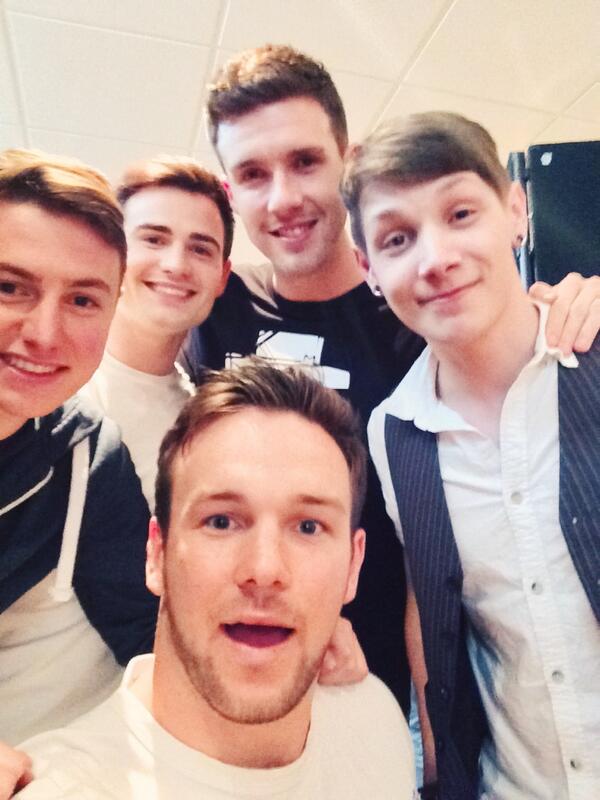 Simon Cowell on @collabroglobal : "I'm delighted to welcome them to Syco and am looking forward to them starting work on their debut album."
National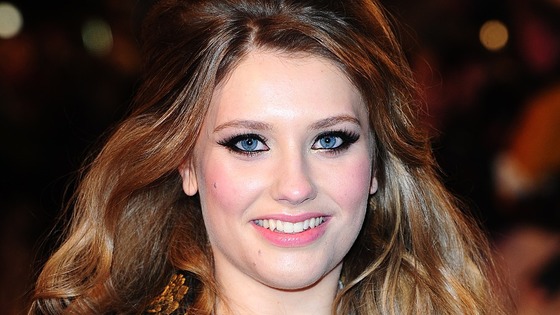 X Factor loser Ella Henderson need not have worried about winning the show as she looks set to top the charts this weekend with her debut single Ghost.
The 18-year-old failed to make the quarter finals of the talent show in 2012 but was snapped up by Simon Cowell's label Syco.
Midweek figures from the Official Charts Company revealed she has already sold more than 78,000 copies of her new track.
New X Factor judge Mel B has promised to bring some "honesty" to the hit talent show.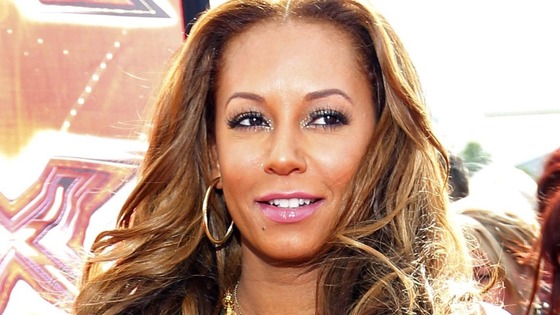 The straight-talking former Spice Girl has taken the final spot on the new judging panel alongside Simon Cowell, Louis Walsh and Cheryl Cole.
Mel, a guest judge on the ITV show in 2012, said she was "so excited" to be coming back and is reported to have signed a deal worth £1million.
"I've always thought honesty is the best policy when being a judge and that's what I'm going to bring more of this year.
"Whether it's spotting an incredible singer, giving someone a reality check or debating with Simon over who's got it wrong. Now I can't wait to get started and find some amazing talent."
The 39-year-old, who has also appeared on America's Got Talent and Australian X Factor, is currently in Sydney working as a judge on talent show The Voice Kids.
Cowell said he was "thrilled" by the appointment, saying: "I thought she was fantastic as a guest judge a couple of years ago. She is feisty, opinionated and, I believe, will be a great mentor."
Filming on the new series starts next week with auditions in Manchester, London, Newcastle and Edinburgh.
Advertisement
Central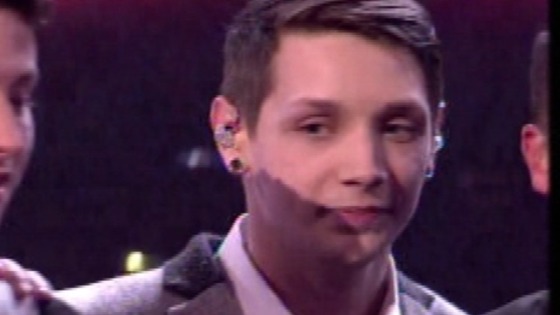 One of the Britain's Got Talent winning act Collabro has said he's not handed in his notice for his job following their win.
Tom Redgrave, a 24 year old waiter from Louth in Lincolnshire, says he's still waiting to speak to his employers.
The group won £250,000 in prize money and the opportunity to sing perform at the Royal Variety Performance.
The group formed only a month before their first audition for the ITV show.
Louth singer part of winning Collabro group on BGT
It has been a life-changing weekend for a talented singer from Lincolnshire whose group Collabro won Britain's Got Talent on Saturday. Since then Thomas Leak from Louth, and his four bandmates, have been caught up in the whirlwind that is their new-found fame.
Thomas' family could not be more proud of what he has achieved, but as Ben Erlam has been finding out, the first thing Thomas wants to buy with his prize money is a tumble drier:
Louth singer part of winning Collabro group on BGT
The manager at Louth Playgoers Riverhead Theatre says he is not surprised that Collabro, including the town's Thomas Leak, won Britain's Got Talent at the weekend. Roy Hobson saw him perform in productions there before joining the musical theatre quintet.
Louth singer part of winning Collabro group on BGT
The mother of Louth singer Thomas Leak, whose group Collabro won Britain's Got Talent on Saturday, is thanking people in his home town for their support. Gabriella McCree spent last week filling the town with posters and flyers and says the weekend will change her son's life forever:
Load more updates