Lincolnshire's Pride of Britain 'Fundraiser of the Year' finalist Mark Smith has been speaking to the Prime Minister about his campaign for compulsory wearing of cycle helmets.
Mark was nominated for the award for his work since his son Ryan suffered life-changing injuries after being knocked off his bike.
He missed out on the prize, but says the chance to talk to David Cameron was a great opportunity.
A North Yorkshire Police officer has won a Pride of Britain award after disarming a man trying to rob a shop at gunpoint.
Read the full story ›
Advertisement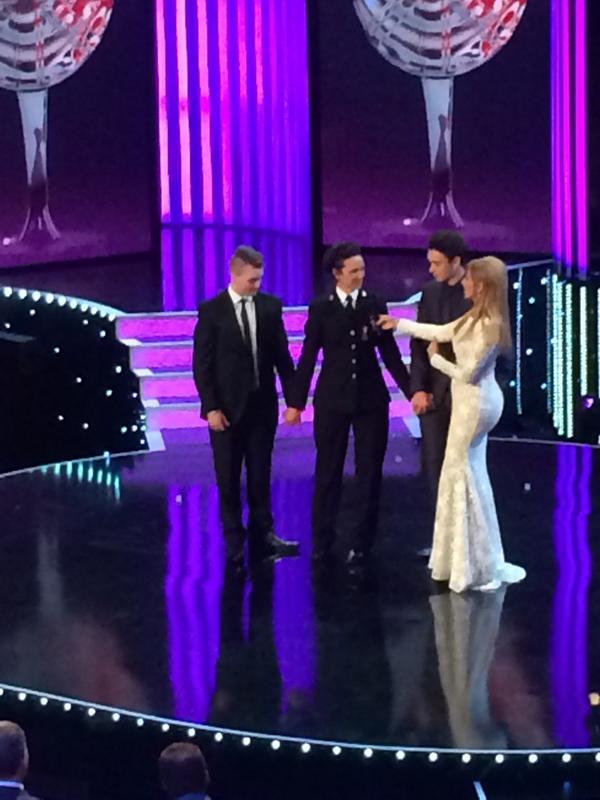 A new movie featuring Hollywood superstars Liam Neeson and Sigourney Weaver is being shot in the Colne Valley this weekend.
Schools, shops and streets in Linthwaite and Marsden will be given the Hollywood treatment as filming for for the award winning fantasy tale A Monster Calls gets underway.
The film, which was originally written as a children's novel by Patrick Ness, will also star many local people as extras including youngsters from Colne Vally High School.
In the film, Liam Neeson has been cast as the monster and Sigourney Weaver as his grandma. But the pair are not expected to make guest star appearances in the valley this weekend as their voice overs will be done in the studio.
The actor Christopher Timothy, who played the vet James Herriot, is back in North Yorkshire this evening to attend the unveiling of a statue of the vet Alf Wight, who wrote the James Herriot books.
The World of James Herriot will unveil the statue, followed by a black tie dinner at Thirsk Racecourse. Mr Timothy will be accompanied by family members of Mr Wight, who wrote the books about the life of a country vet which inspired two films and the long-running and immensly popular TV series "All Creatures Great and Small."
Former Birmingham City goalkeeper Jim Herriot, whose name, in 1969, Mr Wight chose as his pseudonym, is attending together with Sean Hedges-Quinn, the sculptor of the Statue and Gary Verity, CEO of Welcome to Yorkshire.
The James Herriot Statue and Legacy Fund has been developed as a tribute to Alf Wight, and its aims to provide bursaries for people wishing to embark on a career concerning the welfare of animals, and for whom the James Herriot stories may have been an inspiration.
We've had the Calendar Girls, endless firemen and the occasional group of farmers - it seems as though absolutely everyone has done their very own Calendar - Or so we thought.
But it appears one group may have been missed out! Fear not they have been quick to rectify the situation with their very own Dullest Men of Britain Calendar as Claire Ashforth was lucky to find out.
Advertisement
A homeless man has appeared at Leeds Magistrates Court charged with arson after the fire at the former Majestyk club in Leeds.
Stuart James Jefferson, who is 32 and of no fixed abode, is due in court again on 16th October.
At its height 75 firefighters battled to save the landmark building which was being redeveloped.
West Yorkshire Fire and Rescue Service is maintaining a presence at the building today. An agency safety team is removing loose objects and debris from the building and ensuring it is made secure.
We are working alongside building surveyors in an advisory capacity today to make the building safe.

We are confident that the fire is now out, however, a crew from Leeds Fire Station is making two-hourly re-visits to the site as a precaution today to ensure that absolutely no hotspots remain.

We are aware that there may be some disruption to members of the public in order for us to gain access to the site, however, we have tried to rotate road closures to minimise this.
– Assistant District Commander for Leeds, Nigel Kirk
This morning Quebec Street has been closed, however, this has now re-opened and Wellington Street will be closed this afternoon.
The fire service is aiming to leave the site in the hands of building surveyors by teatime.
A man is due to appear in court today charged with arson in connection with the fire at The Majestic building in Leeds on Tuesday night.
Stuart James Jefferson, aged 32, of no fixed abode, is due to appear at Leeds Magistrates Court this morning.
West Yorkshire Fire and Rescue Service has been taking photos of the Majestic building in Leeds, which show the extent of the fire damage both inside the building and out.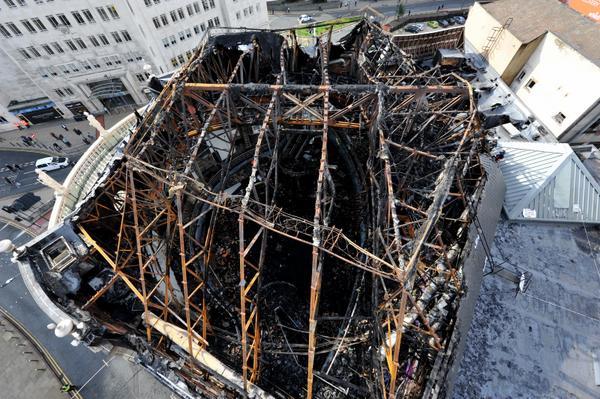 Load more updates