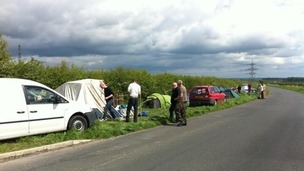 An anti-fracking group will arrive in Hebden Bridge later as part of its latest stunt, dubbed "Tour de Frack".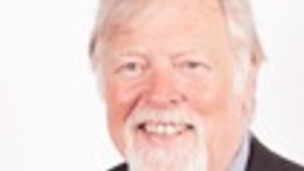 The Leader of Kirklees Council says a referendum on council tax rises could be necessary as the authority looks to make savings of £70m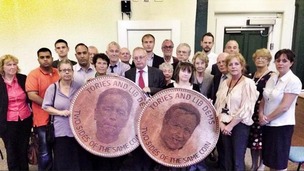 The ruling Labour group in Calderdale Council have been ousted after a vote of no confidence. The Conservatives now rule with a minority.
Live updates
Police question Galloway over Israel comments
A journalist in Bradford has branded comments made by Bradford MP George Galloway "outrageous".
Nigel Grizzard of the Jewish Telegraph says the city has always enjoyed strong links with Israel and criticised the MP who declared Bradford an "Israel-free zone":
Police question Galloway over Israel comments
The Leader of Bradford Council says the city has a proud history of welcoming people which will be maintained.
Cllr David Green was speaking after it was revealed that West Yorkshire Police interviewed Bradford MP George Galloway after comments he made about Israel:
Advertisement
Business Secretary urges apprenticeship uptake
The Business Secretary Vince Cable has been in Yorkshire today launching a new scheme providing more apprenticeships and encouraging young people to apply for them.
Mr Cable visited the ITV Yorkshire studios and the Emmerdale set in Leeds this morning to see how apprentices here bring the show to life.
He is visiting a range of companies across the city to launch the Government's new campaign calling on young people to "Get In, Go Far" by choosing an apprenticeship:
A Leeds MP has proposed a parliamentary motion for a rail link to be established between Leeds Bradford International Airport and nearby towns and cities in Yorkshire.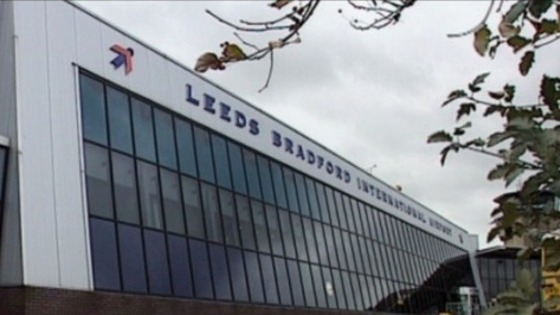 Greg Mulholland MP says supporting link would provide a boost for local jobs and the area's economy.
As new bidders for the the Northern Rail and TransPennine Express franchises are being consulted, Mr Mulholland says that any successful bid should include a commitment to creating the link.
The Grand Départ of the Tour de France really showed the world what Yorkshire has to offer, and with the region now one of Europe's leading destinations, this will undoubtedly mean an increase in business and visitors to Yorkshire.

Leeds Bradford International Airport is vital to ensuring the region takes full advantage of its successes - a rail link connecting Yorkshire to the rest of the world will undoubtedly help provide a boost for local jobs and the regional economy.
– Greg Mulholland MP, Leeds North West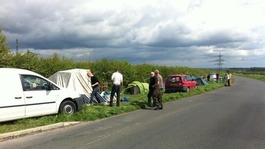 An anti-fracking group will arrive in Hebden Bridge later as part of its latest stunt, dubbed "Tour de Frack".
Read the full story
National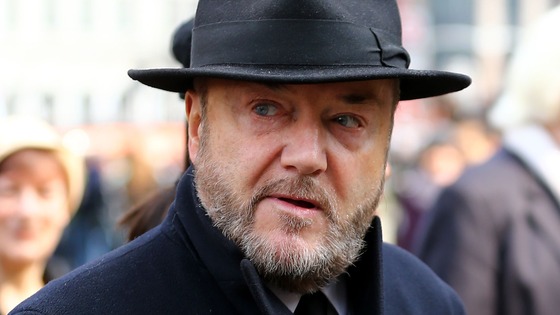 Respect MP George Galloway has been interviewed under caution by police after making a speech in which he announced Bradford was an "Israel-free zone".
The left-wing MP stated in the speech that Israelis were not welcome in the city where he has a constituency.
West Yorkshire Police said it would investigate after footage of the speech, made in Leeds, circulated online.
He has now been interviewed voluntarily and the Crown Prosecution Service will decide whether any charges should follow.
Advertisement
Campaign launched over Hull boundary expansion plans
A group opposing the plans which could see Hull expand into parts of East Yorkshire has launched its campaign.
The city council says its existing boundaries put it at an economic disadvantage and want to change to bring areas on the outskirts of Hull into under the council's authority.
But in the East Riding of Yorkshire they have described the move as a land-grab and have called a referendum of people who could be affected.
James Webster has been in Hessle where the no campaigners gathered to discuss their plans:
Communities Secretary Eric Pickles today announced details of an expansion to the Government's Troubled Families programme to help vulnerable younger children from struggling homes to get a better chance in life.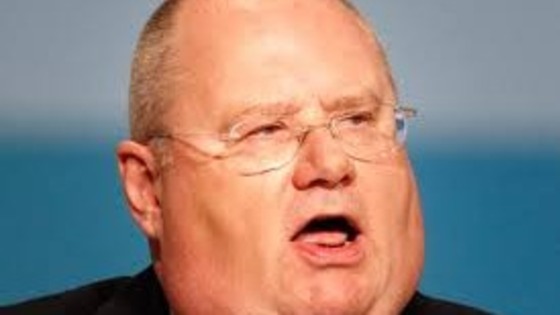 Work will begin this year in 51 of the best performing areas, ahead of a national five year programme from 2015 to help more troubled families who cost the taxpayer tens of thousands of pounds per year without intervention.
Recent research shows that troubled families that have been worked with so far have an average of nine serious problems such as truancy, crime, anti-social behaviour, worklessness and domestic violence.
As well as expanding from working with school-age children to those under five, the wider programme will also have a particular focus on improving poor health, which new data published today highlights is a particular problem in troubled families, with 71% having a physical health problem and 46% a mental health concern.
The scheme builds on the success of the current programme run by councils, which new figures show is now helping over 110,000 of the most troubled families in England.
Of these over 53,000 have had their lives turned around thanks to the intensive and practical approach, which works with the whole family on all of its problems.
While retaining its focus on reducing truancy, crime and anti-social behaviour, the expanded programme will apply this approach to a larger group of families with a wider set of problems including domestic violence, debt and children at risk of being taken into care.
And the programme will continue to prioritise getting adults into work, with the Department for Work and Pensions providing 300 specialist troubled families employment advisers who will also work with young people at risk of becoming unemployed.
The Troubled Families programme has been a brilliant partnership between the Government and councils, changing the way services are run, saving taxpayers money and turning around the lives of some of the hardest to help in the country, with kids back in school, youth crime and anti-social behaviour cut and adults better able to work.

" Building on this momentum, we are now able to help even more families and deal with even more problems and I am delighted that that work will now begin in the next few months."
– Eric Pickles, Communities Secretary
Families with an average of nine different serious problems need help that gets in through the front door of their home and to the heart of what is really going on in their lives.

"The Troubled Families programme has been able to do that by taking a 'tough love' approach and dealing with the whole family and all of its problems.

"This has been the start of a revolution in the way that we work with our most challenging families and which we need to accelerate in the years ahead."
– Louise Casey, Head of the Government's Troubles Families programme
Barnsley has a new approach to cracking down on litter louts. They are giving the council's enforcement officers body cameras to catch offenders in the act.
It is part of the authority's zero tolerance approach to the problem but it is coming under fire from civil liberties groups who say the body cams are unnecessary and intrusive. Martin Fisher reports.
Residents could be polled over council tax rise
A cash-strapped Yorkshire council has told its residents to brace themselves for more tough times ahead.
Kirklees Council in West Yorkshire has already made deep budget cuts. Now it needs to go further and "drastic options" are being considered.
In the firing line are libraries, museums and open-air markets and council tax payers could soon be asked whether they want to pay more to save some of them.
Chris Kiddey reports:
Load more updates