Three more shadow cabinet ministers have quit their posts following a mass exodus of their colleagues over the weekend.
Diana Johnson has resigned as a shadow foreign minister, Anna Turley as shadow minister for civil society and Toby Perkins has resigned as shadow armed forces minister saying that the Labour Party "needs a change at the top".
Jeremy Corbyn has now lost 15 members of his shadow cabinet.
Diana Johnson has resigned as a shadow foreign minister and Anna Turley as shadow minister for civil society.
Advertisement
Over the weekend thousands of women from Yorkshire have taken part in race for life events- raising nearly £400,000 for Cancer Research.
And this morning 900 of them put on their trainers and pink outfits to take part in the Doncaster 5K as Sarah Clark reports:
Karl Turner has become the latest Labour MP to quit the shadow cabinet, following several other high-profile resignations on Sunday.
Karl Turner was Shadow Attorney General and MP for Kingston Upon Hull.
With a very heavy heart I have notified Jeremy Corbyn that I have resigned from the Shadow Cabinet. Letter to follow.
Lord Falconer has resigned from the shadow cabinet, the same day that nine of his colleagues have either resigned or been sacked.
Falconer was the shadow secretary of state for Justice and shadow Lord Chancellor.
Labour has descended into crisis as several high-profile members of the shadow cabinet have quit in the past few hours. Here's who they are.
Read the full story ›
Advertisement
Kerry McCarthy has resigned as shadow environment secretary in protest of Jeremy Corbyn's leadership of the Labour Party.
The Bristol East MP joins Lilian Greenwood, Lucy Powell, Ian Murray, Gloria De Piero and Heidi Alexander, who have also stepped down from their roles.
In her resignation letter, she said: "Although I do not doubt your personal commitment to your long-held principles, I believe that a new leader is needed to take on the challenges ahead: Steering our way through the very difficult period facing this country, exerting a decisive influence on the post-referendum negotiations, and winning broad-based electoral support."
My letter to Jeremy Corbyn setting out some of the challenges facing us following Thursday's vote. https://t.co/EBbSnOlbaF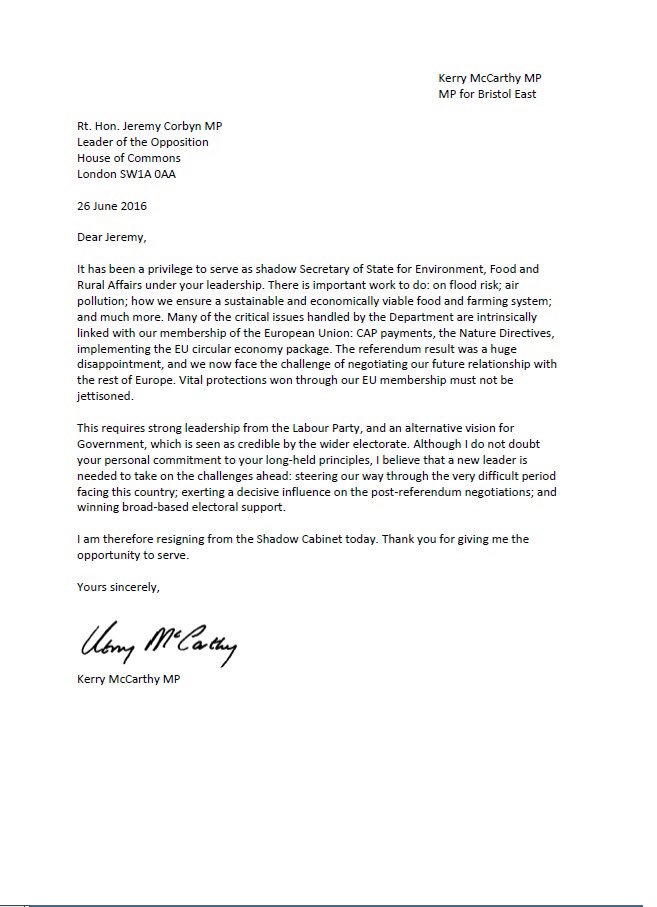 Shadow Scottish secretary Ian Murray announced his resignation from the shadow cabinet.
In a letter addressed to Jeremy Corbyn, he said the leader of the Scottish Labour Party, Kezia Dugdale is doing "an excellent job but needs a strong UK Labour Party to support her".
I believe that we can only win again as a party when the UK Labour Party is able to articulate the case for progressive policies the length and breadth of the United Kingdom. I also believe we can only do that under new leadership.
– Ian Murray
Mr Murray also said he felt the way some of his colleagues have been treated "is unfortunate".
"I will therefore return to the backbenches to serve my constituents and fight Scotland's corner from there," he added.
Mr Murray joins Heidi Alexander and Gloria De Piero in stepping down in the wake of the EU referendum, while Hilary Benn was sacked.
As the only Labour MP north of the border, means the replacement shadow Scottish secretary will have to be a non-Scottish MP.
Frank Field MP has said that Labour "certainly" need a new leader who is a "likely Prime Minister".
He said that Jeremy Corbyn has been "brilliant" at representing people who have "lost out under globalisation", but that he hasn't connected with most of the electorate.
Mr Field added that he will be going to the meeting on Tuesday which could see Labour MPs taking part in a secret ballot over their leader.
The shadow secretary of state for Northern Ireland Vernon Coaker has joined seven other members of the shadow cabinet and resigned.
The resignations follow the sacking of shadow foreign secretary Hilary Benn overnight.
He has released a statement saying he believes it is "time for the party to unite behind a new leader" and serve as an "effective opposition".
He adds: "I have sought to make it my priority to provide reassurance to the people and political parties of Northern Ireland that Labour remains committed to the principle of consent, as expressed through the Good Friday Agreement and subsequent agreements.
"I know my successor in this role continues this vital work."
Load more updates