Labour's Shadow Housing Minister responded to the Tories' announcement on Right to Buy for housing association tenants by saying the Conservatives ''can't stand up for working people'
The Tories can't stand up for working people. On their watch wages are down £1,600 and we've seen the longest fall in living standards since the 1870s.

This is yet another uncosted, unfunded and unbelievable announcement from the Tories. Having exhausted the magic money tree, the Tories now want people to believe that they can magic up billions of pounds a year from selling off a few council homes. Last year that raised just over £100 million, while this policy costs £4.5 billion a year.
– Labour's Shadow Housing Minister Emma Reynolds
David Cameron speech launching the Conservative manifesto highlights the the extension of Right to Buy.
Read the full story ›
Advertisement
The Prime Minister announced that a Conservative government would grant 1.3m housing association tenants the right to buy their homes.
Read the full story ›
Labour today launched their General Election manifesto, with leader Ed Miliband outlining the party's pledges ahead of the 7 May vote.
This live broadcast is now over, but can be replayed below:
The Conservative party have launched a concerted social media attack on Labour during their manifesto launch.
As Ed Miliband got up to speak posts on the Tory Facebook and Twitter accounts lambasted the Labour record.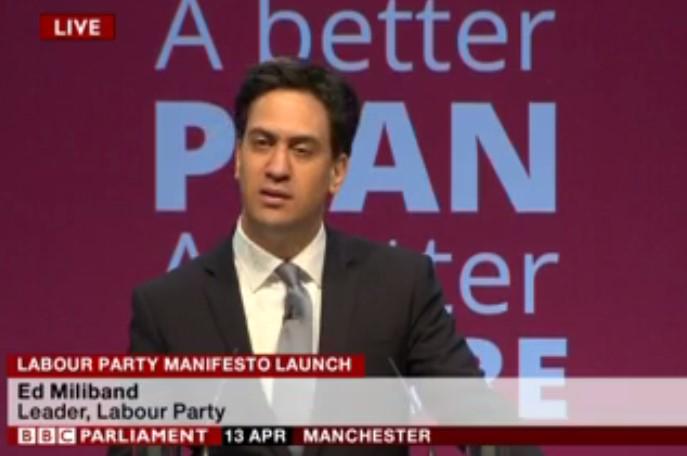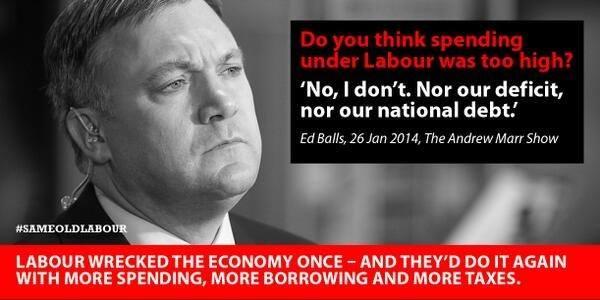 Liberal Democrat leader Nick Clegg has compared Labour's pledge for no new borrowing to an alcoholic pledging to stop drinking.
As ITV News Political Correspondent Emily Morgan reports, Clegg also accused the party of in fact planning to borrow £70 billion.
Clegg: Lab's pledge not to borrow is like an alcoholic who buys a bottle of vodka a day saying he's not going to buy more vodka #GE2015
Clegg accuses Labour of being addicted to borrowing. Says they have a plan to borrow £70 billion #GE2015
Advertisement
Ed Miliaband says that he has been 'tested' during his time in Opposition and is now ready to be Prime Minister.
The Labour leader was speaking at the launch of his party's manifesto.
Over the last four and a half years, I have been tested. I am ready. Ready to put an end to the tired old idea that as long as we look after the rich and powerful we will all be OK.

Ready to put into practice the truth that it is only when working people succeed, that Britain succeeds.

If you elect me as Prime Minister in just over three weeks' time: I will fight for that goal. I know Britain can be better. The British people know Britain can be better.

Together, let's make it happen.
– Ed Miliband
With only 27 days to the General Election, politicians are out on the election trail - pounding the streets, hammering on doors and grinning for the cameras. But for most of the rest of us, life goes on as normal.
But at mums and babies' clubs, dance groups and even five-a-side football kickabouts, talk does turn at times to question - who is going to govern us over the next five years?
Jon Hill's been eavesdropping on those conversations as we hear what some of the region's voters really think.
The Prime Minister has admitted to ITV Calendar that some of the new apprenticeships he was launching while in the region today were actually going to people who already have jobs.
David Cameron was talking about his plans to create sixteen thousand new apprenticeships and create three million more if his party gets into power on May 7th. He said his proposals were to tackle the problem of youth unemployment and would be paid for by cuts to benefits.
But during his interview on Calendar, presenter Duncan Wood said Bradford-based Morrisons who the Conservative's were stating would train up nine thousand new apprentices over the next five years under the scheme had told us that these were going to people who already worked for the company.
Calendar presenter Christine Talbot added that Morrisons had told our reporter that you need to have a contract in place already to qualify for an apprenticeship.
In response Mr Cameron said: "That's their particular scheme but many of the apprentices... at Whitbread's - those are brand new jobs."
He also denied that the new apprenticeships were not "real" jobs as had been claimed, but were schemes with real career prospects decent pay.
He said: "I'm not saying we've solved the problem, but we're creating jobs
We are creating new jobs, youth unemployment has fallen. [Young people are] getting the training, the skills, a better salary and a better life.
– David Cameron
David Cameron was talking to ITV Calendar about the launch of 16,000 new apprenticeships, which he promised earlier today.
9,000 apprenticeships were promised by Bradford-based supermarket chain Morrisons by 2020.
Load more updates