Hull Kingston Rovers have snapped up Leeds Rhinos forward Ryan Bailey on a two-year contract as the club continues to bolster its squad for the 2015 season.
A former England and Great Britain international, the prop is one of the most decorated players in Super League having won six Grand Finals, three World Club Challenge titles and one Challenge Cup with the Rhinos.
I've achieved a lot of things at Leeds over a 14-year period but I'm ready for a new challenge at Hull KR.

We've got a big game at the start of the season against Leeds and that will be a perfect way to hopefully make my debut. I know from experience that the ground is a daunting place to go to, it's tough for opposition teams and we've got to make the most of that.

I know the ins and outs of all the players at Leeds so hopefully I can pass on a few things to Chezzy and we can get a win first game of the season to get us up and running.
– Ryan Bailey
Making his Super League debut for Leeds at the age of 18 in 2002, Bailey has gone on to rack up more than 300 appearances for his hometown club and was granted a testimonial last season for his service to the Headingley side.
Ryan is a fantastic signing and an important one for the club.

With Justin Poore retiring, we lost a lot of experience there and a bit of grunt up front and that's what Ryan brings to the table. He has a wealth of experience at Super League level and also in big games.

He's a great athlete, a good trainer and a wonderful player. He gives the impression that he's a player who plays to the boundaries of the rules at times but he's aggressive and that's what you need in a front rower sometimes.
– Willie Poching, New Assistant coach
Former Rugby League star Sam Burgess has signed a three-year-contract with Bath. He says it's going to be an "exciting couple of years" and his first impressions of the city are good.
I had a little walk around the city this morning - it's a beautiful place, it's absolutely stunning. I've not spent a lot of time down here in the south (of England) but for now... what I've seen of it and the people I've met, it's been fantastic. It's going to be a cracking experience I can tell.
– Sam Burgess
You can see Matthias Kurth's full interview with "Slammin' Sam" here:
Advertisement
Sam Burgess is ready to show what he can do in rugby union following his code switch, after defending his decision to leave league
Read the full story ›
Bradford Bulls coach James Lowes believes Sam Burgess's defection to Rugby Union is a major blow to Rugby League.
Burgess, who began his career with the Bulls before moving to South Sydney, where he took the game in Australia by storm, was officially unveiled today by Premiership club Bath.
But Lowes, who has coached in both League and Union, and knows Burgess from his time on the England coaching staff, says he's sure "Slammin' Sam" will be a huge hit:
Neil Redfearn continues to wait to sign a contract to be the third permanent Leeds boss of the season but says he is "very close" to doing so.
The 49-year-old has been the man-in-waiting to replace the sacked Darko Milanic since the Slovenian was dispensed with on Saturday, but talks with controversial president Massimo Cellino have yet to yield a contract.
Stepping up from his secure role with the club's academy is seen as a dangerous move for the club's perennial caretaker, owing to Cellino's propensity to fire coaches. He sacked 36 in 22 years with Cagliari and has seen off three in five months at Leeds.
Redfearn was asked to return to the dugout when Milanic bit the dust after only 32 days and is preparing the side for Saturday's game at Cardiff but, as things stand, he does not know if that will be in a caretaker or full-time capacity.
Watch Redfearn at his press conference today:
"It's very close," the former Barnsley midfielder said.
"I had a good chat with Massimo yesterday and we went through one or two things. It's not that far away.
"I wanted some assurances from the conversations I had, where he saw me at the club and the club going forward. He said I was the future and I wanted to know if that was still the case. He said 'you are'. I wanted the contract to reflect certain things."
One of those granted assurances is that Redfearn will return to his role at the head of the academy if Cellino's impatient streak resurfaces, but the former is not considering the negative option.
"It seems to be shorter here (a coach's life) but you can spend the rest of your life wondering. You have to go on and make things happen and be positive. There's no let up now.
"This is a massive honour. It's a massive football club with a great tradition and the owner has a desire to make it great (again). I can see that, that's a genuine opinion from me and if I can be part of that down the line it's a fantastic honour. I'm capable of doing it now it's a case of knuckling down and concentrating on the footy."
A lifelong Leeds fan, Redfearn's ascent to the top job at Elland Road has been a slow one, having joined the club's academy staff in 2009.
He has had four caretaker spells since then and resisted interest from other clubs in order to remain with Leeds.
But, even if things do not work out with the first team, he is sure he will continue to enjoy working at his boyhood club.
"I would be happy taking the Under-11s," he added.
"Massimo sees me here for the long haul but there are no guarantees in football. If it was as easy as guaranteeing wins we would all be managers. It's got to be worked at and earned and I know that as well. The bigger picture is whatever happens needs to be for the good of Leeds United. If it takes me on, great, if it doesn't I will be back with the academy."
Cellino is a notoriously fiery character and a story emerged in Italy this week of former Cagliari coach Nedo Sonneti claiming he was shown the door for eating a seabass.
Redfearn acknowledges his boss has a passionate side, but is ready to give as good as he gets along the way.
"He tells me what he thinks!," Redfearn said.
"But I give it back to him and he wants to know. He's strong, but we get on well. He knows I am strong and we have to make it work together."
LOAN: Tom Ince has joined Championship side @official_nffc on loan until the end of December #UTT
Advertisement
Sheffield United have been drawn against Southampton in the Capital One Cup Quarter Finals. The Blades will face the Premier League high-flyers at Bramall Lane on the week commencing the 15th of December.
Sheffield United have made it through to the last eight of the Capital One Cup.
The Blades have made a habit of late comebacks this season and staged another one last night at MK Dons, with substitute Michael Higdon scoring both goals in a 2-1 win that sees them through to the quarter finals.
Nigel Clough's side had a cup run last season, making it to Wembley to play in the FA Cup Semi-Final. After away wins in this years League Cup, Clough says he doesn't care who they draw in the quarter final as long as it is a home tie:
Well, I've arrived in bath and been for a look around. What a wonderful town. Quite jet lagged now but powering on. What Restraunt tonight??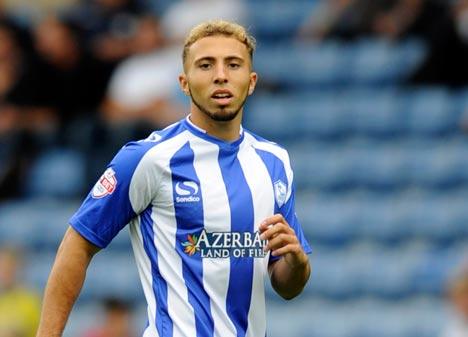 Load more updates