Doncaster's Gavin McDonnell has earned the best win of his career so far with a unanimous points decision against the experienced South African Vusi Malinga to take the WBO International Super Bantamweight belt in Hull last night.
The fight turned decisively in his favour when he caught Malinga in the eighth, forcing a count. It keeps him on track to emulate twin brother Jamie, who is the current WBA World Bantamweight Champion.
Luke Campbell extended his unbeaten professional record to nine fights with a fifth-round stoppage of Daniel Brizuela at Hull Ice Arena on Saturday night.
The boxer from Hull took control early on in the fight and landed a series of shots with ease in the first two rounds while the Argentinian struggled to make any headway at all.
Brizuela finally showed signs of life in the third round with a stinging two-punch combo but he looked wobbly as Campbell fought back and had him on the ropes at the end of the three minutes.
After two further rounds of cat and mouse, Brizuela became increasingly unsure on his feet and the referee called a halt to proceedings.
"I knew what I was up against, a very tough durable kid. He was coming to win. He's got a very good record, very experienced and been around so for me to go in there and do that I'm really happy with myself I'm over the moon. I'm a bit overwhelmed with the crowd and all the support I've had here tonight."
– Luke Campbell, speaking to Sky Sports 2
Luke Campbell is now tipped to take on fellow Hull fighter Tommy Coyle next year.
Advertisement
Hull KR's Justin Poore has confirmed his retirement from rugby league following a knee injury.
The 29-year-old enjoyed a successful career in both Super League and the NRL which saw him make 209 appearances.
Poore joined Wakefield Wildcats before moving to Hull where he impressed Robins fans during his stay.
The Australian fractured his knee cap on Easter Monday against Catalan Dragons and despite having successful surgery and rehab, Poore has decided to return home.
Poore said: "It's never an easy call to make but I know it's the right decision for me, my family and for the club as well.
"My knee has been responding well to treatment but the feedback from the medical staff is that I run the risk of damaging it further if I was to return.
"The contact might mean I would never be able to walk properly again and that's not a risk I want to take."
The Rugby Football League is making a significant investment in its Match Officials department that will allow the sport's referees and touch-judges to perform at their best in the new league structures which come into place from 2015.
The investment will include a comprehensive recruitment drive across all levels of the game and the implementation of development structures and pathways designed to enhance the performance of current match officials.
The recruitment drive will see an extension of the 'cadet' programme, which was introduced in 2014 and designed to create a pool of officials capable of operating in the First Utility Super League and Kingstone Press Championship to complement the existing full-time referees.
RFL Chief Operating Officer Ralph Rimmer said: "The sport is about to enter an important stage in its history where every minute of every match will matter and the match officials have an important role to play in ensuring the new structure is a success.
"This investment will increase both the quantity and quality of referees, touch-judges and other match officials at every level of Rugby League and will, I'm sure be widely welcomed."
The RFL is continuing to appraise the benefits and issues surrounding the adoption of a two-referee system in Super League fixtures, but has ruled out the move before 2016.
The two-referee model was trialled in a number of Academy fixtures earlier this season and the feedback from that experiment, together with all implications for Super League and the wider sport, are still being assessed.
Further trials will take place in 2015 when a full report on the system, including associated costs, will be presented to the RFL Board for consideration.
Ralph Rimmer said: "The two-referee system clearly has its merits but there is still some work to do, including trials in Super League fixtures next season.
"With so many other changes taking place next season, the Board believe that it would not be appropriate to operate a two-referee system in 2015 but we remain committed to exploring the option for 2016."
Championship side Leeds United has confirmed the sacking of coach Darko Milanic after just 32 days in charge of the club.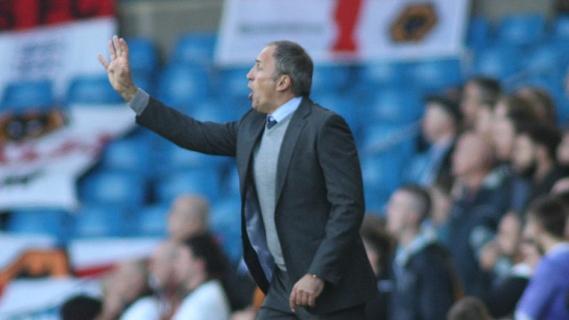 The club said Neil Redfearn will take charge of first team training on Monday morning and president Massimo Cellino apologised to the fans for the team's recent poor results.
BREAKING: Club president Massimo Cellino says: "I want to apologise to the supporters, they deserve better results." #lufc
Milanic was appointed on 23 September but did not win any of his six games in charge.
For more on this story visit the ITV Sport website.
Advertisement
Hull manager Steve Bruce believes people are unfairly "picking on" Mario Balotelli.
The Liverpool striker has come under-fire after he swapped shirts with Real Madrid's Pepe at half-time on Wednesday.
It was whilst his side trailed Real by three goals in the Champions League encounter and was substituted at the break.
Hull travel to Anfield in the Premier League today (3pm) and Bruce believes Balotelli is not playing as badly as some are suggesting.
It will be master against apprentice when Wales do battle with France in their must-win European Championship clash in Albi on Saturday afternoon.
The second round of matches pits French head coach and former Hull FC and Wakefield head coach Richard Agar against his old mentor John Kear, a former England and France boss who is now in charge of his third national team after succeeding Iestyn Harris at Wales.
The 2014 European Championship is one long round of reunions for the veteran former Wakefield Head Coach Kear, who helped launch Agar's coaching career at Hull in 2004, coached Scotland captain Danny Brough at two Super League clubs and in tandem with Ireland boss Mark Aston steered Sheffield Eagles to their stunning win over Wigan in the 1998 Challenge Cup final at Wembley.
"I go back a long way with all three," Kear said. "I've had a very interesting last 10 or 15 years. We keep inter-twining, locking horns and it's great. It's part of the rugby league family."
Both France and Wales go into their meeting on the back of defeats and know a loss in Albi will end their hopes both of tournament success and of securing the big prize of a place in the 2016 Four Nations Series.
Kear's men will be looking to bounce back from their 42-18 defeat by Scotland while pre-tournament favourites France are reeling from a shock 22-12 loss to Ireland.
"We had a really good review of the previous performance against Scotland and we've identified areas that we need to tidy up and improve on," Kear said.
"The players' application has been first class and if they take that on to the field against France then I'll be very satisfied.
"This week will be vastly different to the Scotland game in Cumbria last Friday. We played in a howling gale and driving rain and, from the forecasts we've been getting, we'll have no rain on Saturday, 25 degree sunshine and the ground will be very firm."
Agar is poised to give a debut to Lezignan hooker John Boudebza, who this week completed a move to Hull KR, while Kear has called up four fresh faces as he rebuilds a youthful Welsh squad.
"It's exciting for the game in Wales," Kear said. "We've given a lot of people some opportunities. Some have taken them without a shadow of a doubt and are going to be here for a good few years yet."
For Wales and Ireland, who host the Scots in Dublin on Saturday afternoon, there is also the prospect of securing automatic entry into the 2017 World Cup down under.
"With the enormity of this fixture we will be looking to up our game against Scotland," Aston said. "Last week was a fantastic victory and it is important that we keep the spirit that we showed against France and build on that."
Scotland coach Steve McCormack, who celebrated 10 years in the job on Friday, reckons his side will need to find some improvement if they are to halt the improving Irish.
"A lot of people were shocked by Ireland beating France but nothing surprises me any more," said McCormack.
"We know we are going to have to be at our very best to win.
"If we play like we did in the second half against Wales we will give ourselves a chance but we've got to learn from where we went wrong in the first half."
Sheffield Eagles have signed former Huddersfield Giants forward Tony Tonks.
The 29-year-old front rower has made 141 Championship appearances for Halifax and his previous club Featherstone Rovers, scoring 19 tries.
He is the Eagles' seventh signing of the close season, joining Blake South, John Davies, Steve Thorpe, Jamie Langley, Ben Musolino and former Halifax team-mate Rob Worrincy.
"Games against Sheffield have always been tough battles," said Tonks.
"You can see there is a real togetherness and a real strong culture at the club, and I want to be a part of that.
"Having spoken to Mark Aston you can see he is building something here. He has made some really good signings, and the players that are already here are class acts as well.
"He is taking steps to improve the club and the squad so I'm looking forward to being involved.
"I think top four is definitely achievable. When you look at the sides that will be competing at the top end of the table, I don't think Sheffield are far away from them at all.
"As long as all the new lads fit in well, which I'm sure we will, I think we will be right up there."
Load more updates