New Leeds boss Uwe Rosler says he is delighted to have been appointed as head coach.
He told reporters:
I'm very happy. It doesn't get bigger than this. This opportunity came up at short notice and it was a no brainer.

I'm head coach. I'll be responsible for tactical approach, picking the team. I'll have an input in who comes in and who goes out.
– Uwe Rosler
Leeds United have appointed Uwe Rosler as their new head coach.
CONFIRMED: We are pleased to announce Uwe Rosler has been appointed as the new #lufc head coach on a two-year deal. http://t.co/VHhBK3b4We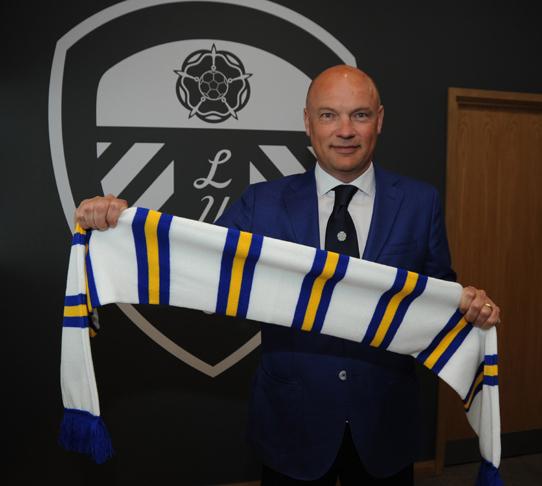 The former Wigan and Brentford boss has signed a two-year deal at Elland Road.
He is the club's fifth coach in under a year.
Advertisement
Sam Burgess has been named in England's 50-man World Cup training squad which will be whittled down to 31 in late August
Read the full story ›
Leeds United will confirm the appointment of Uwe Rosler as their new head coach, ITV News understands.
The former Brentford and Wigan boss will be presented to the media at a press conference later today.
Rosler will replace Neil Redfearn who Leeds owner Massimo Cellino described as 'a baby' earlier in the week.
Leeds United have called a press conference for this afternoon to unveil their new head coach.
A statement said that club director Adam Pearson will present Neil Redfearn's replacement to the media.
Redfearn's future has been up in the air since owner Massimo Cellino's press conference earlier in the season, where he revealed he had doubts about the coach's credentials.
According to reports, former Brentford and Wigan boss Uwe Rosler will be the new head coach.
Olympian Alistair Brownlee says he is delighted with news that Leeds will host a leg of World Triathlon Series next year.
The event will take the place of World Triathlon London, as Hyde Park will be under construction in 2016 to allow for the building of a cycling superhighway throughout the city.
It's fantastic news that Leeds' bid has been successful. I am sure the crowds will come out in force to see a major triathlon event in Leeds for the first time, and I'm sure it will be a brilliant event.
– Alistair Brownlee
Advertisement
Wakefield Trinity have confirmed the departure of head coach James Webster with immediate effect.
It is with a heavy heart that I have today agreed the release of James Webster from his position of Head Coach. James rescued us last season from the threat of relegation and for that I am truly thankful. I wish James and his family every success and happiness in the future, and thank him for all his hard work in his 4 years here. We will now be conducting the search for a new Head Coach. In the interim, Stuart Dickens will take charge of first team affairs, until we can make an appointment.
– Michael Carter, Chairman
I felt now was the right time to allow someone else the opportunity to take the team forward. In taking this decision my hope is it will allow the club to fulfil its goal and remain in super league. I would like to thank both Michael and Chris for the opportunity and wish everyone at the wildcats the best for the future.
– James Webster
The Wildcats are currently seven points adrift at the bottom of the league.
Wakefield Wildcats are set to sack head coach James Webster, ITV News understands.
The Super League club suffered a shock Challenge Cup defeat to Leigh on Sunday.
Wildcats have lost 12 of their last 13 matches in all competitions and are seven points adrift at the bottom of the league.
Confirmation of Webster's departure is expected later today.
A man from Hull who suffered a severe brain injury after an unprovoked attack three years ago is running four marathons in four days to raise money for the hospital where he recovered.
Paul Spence who was left critically ill with a brain haemorrhage, is running across Ibiza this week.
Leeds will host a round of the World Triathlon Series next year.
Local Olympic gold medalists Jonny and Alistair Brownlee are both likely to compete in the event, which will take place next summer.
Load more updates