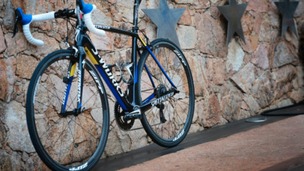 A detailed look at the most important tool at a Tour de France rider's disposal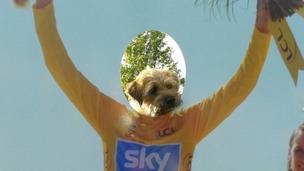 We have pulled together some of our favourite pictures and tweets from across the weekend of Le Grand Départ. Did your shots make it in?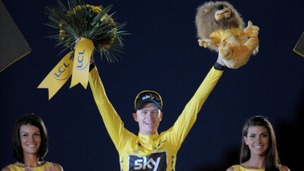 A complete list of all previous Tour de France winners
Live updates
Tour de France 2014: Pool in Wharfedale
Pool in Wharfdale was the first village to welcome the Tour de France during stage one on Saturday, and the locals went all our to show off their home to a global audience.
Emmerdale's Gaynor Faye was among those who turned out to catch a glimpse of the peloton.
Matt Price was there too.
Tour de France 2014: Le Grand Depart in Yorkshire
National
Marcel Kittel has won the final English leg of the 2014 Tour de France from Cambridge to the capital.
In a dramatic finish the German just beat the Slovakian rider Peter Sagan on the line outside Buckingham Palace.
Advertisement
Tour de France 2014: Le Grand Depart in Yorkshire
Marcel Kittel wins Stage 3, textbook lead-out from Giant, Sagan couldn't get by. Two wins in three days for the big German #TDF2014
Tour de France 2014: Kettlewell
Kettlewell was positively heaving as the Grand Départ passed through.
Charlie Garforth was there for us as the town came out in force to greet the race:
Tour de France 2014: Knaresborough
It was crowned 'Best Dressed' town of the Tour de France and yesterday Knaresborough well and truly showed off what it has to offer.
Thousands lined the streets to watch the racers pass through, and they were ready with painted faces, painted bikes and even painted houses: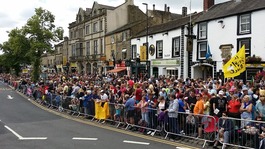 We were out in Yorkshire all weekend and have put together some of the best bits from each town. Can you see yourself in the crowds?
Read the full story
Advertisement
Tour de France 2014: Otley
Thousands of people packed the centre of Otley on Saturday to watch Le Tour pass through the chicane in the main street. They began arriving early in the morning to line the streets.
The caravane of publicity trucks drove through at around 10:15am with the cyclists following a couple of hours later.
Waiting to greet them were singers, morris dancers and some very colourful costumes as well as many amateur cyclists who use the town as a base. James Webster was there to soak up the atmosphere:
Tour de France 2014: Mytholmroyd
A huge yellow cycle painted on a field in Cragg Road, Mytholmroyd, has been attracting plenty of attention. It was designed by Roger Pugh with help from his friend Brierley Hellowell. Here Roger explains how it came about.
Tour de France 2014: Sheffield
Le Tour de France didn't so much roll as huff and puff into Sheffield as the entourage battled the 30 per cent incline on Jenkins Road.
David Hirst was there to catch the best of the action as thousands lined the city's streets to welcome the pack:
Tour de France 2014: Cragg Vale
Cragg Vale was taken over by cycling fans on Sunday as Stage Two of Le Grand Départ passed through.
They painted the roads and even the houses to mark the event, as Chris Kiddey found out:
Load more updates