No room at school for both twins
A mother in Ossett is having to teach one of her sons at home after he was refused a place at the school his twin attends because it did not have space for both boys.
Six year old twin boys spend the day apart because there's no room for them both at the same school.
Six year old twins Oliver and Ben Wilby are separated every day because their local school says it cannot find room for both of them. While Oliver goes to the primary near Wakefield, Ben stays at home. Their mother has criticised the rules governing school admissions, as Lisa Adlam reports.
Advertisement
A council in West Yorkshire says they sympathise with a mother after only one of her twin sons was given a place at the local school. Maggie Wilby is having to home school Ben, while Oliver goes to school
Wakefield Council said the school of choice is very popular and over-subscribed.
We have every sympathy with Mrs Wilby wanting to get her twins into the school and when one place came up she decided to take that and to home educate the other twin. We are continuing to work with family to find a way forward for the twins to be together in one school."
– Wakefield Council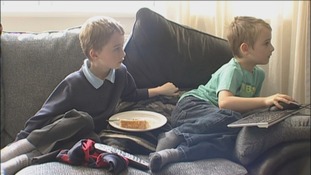 For the past seven months, Maggie Wilby has been forced to teach her 6-year-old son Ben at home while his brother attends school.
Read the full story
Back to top