Flood warnings in place
Flood warnings remain in place across some parts of our region following the recent heavy rain.
The bridge at Tadcaster, which has been closed for five days because of the floods, has reopened. The bridge, over the River Wharfe, was closed on Wednesday when water from the swollen river, was seen seeping through masonry.
Divers tried for two days to inspect the foundations of the bridge, but were thwarted by the strong current. However, on Sunday they managed to carry out a safety inspection which has given the bridge the all-clear.
The Environment Agency says 11 flood warnings remain in place in Yorkshire, following recent heavy rainfall. The locations at risk include:
River Ouse at Cawood
River Ouse at Naburn and Acaster Malbis
River Ouse at Kelfield
River Ouse at Acaster Selby
River Derwent at Stamford Bridge - The Weir Caravan Park and Kexby Bridge
River Ouse at Acaster Malbis
River Wharfe at Ulleskelf and Ryther
Cock Beck at Stutton
River Ouse at York - St George's Field
River Ouse at York - riverside properties
River Ouse at Naburn Lock
There are further details about flood warnings in the North East region on the Environment Agency website.
Advertisement
It has been another frustrating day for people in Tadcaster which is split in two while the bridge which links the town is closed. Divers who were due to inspect the bridge were thwarted once again by the speed of the swollen River Wharfe.
Flood levels have fallen to 4.08m above normal. Skeldergate and Knavesmire Rd still closed, hopefully reopen tomorrow
Police are once again warning pedestrians and motorists not to ignore flood warnings after a man had to be rescued from a river.
Emergency servies were called out to Newton on Ouse in North Yorkshire this morning after a man became stranded in flood water.
"A man got into difficulties after travelling through flood water and the emergency services came to his aid.

"The last thing I want to happen after the efforts of all the agencies who have worked tirelessly to keep everyone safe this week, is for someone to lose their life after ignoring a road or bridge closed sign.

"Staff from North Yorkshire County Council and the City of York Council are working throughout the weekend to get roads open as quickly as possible."
– North Yorkshire Police's Assistant Chief Constable Iain Spittal
"Engineers also need to check bridges to ensure they are structurally sound. So if you see a bridge closed sign, even if it looks clear, it may not be safe. So please wait until the bridge has been given the all clear by engineers and has been re-opened.

"It is simply not worth risking your life or the lives of your rescuers to save a few minutes of journey time."
– added Assistant Chief Constable Spittal
The bridge at Tadcaster is closed for a fourth day after an inspection by divers had to be delayed due to health and safety reasons. The town has been split in two after flooding caused the closure of the major road bridge.
Divers had tried but failed yesterday to examine the bridge to see if it was structurally sound to reopen. They will try again tomorrow.
Advertisement
The worst September flooding in a generation has left homeowners and businesses mopping up, and made travel almost impossible through some cities, towns and villages.
The A1, which was closed for thirty miles northbound from Dishforth for two days, has re-opened, but one of the main roads into York, the A19 through Fulford, is still closed. David Hirst has spent the day in Cawood near Selby, where rising water has closed the bridge over the River Ouse.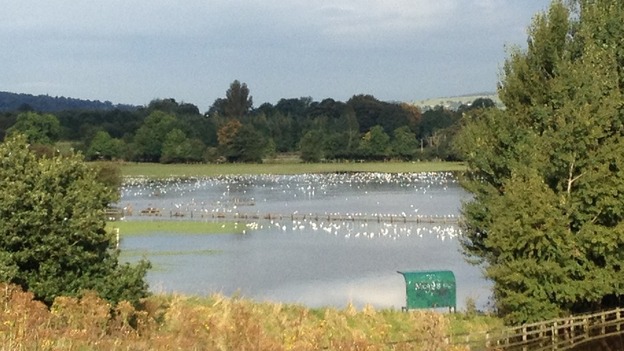 Load more updates
Back to top